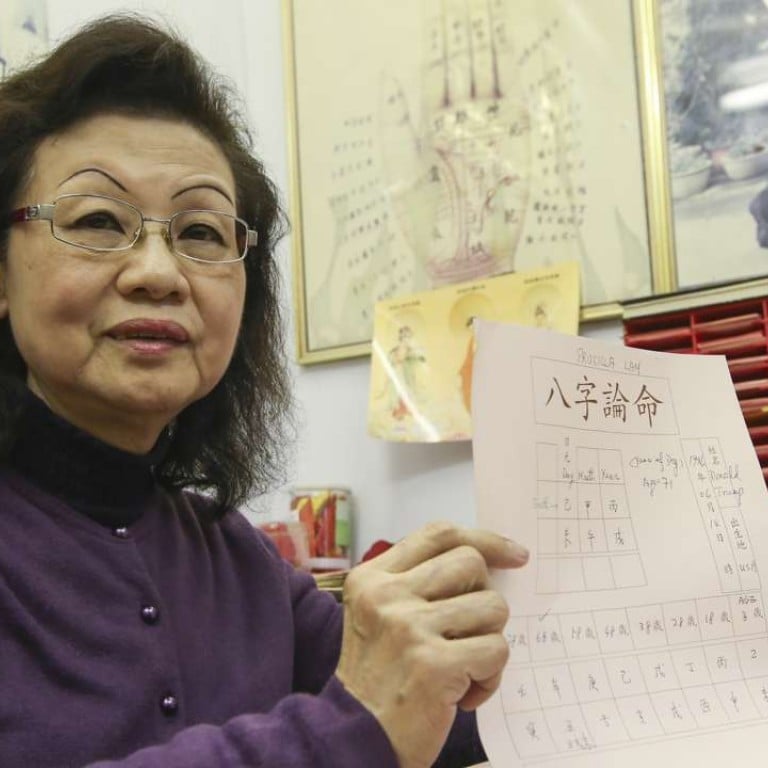 Hong Kong feng shui master who predicted Trump's victory, warns of 'nightmare' for new president, starting in September
And the news is no better for Hong Kong investors, says Taoist Wong Tai Sin Temple's Priscilla Lam, with dark clouds looming over the same month
The feng shui master who correctly foresaw Donald Trump winning the US presidency believes his run of good luck will continue in the Year of the Rooster – but only until September, when she says his "nightmare" will start.
Hong Kong is expected to meet a similar fate, with good fortune in the first half of the year before the economy takes a turn for the worse, she said.
Priscilla Lam, who counts actor Jackie Chan among her former clients, said President Trump would face difficulties in September, as protestors aired their grievances and the country became divided.
"In the first half of the year America will be OK, no problem. But in the second half, the nightmare will start," Lam said from her office at Taoist Wong Tai Sin Temple in New Kowloon, where she has been telling fortunes for 20 years.
"Trump has made so many people upset or irritated, so when his luck runs out in the second half of the year, problems or challenges will go with it.
"In business he's definitely a successful person, but in politics it's another thing."
Despite polls last year leaning towards a Hillary Clinton victory, Lam tipped Trump to win in February 2016, telling CNN, that "his fire is stronger than Hillary's".
Lam forms her predictions by first studying the person in question, and combining that information with astrology and feng shui techniques.
Trump was born in the Year of the Dog, and is an earth sign, meaning he can rapidly change his mind or break his word depending on the environment, Lam told South China Morning Post.
"He's says he's a protectionist," she said. "Maybe he will not keep his word."
This means he could soften his stance on China in the second half of the year, but press ahead with his proposed border wall with Mexico, Lam said.
Lam expected Trump to remain president for a four-year term, but wasn't expecting him try for a re-election.
"He's still a lucky person," Lam said, adding that it would be a "bit difficult" for him to be re-elected as his luck was not so good from 2021.
As for Trump's relationship with wife Melania? "No time to talk about love. When the honeymoon time has passed, he faces a lot of things," she said. "Maybe there will be no time to go home."
And any health issues? "Maybe just bone problems."
Unfortunately for Hong Kong, the city's fate looks set to be largely the same as the new president's, said Lam.
"In 2017, only the first half is looking good. In the second half, the stock market does not look good, the housing market [in Hong Kong], also, not so good."
"If you are an investor, better take your money out in September," she added. "The stock market will drop, so it'll be difficult to make big money."
As for Hong Kong's chief executive race in March, Lam said she couldn't comment as she didn't know enough background information.
But after some bad times in 2017, the Year of the Dog in 2018 is set to be a lot better, she said.
Lam said she had told fortunes to 20 clients on Saturday, but they had stayed away from politics, mainly asking about family and money issues.
Wong Tai Sin Temple launched automatic fortune-telling booths to cope with the crowds this year, but the new machines had to be taken away on Saturday as there were too many visitors, a temple spokeswoman said.
The automatic booths – which scan Kau Chim fortune telling sticks –will be available sporadically until mid-February.