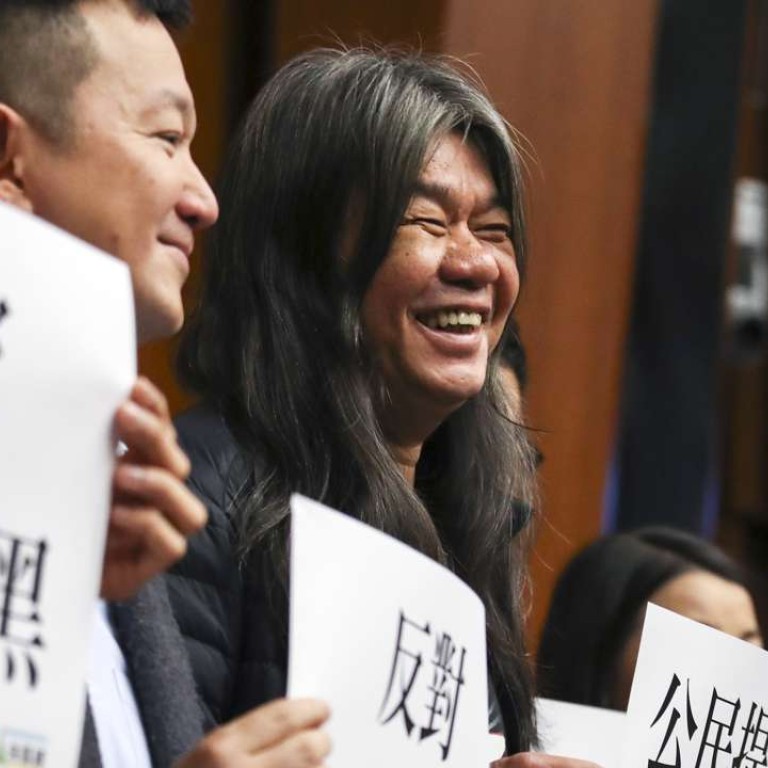 'Long Hair' Leung Kwok-hung makes U-turn to join Hong Kong leadership race
Radical lawmaker says pan-democrats should not support any pro-establishment candidate, even those deemed a 'lesser evil'
Radical opposition lawmaker Leung Kwok-hung has become an unlikely new contender in Hong Kong's leadership race, announcing his intention to run while urging his political allies not to vote for any pro-establishment candidates even if they are seen as "lesser evils".
His entry could throw a spanner in the works for the pan-democratic camp as it attempts to tip the scales with the best use of its 326 votes in the 1,194-member Election Committee that will pick the next chief executive in March.
The man nicknamed "Long Hair" because of his trademark locks said on Wednesday he would officially throw his hat in the ring only if he managed to secure 37,790 votes from the public – 1 per cent of the city's registered voters – in an unofficial civil referendum held by post-Occupy protest group Citizens United in Action.
"I used to hold a stance of not voting, not nominating and not running in any small-circle election, so [my decision to run] is indeed a very huge change in my position," he said.
"But I think the pan-democratic camp should never vote for any of the four pro-establishment contenders who cannot represent our camp at all."
The pan-democrats are in a dilemma on how to use their votes in the Election Committee. Some plan to endorse former financial secretary John Tsang Chun-wah, whom they regard as a "lesser evil" among pro-establishment candidates, to prevent a hardliner from winning. Others argue they should cast blank votes to protest against an unlevel playing field.
"I am not here to mess up the party but to truly reflect the spirit enshrined in the 2014 Umbrella Movement, the calls of Hongkongers and the voice of those low-income people who have always been oppressed," Leung said.
Should the pan-democrats vote for Tsang, he warned, it would offer the former finance chief "significant capital" to revive plans for national security legislation which had to be shelved earlier due to public opposition, and restart the stalled political reform based on Beijing's stringent framework. Tsang has already promised to move on both issues in his election platform.
Leung also said his participation in the civil referendum was an implementation of the public nomination mechanism, which was a demand shared by Occupy protesters in 2014 when they called for all eligible voters to be allowed to name chief executive hopefuls.
While the pan-democrats were lukewarm to Leung's announcement, the Beijing-friendly bloc immediately dismissed his suitability as a candidate.
Tsang, who was expected to seek the help of the pan-democrats to secure the 150 nominations required to qualify for the race, welcomed Leung's participation.
When asked if that meant fewer pan-democrats would nominate him, he replied: "I hope to garner support from the entire political spectrum."
Another candidate eyeing pan-democratic votes, retired judge Woo Kwok-hing, said he was not worried that Leung would split his support as they had very different election platforms.
"Leung's participation in the race is a political gesture, and such a gesture would further divide society," Woo said.
Election rival Regina Ip Lau Suk-yee also said Leung would have no impact on her bid because of their very different characters and background.
"I think [the pan-democrats] are not stubborn and rigid – a lot of them are discontented about society and governance, and if I am elected, it is more likely for me to improve governance," Ip said.
Carrie Lam Cheng Yuet-ngor, the former chief secretary widely regarded as Beijing's preferred choice, did not comment.
This article appeared in the South China Morning Post print edition as: 'Long Hair' makes U-turn to join leadership race