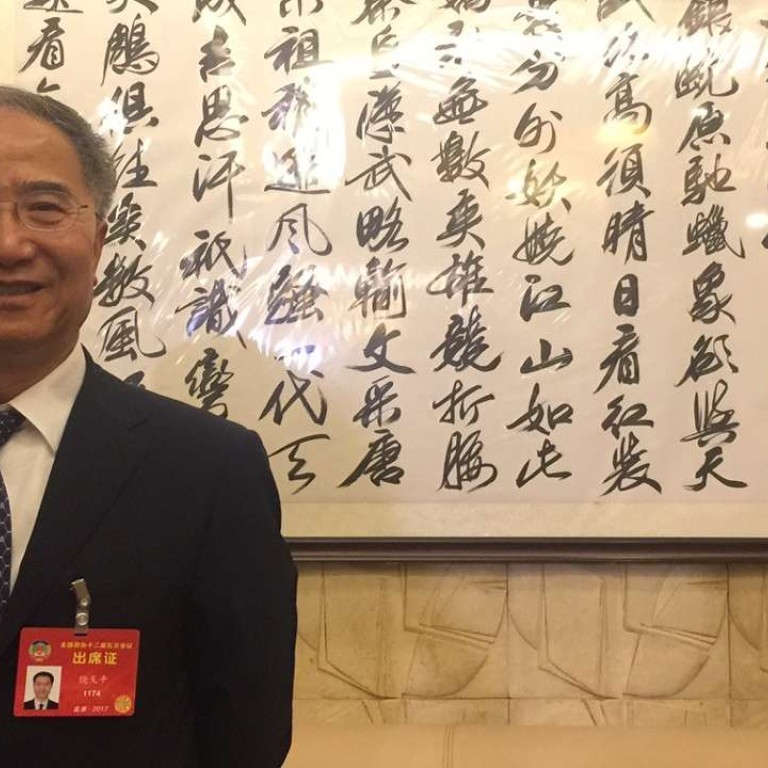 How many foreign judges is too many? Mainland legal expert suggests Hong Kong consider local talent for top court
Basic Law Committee member Rao Geping declines to comment directly on judge who jailed policemen for assaulting Occupy activist.
A leading mainland legal expert has questioned whether it is reasonable for Hong Kong's top court to be made up largely of judges with foreign nationalities and suggested the city consider adjusting the ratio.
But
Basic Law
Committee member Rao Geping, also a law professor at Peking University, acknowledged that foreign judges were allowed under Hong Kong's Basic Law.
Watch: Hong Kong's presence at the meetings
Rao's comments came during a 70-minute, wide-ranging interview with Hong Kong media on topics including the city's independence, national security legislation, Beijing's power to appoint the city's chief executive, and legal issues relating to a proposed co-location of immigration checkpoints at the Hong Kong terminus of a high-speed railway to Guangzhou.
Pan-democrat lawmakers had questioned whether it was against the Basic Law to co-locate checkpoints at West Kowloon since the mini-constitution says mainland law shall not be applied in Hong Kong.
Watch: Five things to watch at the annual political meeting
Dismissing such criticisms, Rao said he understood that mainland and Hong Kong officials had "reached a very big consensus on the issue".
Rao declined to comment on District Court judge David Dufton's decision last month to jail seven policemen who were convicted of
assaulting an Occupy activist
. Judge Dufton was criticised by pro-Beijing activists last month when he handed down the two-year jail terms.
The ruling raised questions among mainland commentators over whether foreign judges were more likely to make judgments that "favour the pro-democracy camp".
"I disagree with the generalisation that there is an issue with foreign judges, because foreign judges are allowed under the Basic Law," Rao said.
Watch: Who's who at China's Two Sessions
"But it doesn't have a rule on the ratio [between foreign and local judges] … do you know how many of the 22 judges at the Court of Final Appeal are of foreign nationalities? There are 17 to 18 of them."
"Because no rule on the ratio has been set, it is difficult to say if it is against the law. But is this reasonable? … Hong Kong is not short of local talents, so should the ratio be adjusted?" Rao asked.
While he said the issue was well within the scope of Hong Kong's high degree of autonomy to consider, Rao did not say exactly why the ratio should be adjusted.
According to its website, the Court of Final Appeal currently has 17 judges, comprising Chief Justice Geoffrey Ma Tao-li, three permanent judges and 13 non-permanent judges.
The 13 non-permanent judges include three Hong Kong judges who were either born in Hong Kong or have lived in the city for almost four decades, and 10 overseas judges who have been appointed Queen's Counsel for about 20 to 40 years.
On Premier Li Keqiang's warning against Hong Kong independence in his annual work report, Rao said it highlighted the need for the city to make its own law on national security and fulfil its responsibility under Article 23 of the Basic Law.
On Saturday, National People's Congress chairman Zhang Dejiang told Hong Kong delegates to China's top political advisory body that the central government enjoys a "substantive and constitutional" power to appoint Hong Kong's next chief executive.
Asked if it would trigger a constitutional crisis if Beijing refused to appoint the winner of the leadership race on March 26, Rao said: "You can say so. It will be very troublesome and a big issue. But if it doesn't appoint him or her, let there be another election … as the power to appoint is a manifestation of national sovereignty."
In a separate development, Zhang Xiaoming, director of Beijing's liaison office in Hong Kong, was quoted as dismissing speculations concerning the central government's alleged interference in the city's leadership race. He said such speculation was "outrageous".