US lawmakers vow 'swift consequences' if Chinese military cracks down in Hong Kong
State Department expresses 'staunch support' for freedom of expression and peaceful assembly in wake of pro-democracy demonstrations
Politicians from both parties speak out in the wake of Donald Trump's apparent reluctance to take a strong stand on the turmoil
The US State Department said on Wednesday that it was "deeply concerned" by reports of Chinese forces massing on the border with Hong Kong and urged Beijing to respect the territory's autonomy. A US congressional committee also promised "swift consequences" for any military crackdown amid continued pro-democracy demonstrations.
The statement by a State Department spokeswoman cited "staunch" support for freedom of expression and freedom of peaceful assembly in Hong Kong. The lawmakers' statement, co-authored by House Foreign Affairs Committee Chairman Eliot Engel, referred to Beijing's bloody Tiananmen Square crackdown in 1989 and dovetailed with comments by China experts.
The bipartisan comments were significantly more forceful than those made recently by US President Donald Trump.
"Thirty years after the Chinese Communist Party's (CCP) brutal massacre of peaceful democratic protesters in Tiananmen Square, we are concerned that China would consider again brutally putting down peaceful protests," said Engel, a Democrat, and the committee's lead Republican, Representative Michael McCaul.
"We urge China to avoid making such a mistake, which would be met with universal condemnation and swift consequences," they added.
On Tuesday, Trump seemed to adopt a neutral stance toward the protests, telling reporters he hoped the "very tricky" situation in the territory "works out for everybody including China. I hope it works out peacefully, nobody gets hurt, nobody gets killed."
Trump has displayed little concern over human rights, either for the people of Hong Kong or for human rights more generally, making it all the more important that other US voices speak out forcefully in support of the territory's autonomy, according to Jerome Cohen, a China scholar with the Council on Foreign Relations and law professor at New York University.
"We have a president who seems to be giving the license to [President] Xi Jinping to do whatever you have to do to bring peace and stability back to Hong Kong," Cohen said on Wednesday. "It's difficult for us because Beijing is trying to neutralise him by claiming falsely that everything in Hong Kong is really the product of a CIA-sponsored colour revolution, and that of course is nonsense."
"I think the US has a lot to do in terms of forging an appropriate response to this," Cohen added.
Trump's top aides have encouraged him to support the pro-democracy protesters, but he is not willing to do so, Politico reported on Wednesday, citing multiple people familiar with the administration's internal debates.
National security adviser John Bolton, China experts at the State Department and the National Security and several economic advisers all pushed for Trump to take a stronger position, Politico said, but he is focused on securing a trade deal with Chinese President Xi Jinping and is worried that speaking out on Xi's handling of the protests could jeopardise negotiations.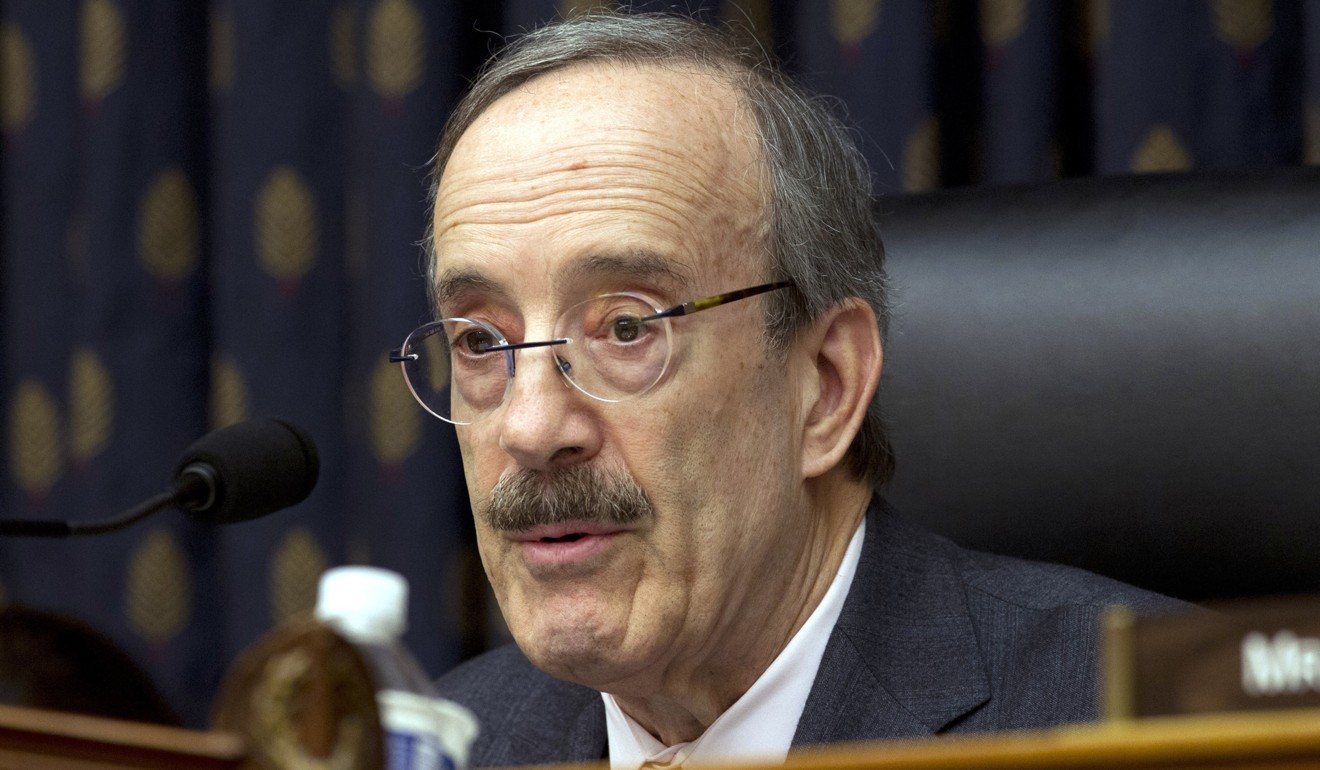 In its statement, the State Department pushed back at recent Beijing claims that dark foreign forces were instigating the unrest, a long-standing response when faced with vocal anger by citizens.
"We categorically reject the false charge of foreign forces as the black hand behind the protests," the US official said. "We condemn violence and urge all sides to exercise restraint, but remain staunch in our support for freedom of expression and freedom of peaceful assembly in Hong Kong."
The State Department also urged Beijing to adhere to the Sino-British Joint Declaration allowing Hong Kong a high degree of autonomy and said it believed the protests reflected legitimate concerns over the loss of autonomy. Separately, the department updated its Hong Kong travel advisory on Wednesday to include the risk of tear gas and flight disruptions.
Cohen and other China experts expressed doubt that Beijing would order mainland forces into Hong Kong before the 70th anniversary of the founding of modern China on October 1 unless events get significantly out of hand. With a month and a half to go, there's just too much risk of economic, political and reputational fallout globally for China and for Xi, they said.
"My assumption, the protests will burn themselves out in the next six weeks. I assume these protests will begin to dwindle," said Joseph Fewsmith, author of China Since Tiananmen and a professor at Boston University. "But that's not a resolution at all. The real question is what remains of the 'one country, two systems'," allowing Hong Kong to maintain long-standing legal, economic and financial systems distinct from the mainland.
Other US lawmakers from both sides of the aisle have spoken out in the wake of Trump's apparent reluctance to take a strong stand on the turmoil.
Senate minority leader Chuck Schumer, a Democrat, said in a tweet on Wednesday: "It is unacceptable that [Trump] is not standing up to Beijing as it intensifies its crackdown on human rights in Hong Kong. He needs to make it clear that America stands shoulder to shoulder with the people of Hong Kong who want democracy and freedom."
House minority leader Kevin McCarthy, a Republican, wrote on Tuesday: "To the thousands of young people in Hong Kong who are speaking UP for human rights and speaking OUT against the Communist Party of China: we see you waving the American flag, and we hear you singing our national anthem. America stands for freedom. America stands with Hong Kong."
Beijing, meanwhile, had stepped up its warnings. Yang Guang, a spokesman for the Hong Kong and Macau Affairs Office under the State Council, told reporters on Monday that the city had come to a "critical moment" and that authorities would clamp down on violent crime with an "iron fist".
Experts said the impasse in Hong Kong was affected by structural and personality constraints.
Xi has displayed none of the flexibility of earlier leaders, especially Chinese paramount leader Deng Xiaoping who reestablished ties with Japan and negotiated the handover of Hong Kong from Britain.
"We haven't seen any signs of compromise from Xi Jinping on this or any other issue," Fewsmith said. "He seems to be an amazingly inflexible leader, which seems to be more personality driven than based on constraints from within the party."
While Beijing hopes the tactics it used successfully against 2014 Occupy Central protests in Hong Kong will work again – including isolating leaders, wearing down opponents and mobilising public support – times have changed, analysts said. Middle-class Hong Kong residents seem to be more supportive of the protests, social discontent seems deeper and protesters appear more willing to directly and pointedly confront authorities, they add.
The protest movement, meanwhile, has its own challenges. It is amorphous, lacks identifiable leadership, is increasingly violent and is not unified in its objectives, which could compound any attempt to find a solution, analysts said.
The demonstrations were initially sparked by opposition to an extradition bill that would have subjected Hongkongers to China's legal system and Communist Party-led justice. Fuelled by local anger over high housing prices, the rich-poor gap and education policy, protest demands have expanded to include calls for greater democracy, the resignation of Chief Executive Carrie Lam and an inquiry into alleged police brutality.
One of the only peaceful paths ahead, "rather than passively await the train crash", would see the creation of a panel of well-respected Hong Kong lawyers, business and community leaders, Cohen said. Those named would need to be independent of the government with authority to conduct an independent investigation, mediate and offer policy recommendations, given the shortcomings of the territory's chief executive, he added.
"Carrie Lam said yesterday, incredibly, she's not responsible for the police operations," Cohen said. "She only knows how to cry and warn about falling into the abyss if this goes on. That's not leadership."
Others said things were too far gone for a committee to bridge differences.
"As much as I like [Cohen] and would like to see some respected jurists create a space, I'm not sure the protesters or the government would go along with this," Fewsmith said. "I'm afraid this is not going to end well."