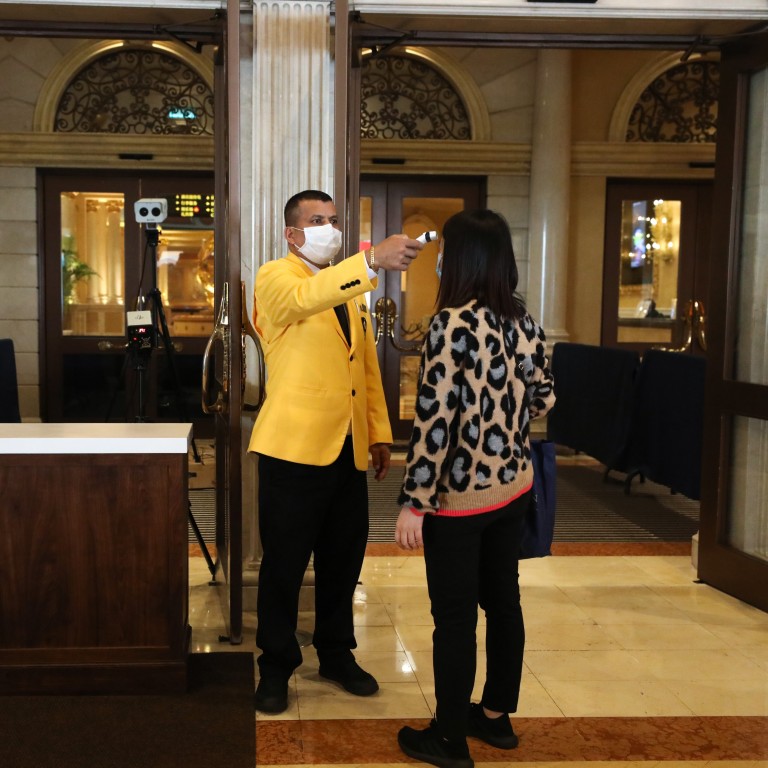 Coronavirus: Macau casinos reopen to sparse crowds as punters hedge bets despite new health precautions
Low-key return marked by tight rules, with gamblers kept apart from each other and made to wear masks
Fewer than a third of tables open as casino floors appear desolate in city's staggered return to gambling
Macau casinos were back in action on Thursday, though gaming floors were eerily quiet and largely empty, with the few gamblers on hand sitting far apart under strict new measures to guard against the spread of the coronavirus.
After a 15-day mandatory shutdown, 29 establishments opened their doors again at the stroke of midnight on Wednesday, with a raft of regulations covering those who wished to enter, including temperature checks, the compulsory wearing of masks and the submission of health declarations via mobile phone.
While no new Covid-19 cases have been reported since the order to close was given on February 4, after a hotel worker fell ill, the mood for gaming has not yet returned.
There were no queues as one of the city's most popular casinos, the Grand Lisboa, welcomed guests again after half a month, just a handful of visitors gathered outside the main entrance.
At other major casinos visited by the Post on Thursday, many halls looked desolate.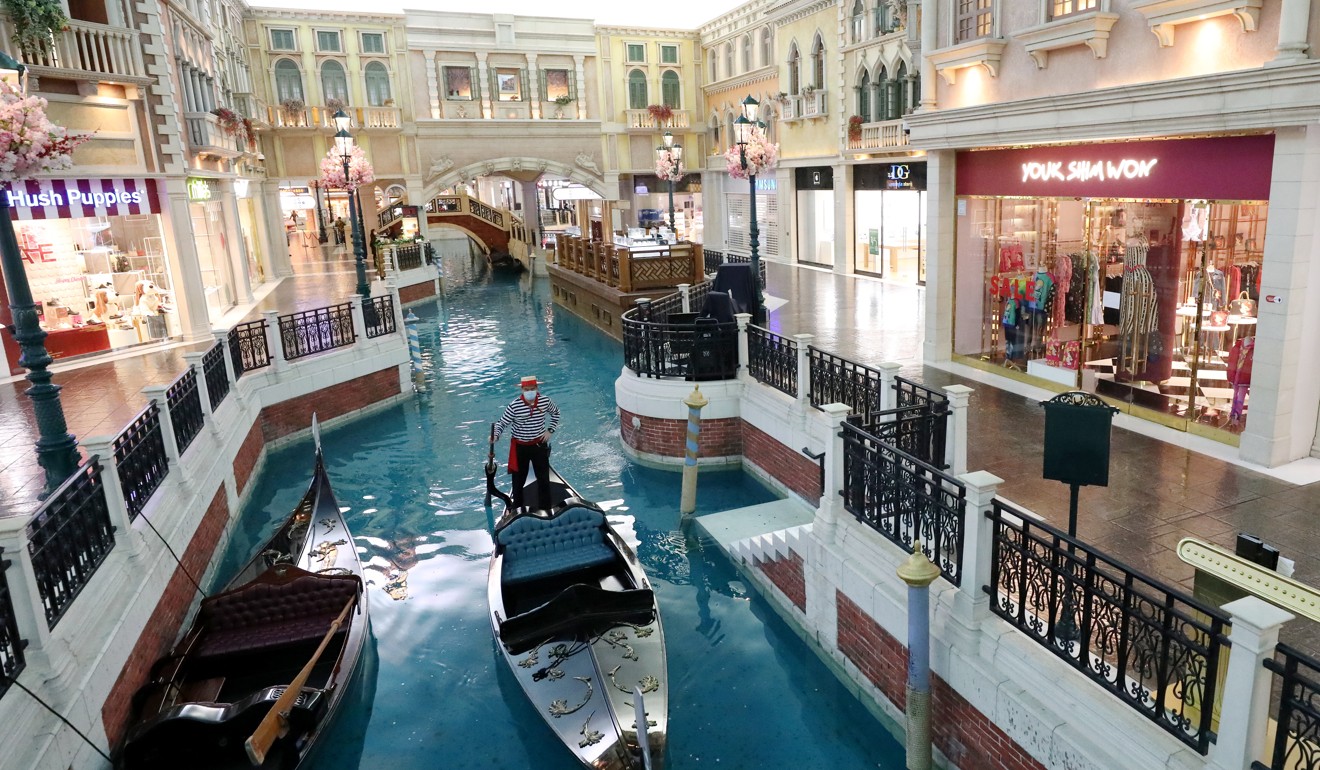 At the iconic Lisboa Casino, built in the 1960s, the entire VIP floor, filled with golden blinking lights, had not received a single guest as of early afternoon, according to a guard at its entrance.
New rules saw to it that punters were scattered widely around the major hall, which houses dozens of gaming tables. At baccarat tables, which typically have seven seats, only three players were allowed at a time. Casino workers, meanwhile, patrolled the hall to make sure the rules were being observed.
"Boss, please take a seat [at an open table] if you want to bet," a worker told a man who had tossed his chips on the table.
As the maximum three seats at the table were already occupied, the disgruntled gambler took back his chips and walked away.
"It's so troublesome," he said.
The casino also deployed extra manpower at every table to clean chips one by one in a transparent box after gamblers touched them.
Dealers at the Venetian Macau, the city's largest casino, asked gamblers to rub their hands with sanitiser every few rounds, though crowds were sparse the whole day.
At 11am, only one of the dozens of baccarat tables in the high-limit zones was occupied. A regular gambler from Hong Kong, surnamed Tsang, said he was surprised by the hushed atmosphere.
"Previously, even in the quiet hours, there would be some noise from people who were betting. But now, I can only hear the background music. No one's here," he said.
Signs on every other of the Venetian's 600 gaming tables and 1,700 slot machines, marked them as unavailable for play, reflecting the government requirement that all casinos shut down half their tables and machines to ensure a safe distance between visitors.
Elize Cheung, who took a two-hour bus trip across the Hong Kong-Zhuhai-Macao Bridge to play the slot machines, said she was not worried about getting infected in the casino, particularly as there were far fewer mainland visitors than before.
"I feel safe, as most gamblers here today speak Cantonese. They are either locals or from Hong Kong," she said. The mainland authorities stopped issuing travel visas for its residents to enter Macau and Hong Kong on January 28.
Well Ung Kim-ip, who oversees a team of dealers at the MGM China, observed that only one in every 10 visitors was from the mainland on their first day since reopening.
But despite the new precautions, a gaming workers' union still hoped for more measures to ensure the safety of croupiers.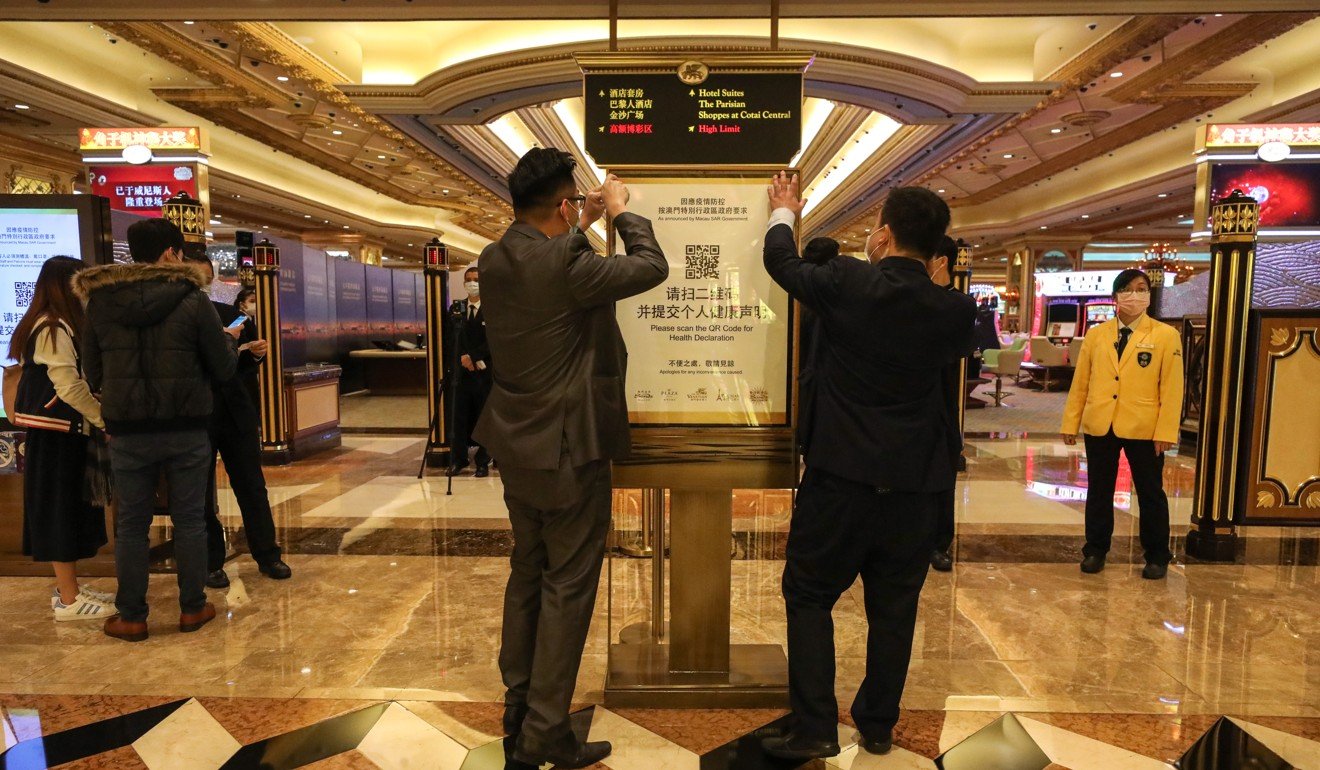 New Macau Gaming Staff Rights Association chairperson Cloee Chao Sao-fong urged casinos to allow them to wear gloves while on shifts, and to stop serving drinks at gaming tables so that punters would not need to take off their masks.
The resumption of business at 70 per cent of Macau's casinos would be gradual, with fewer than a third of gaming tables – 1,800 – initially in operation, the Gaming Inspection and Coordination Bureau said on Wednesday.
Casinos reopening in phases include MGM China, Wynn Macau and Galaxy Entertainment. Ten casinos that remain shut will have to reopen within 30 days in accordance with the city's gaming laws.
Macau employed more than 57,000 full-time staff across 41 casinos in 2018, according to official figures, with a significant population of those workers – either Macau residents or mainlanders on a working visa – living in the adjacent mainland city of Zhuhai.
As coronavirus fears grew, some casinos offered them accommodation in Macau so would not need to cross the border every day from the mainland.
A sales assistant at a luxury clothing shop in the Venetian's mall, surnamed Li, who lived in Zhuhai, moved into a temporary flat near the casino on Thursday. She was delighted by the arrangement "to minimise risks of infection for staff and guests."
While the Macau administration has allowed casinos to reopen, many neighbouring hotels remained closed on Thursday along with entertainment venues including bars and karaoke parlours.
The number of confirmed coronavirus cases in Macau stands at 10, while the figure has risen to 67 in Hong Kong.
Purchase the China AI Report 2020 brought to you by SCMP Research and enjoy a 20% discount (original price US$400). This 60-page all new intelligence report gives you first-hand insights and analysis into the latest industry developments and intelligence about China AI. Get exclusive access to our webinars for continuous learning, and interact with China AI executives in live Q&A. Offer valid until 31 March 2020.
This article appeared in the South China Morning Post print edition as: Chips are down as Macau casinos reopen