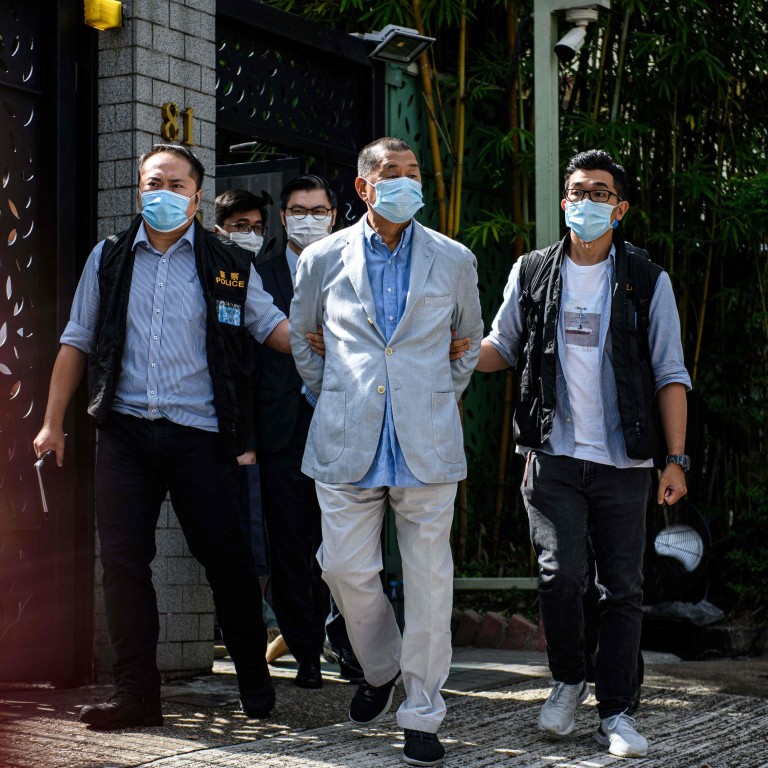 Hong Kong arrest of media tycoon Jimmy Lai sparks international condemnation
US Secretary of State Mike Pompeo says arrest is proof the Chinese government has 'eviscerated' Hong Kong's freedoms
Britain, EU and UN also express concern over police move just over a month into the implementation of the new national security law
Hong Kong's arrest of local media mogul
Jimmy Lai Chee-ying
sparked a round of international condemnation with Washington, Brussels and others calling the move the latest example of the government's use of a new national security law to silence political dissents.
The rapid responses to the move against Apple Daily founder Lai and others linked to the newspaper – which is known for its criticism of Beijing and the Hong Kong government – included a tweet from US Vice President Mike Pence describing the arrest as deeply offensive.
Pence said on Twitter that Lai's arrest was an "affront to freedom loving people around the world". He recalled meeting Lai at the White House and said he had been inspired by his stand for democracy, as well as the rights and autonomy promised to the people of Hong Kong.
"The United States will continue to stand with Jimmy Lai and all the freedom loving people of Hong Kong," Pence said.
US Secretary of State Mike Pompeo said the arrest was proof the Chinese government had "eviscerated" Hong Kong's freedoms.
"I'm deeply troubled by reports of the arrest of [Lai] under Hong Kong's draconian National Security Law," Pompeo said in a Twitter post. "Further proof that the [Chinese Communist Party] has eviscerated Hong Kong's freedoms and eroded the rights of its people."
Britain, the European Union and the United Nations also expressed concern over the police move just over a month into the implementation of the new law which carries a maximum penalty of life imprisonment.
British Prime Minister Boris Johnson called the arrest a pretext to silence opposition. "We are deeply concerned by the arrest of Jimmy Lai and six other individuals in Hong Kong," a spokesman for Johnson said.
He added: "Freedom of the press is explicitly guaranteed in the Sino-British Joint Declaration and the Basic Law and is supposed to be protected under Article 4 of the national security law.
"This is further evidence that the national security law is being used as a pretext to silence opposition. The Hong Kong authorities must uphold the rights and freedoms of its people."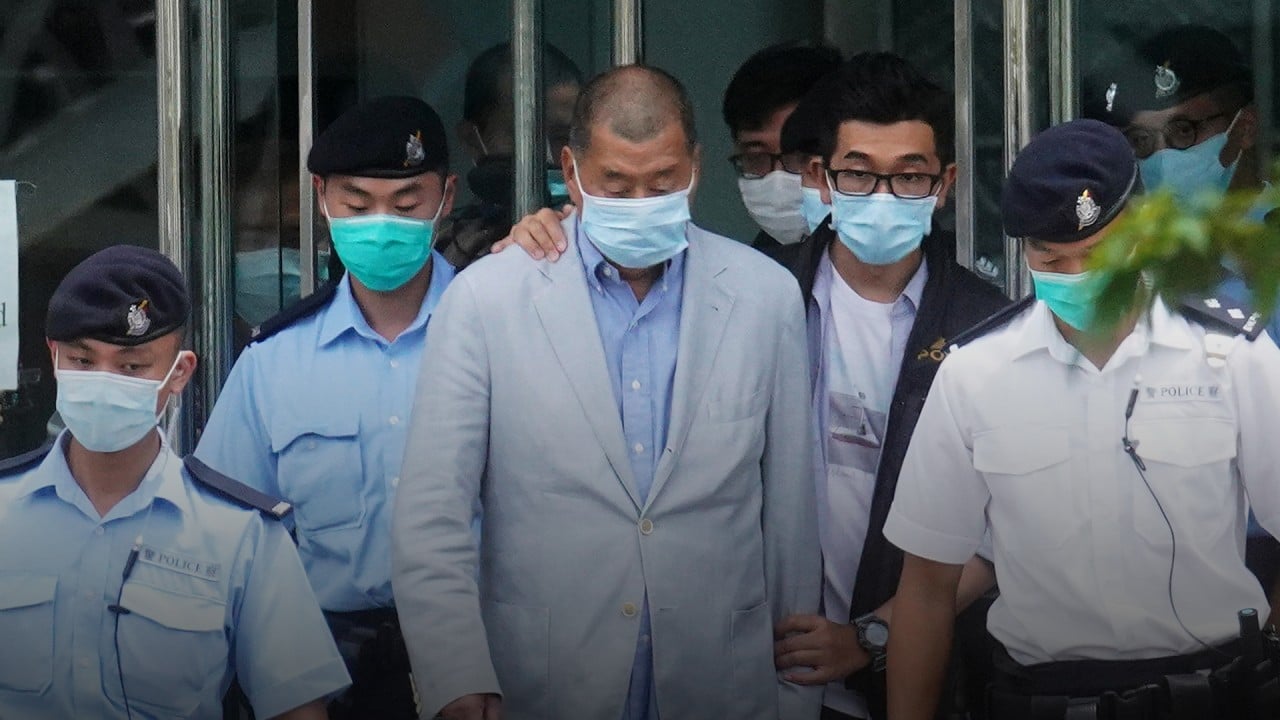 03:38
Hong Kong media mogul and opposition activist Jimmy Lai arrested under national security law
Hong Kong media mogul and opposition activist Jimmy Lai arrested under national security law
Lai and six others – including his two sons and some of Apple Daily's management team – were arrested on Monday for alleged collusion with foreign forces in the most high profile police operation under the national security law recently imposed by Beijing.
Police also raided the newspaper's offices, spending several hours combing through the premises for unspecified documents, a move that was widely condemned by journalists' associations in Hong Kong.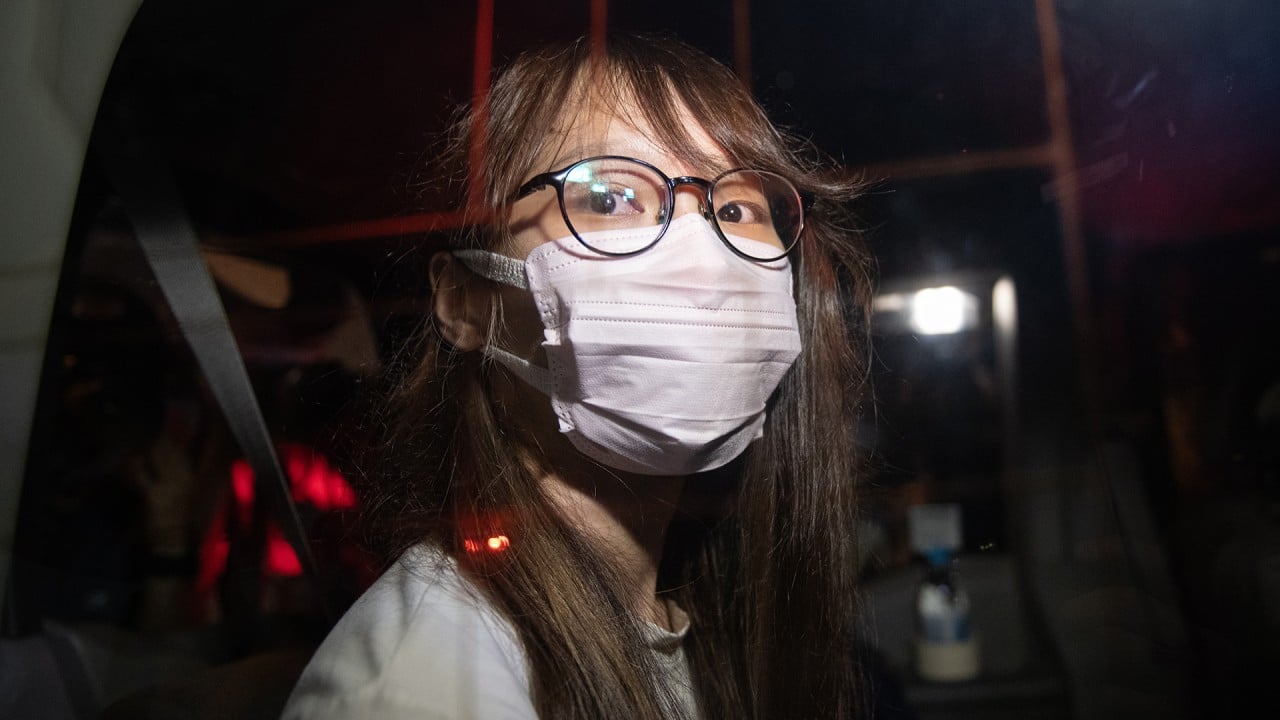 01:58
Hong Kong opposition activist Agnes Chow swept up in Hong Kong arrests under security law
Hong Kong opposition activist Agnes Chow swept up in Hong Kong arrests under security law
In another operation that began in the late afternoon, police also arrested three other activists, including Agnes Chow Ting, a close associate of former student leader Joshua Wong Chi-fung, on suspicion of collusion with foreign or external forces to endanger national security, sources told the South China Morning Post.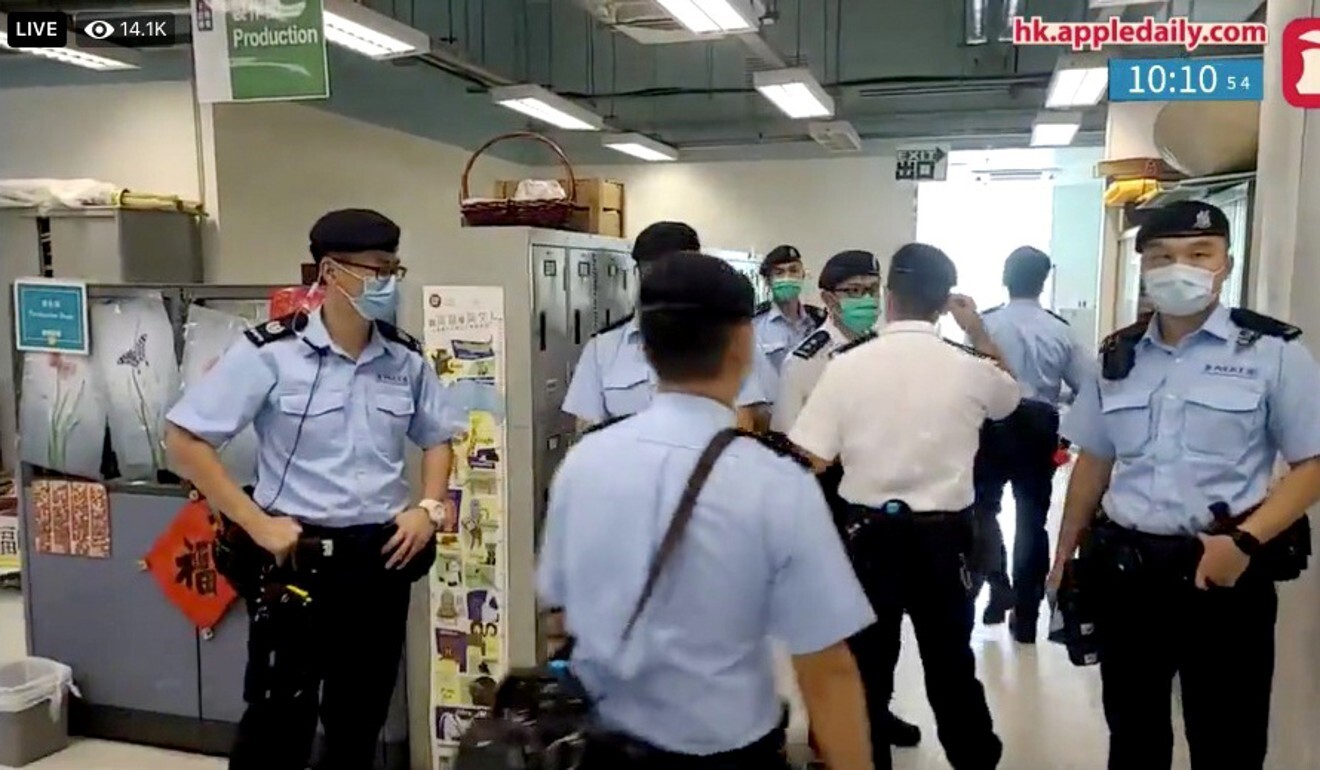 Freelance ITV News journalist Wilson Li, was among the other two arrested. Li was formerly a member of Scholarism, the student activists' group formed by Joshua Wong. He was arrested along with activist Andy Li, according to ITV.
An ITV News spokesperson said: "We can confirm that Wilson Li works for ITV News in a freelance capacity. We are concerned to hear of his arrest and are urgently seeking clarification of the circumstances."
European Commission spokesman Peter Stano said the arrests of Lai, his family members and other individuals, and the raid on the offices of Apple Daily, "further stoke fears that the national security law is being used to stifle freedom of expression and of the media in Hong Kong".
"The European Union recalls that the respect for human rights and fundamental freedoms is a central element of the Basic Law and the 'one country, two systems' principle," Stano said.
In addition, media freedom and pluralism are "pillars of democracy" as they are "essential components of open and free society', he said. "It is essential that the existing rights and freedoms of Hong Kong residents are fully protected, including freedom of speech, of the press and of publication, as well as freedom of association and of assembly."
The UN human rights office voiced deep concern on Monday at Lai's arrest under the new security law.
"We urge the authorities to review these cases to ensure that the arrests do not impinge on the exercise of rights protected by the international human rights law and Hong Kong's Basic Law," Jeremy Laurence, spokesman for the office of UN High Commissioner for Human Rights Michelle Bachelet told Reuters.
"We repeat our calls for the authorities to monitor and review the operation of the security law and to amend it if necessary to ensure there is no scope for its misuse to restrict human rights guaranteed by international law and the Basic Law of Hong Kong," Laurence added.
The pushback from the US, the EU and Britain will not likely fizzle out, given that populations in all three places have seen unprecedented unrest over social justice issues, particularly since the death of George Floyd in May revived the Black Lives Matter movement, said Robert Sanders, a former director of the US Defence Department's Defence Institute of International Legal Studies.
"The hopeful perspective is that not only the government … and the people's interests will align, but that the government will push forward and be uplifted by the people, and take action in condemning" the Hong Kong government's actions against pan-democrats there, said Sanders, now chair of national security at University of New Haven's Henry C. Lee College of Criminal Justice and Forensic Sciences.
Meanwhile, US lawmakers, many of whom have been pushing the administration of President Donald Trump for the past year to respond to the Hong Kong government's hard line against pro-democracy lawmakers and activists, also reacted to Lai's arrest.
Republican US senator Marco Rubio, known for writing and supporting legislation that calls for the sanctioning of officials deemed to be responsible for undermining Hong Kong's autonomy, including the
Hong Kong Human Rights and Democracy Act
, called for a global response.
"As more arrests are expected, the free world must respond quickly as well as provide safe harbour to at-risk Hongkongers," Rubio said in a retweet of a post about the situation by US-based Samuel Chu of the Hong Kong Democracy Council.
Mitt Romney, a former Republican presidential candidate and frequent Trump critic, also weighed in.
"Hong Kong's national security law is working exactly as the [Chinese Communist Party] intended – to crush political dissent anywhere in the world and unjustly imprison pro-democracy leaders like Jimmy Lai," Romney, a senator from Utah, said on Twitter. "The world needs to wake up to the threat of China."
Pompeo's swift condemnation of Hong Kong's national security law signals Washington's intention to keep pressure on Hong Kong and China, Sanders added.
Even if such moves will not be enough to force China to undo the law or reverse course on arresting anti-government activists in Hong Kong, at least people in Hong Kong "are going to see that the rest of the world stood up and said something in support of their losing their rights and their Basic Law", he said.