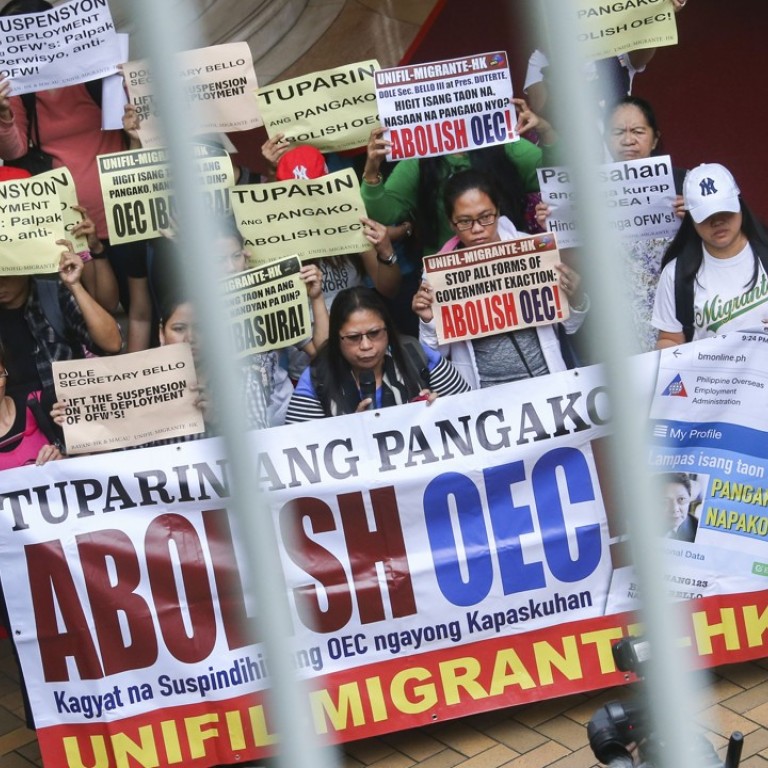 Exclusive

|
Hong Kong, Singapore key centres of trafficking ring sending thousands of Filipino helpers to Russia
Senior Philippine official says domestic helpers lured to take up bogus jobs in Russia, Brazil and Turkey
Hong Kong has been a top breeding ground for job recruitment frauds as thousands of Filipino domestic helpers in the city have been trafficked to countries like Russia, Brazil and Turkey for bogus jobs, a senior Philippine official told the Post on Wednesday.
Over 4,000 undocumented Filipinos were currently working in Russia, most of them former Hong Kong domestic helpers transiting through the city, the senior official said, citing statistics from the Philippine embassy in Moscow. He was speaking on condition of anonymity.
The official added that some cases of trafficking from the city to Russia dated back seven years and that Filipinos from other places like Singapore and Taipei were also involved.
Jalilo Dela Torre, labour attaché at the Philippine consulate in Hong Kong, confirmed the situation and said some Hong Kong-registered recruitment agents had promised domestic helpers high-paying jobs in Moscow and lured them into breaking their contracts with employers in the city before arranging flights to Moscow.
"The intermediaries would pocket agency fees of HK28,000 to HK$43,000. Almost all victims would borrow the amount from financial institutions or even loan sharks," Dela Torre said.
United Filipinos in Hong Kong chairwoman Dolores Balladares-Pelaez said most Hong Kong helpers would get loans to pay agency and training fees totalling up to HK$15,000 when they first came to the city. Victims of human-trafficking were therefore already in debt while the lucrative jobs they were promised never came to fruition, she said.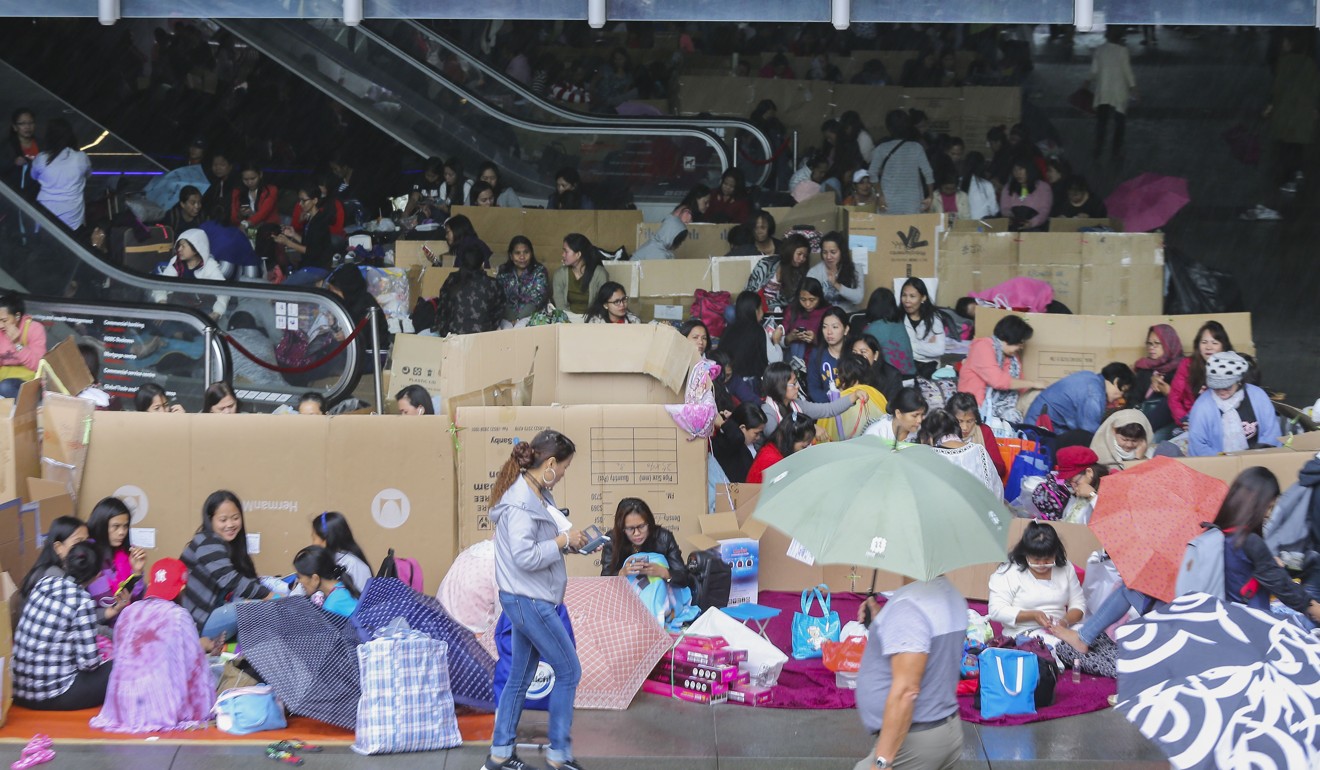 The plight of trafficked domestic helpers came to light as Manila imposed a three-week ban on the export of labour by suspending the issue of overseas employment certificates, which are needed by those wishing to work overseas.
The Philippine labour and employment department announced the ban last Friday, citing "persistent reports of illegal recruitment" and "pernicious activities of certain unscrupulous individuals preying on Filipinos."
Dela Torre said: "When the victims first came to Hong Kong, they probably didn't have the intention to go to Russia. They were usually approached on Facebook or social media to take up bogus jobs in Russia."
He said he had recently received complaints from four former domestic helpers from Hong Kong who claimed to have been tricked into working in Russia.
Dang, which is not her real name and who is currently in Moscow, was one of the complainants. She told the Post on Wednesday a local employment agent deceived her into going to Russia in 2011 for a domestic helper job that was supposed to pay several times more than she was getting in Hong Kong. But it turned out she only got a job that paid about the same as in the city and therefore fell into debt.
"Even if I want to go back home to the Philippines or to Hong Kong, it's impossible because we need first to pay all the debts [incurred] in applying to go to Russia," Dang said.
"That's why maybe it's much better for me to stay and work illegally for a few more years until my children finish their studies [in the Philippines] and pay all our debts and save a little money that I can use when I go back home," she said.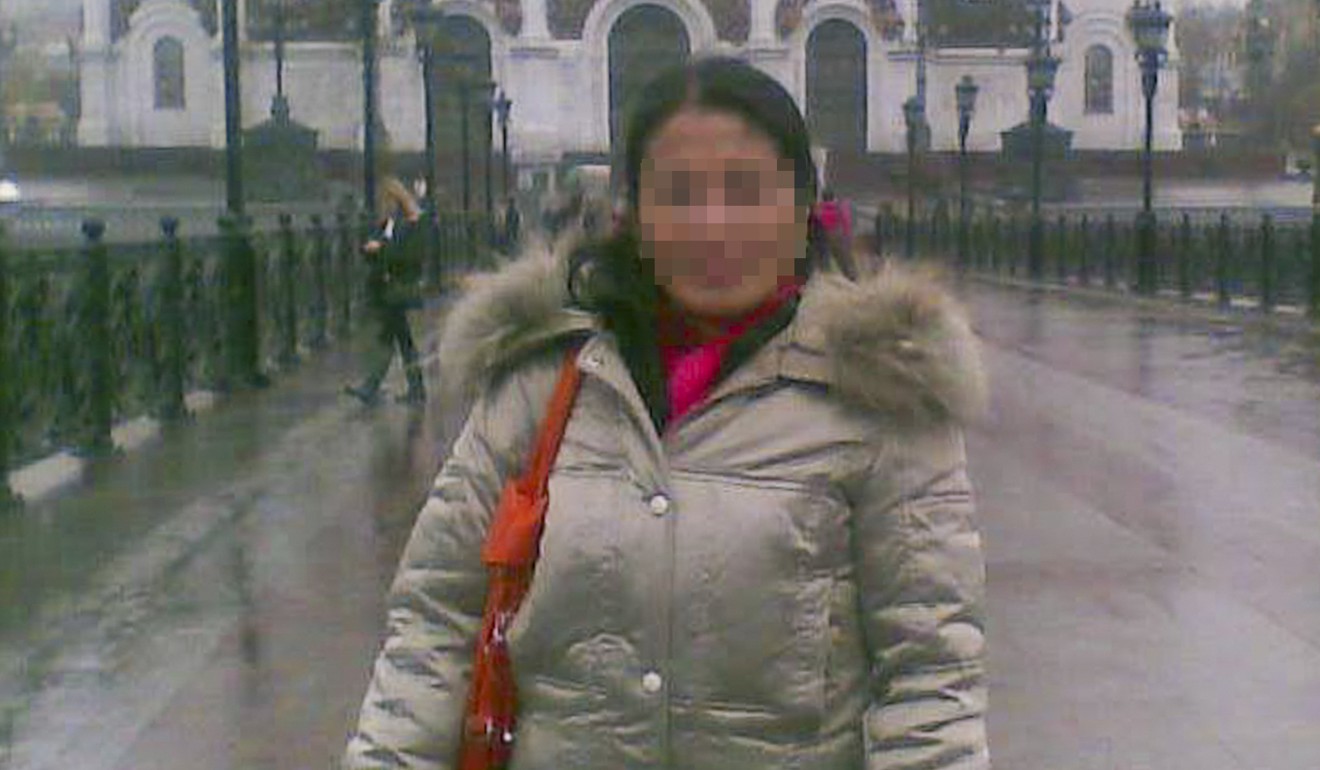 Matt Friedman, the chief executive officer of the Mekong Club, a human-trafficking watchdog, said recruitment agents would fabricate job offers tailored to a victim's preference.
"They would prey on vulnerable domestic helpers who might want more money or better jobs, for example as a social worker or teacher, " Friedman said.
"They were made to believe they could easily repay the debts from agency fees ... and would eventually be held in a foreign country to repay them."
"It's the first time I've heard the Philippine consulate confirming the situation ... which has been discussed in the NGO community for years," he said.
United Filipinos in Hong Kong staged a rally outside the Philippine consulate in Admiralty on Wednesday, demanding compensation for outbound workers affected by the labour export ban in their home country.
Balladares-Pelaez said an estimated 75,000 outgoing workers seeking employment worldwide would be stuck in limbo with no income. She accused the Philippine government of seeking to curtail illegal recruitment at the expense of outgoing workers.
A spokesman for the Hong Kong government said: "Upon receipt of complaints, the Labour Department will [initiate] investigations promptly on suspected overcharging by employment agencies. It will also refer the case to police for investigation on the fraud aspect."
This article appeared in the South China Morning Post print edition as: HK 'plays key role' in trafficking Filipinos