Car crash fells wall at Hong Kong's historic Wan Chai police station, but compound's heritage value survives
Preservation experts say compound's heritage value unaffected by smash, caused by a truck trying to leave site's forecourt
Hong Kong heritage enthusiasts could breathe a sigh of relief on Sunday evening after it was confirmed that the old Wan Chai police station compound would remain largely intact, its historical value undiminished, despite a truck smashing into and flattening part of its rear wall.
The accident happened at about 12.30pm when a medium-sized truck carrying office furniture rammed the wall as the driver, 53, tried to leave the 85-year-old police compound onto Jaffe Road.
Police said no one was hurt. But part of the brick wall, four metres tall and 10 metres long, collapsed along with the metal gate, exposing the forecourt inside the compound.
A police spokesman said it was investigating the accident and that the driver passed a breathalyser test.
The police station was built in 1932. It sat on the edge of Victoria Harbour until land reclamation in the 1970s. Now the only historic structure along the old Wan Chai waterfront, the four-storey building features a façade with verandahs on every floor.
It was declared a grade two historic building in 2009. That grading – whilst offering no specific protection against demolition or alteration – means it is of special merit and efforts should be made to preserve it, according to the Antiquities and Monuments Office.
There are more than 330 buildings listed as grade two in Hong Kong.
The government recently had plans to rezone the site for hotel use but they were held up after opposition from preservationists. The compound is now being used as temporary offices by the force and various government departments.
By Sunday evening, inspectors from both the Antiquities and Monuments Office and the Architectural Services Department were satisfied there was no danger that the rest of the wall would collapse, and workers had cleared the debris.
A spokesman for the office said it would "offer advice to the relevant departments to repair the wall from the viewpoint of relics preservation".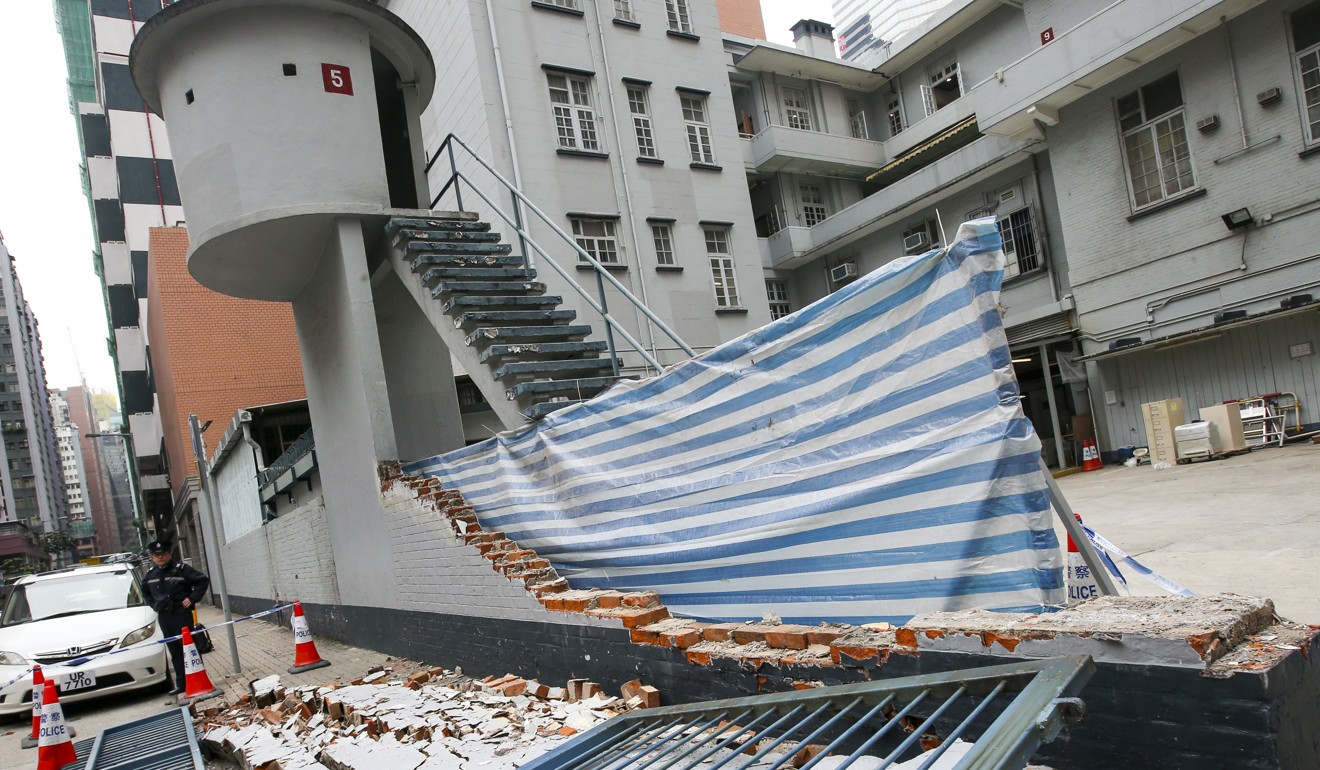 Andrew Lam Siu-lo, chairman of the Antiquities Advisory Board, which advises the government on the grading of old local buildings, said the damage could be repaired and should not have a big impact on the compound's overall historical value.
A former member of the board, Dr Lee Ho-yin, said the wall was probably built after the second world war and was not meant to withstand the impact of a truck ramming into it, and the collapse was not due to a lack of proper maintenance.
It was not the first time part of a historic Hong Kong police block has succumbed to gravity. In 2016, a building inside the 154-year-old former Central police station compound
partially collapsed whilst under renovation
.
This article appeared in the South China Morning Post print edition as: Truck flattens part of old Wan Chai police station