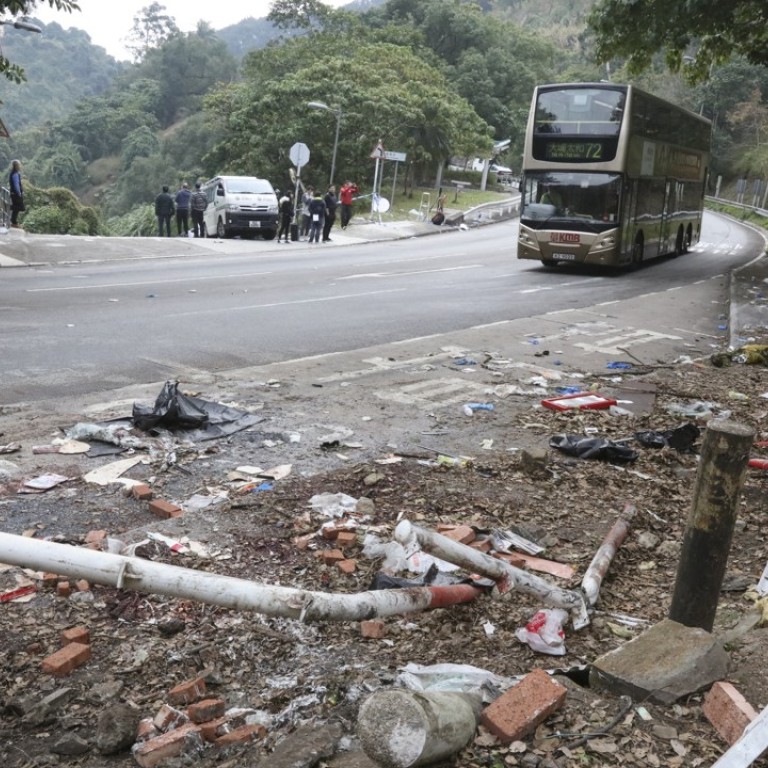 Hong Kong bus crash survivor describes horror of accident that killed 19 people
Driver has been arrested for dangerous driving causing death, but police are looking into the possibility of manslaughter
The smell of incense filled the air along a usually quiet stretch of Tai Po Road on Sunday, as dozens of family members gathered roadside to mourn loved ones lost to one of Hong Kong's deadliest traffic accidents.
"Who wouldn't be angry?" asked a mourner, surnamed Yip, his eyes welling with tears for his dead brother-in-law, "when a family member is gone in a moment as brief as a bus making a turn?"
The same question was gnawing at the minds of some 200 mourners attending a ceremony on the section of Tai Po Road on Sunday afternoon, held by a Taoist master to help "call back the spirits of their loved ones". Several lawmakers and officials including Chief Secretary Matthew Cheung Kin-chung, No 2 in the government, attended.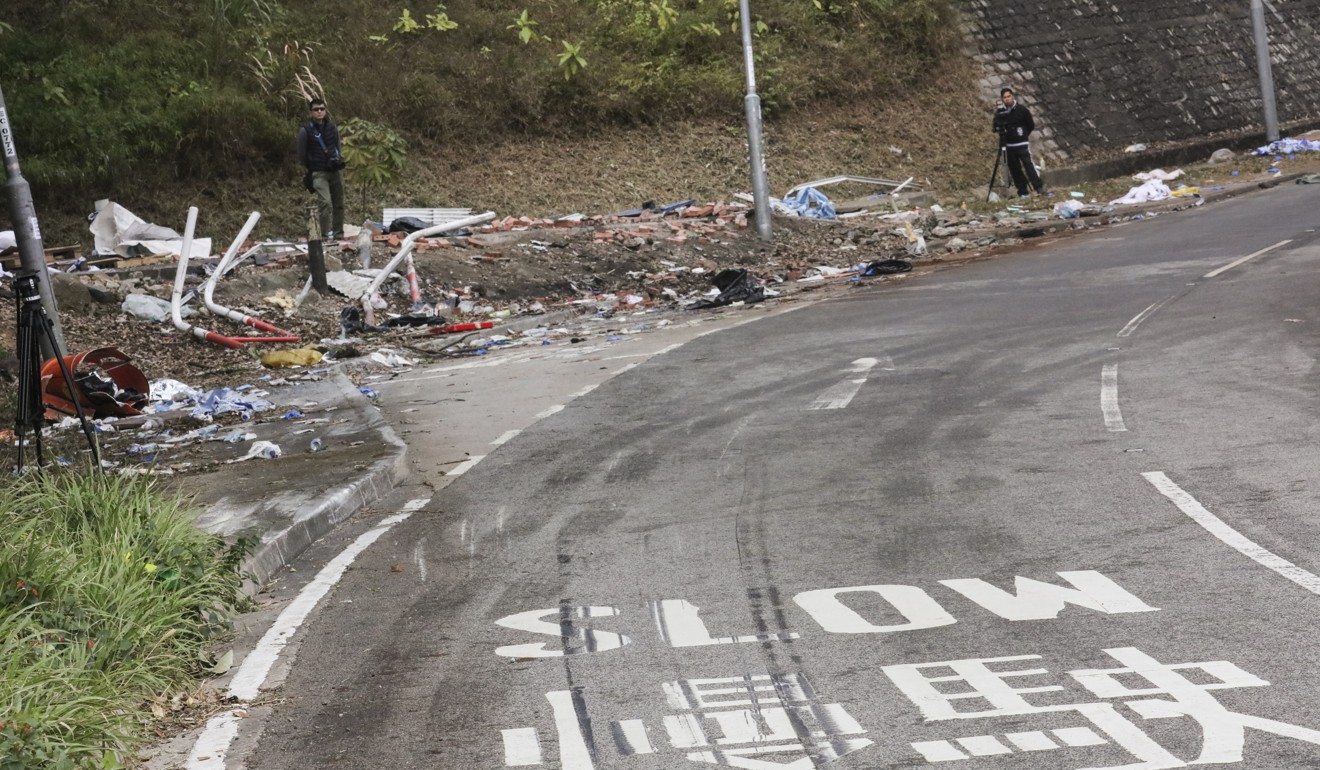 Just a few hours earlier, blood stains were still visible on the road along with bricks, upturned earth and debris. Copies of racing newspapers dated February 10, soaked red, lay scattered on the ground.
On Saturday evening, 18 passengers were killed and more than 60 injured when a double-decker bus operated by KMB, route 872, toppled on its side as the driver negotiated a turn near Tai Po Tsuen. The death toll rose to 19 on Sunday.
One survivor, named Tsui, chalked it up to bad luck that he got on the bus that evening. The special service route ferries passengers between Sha Tin Racecourse and Tai Po.
Tsui said he opted to take the bus as he did not "play well" after a day at the races.
The bus arrived about 10 minutes late and a long passenger queue had formed. When the bus departed, it was packed, with many people standing.
Not long into the journey, Tsui said he knew something was wrong. He recalled the bus "speeding" downhill before it overturned, skidding 40 metres (44 yards) before finally coming to a stop.
Tsui said he felt as if the bus was travelling at 80 to 100km/h, where the maximum allowed speed is 70km/h.
"I held onto the handle bars in front of me," he said, demonstrating with his arms extended as if he was gripping something tightly with both hands. "If I had not done that and had let myself fall, I would have perished."
The crash caused windows to shatter and as the bus skidded, a fire broke out on board and passengers were sent flying.
"They all fell. They wouldn't have died if not for that," Tsui said. "Underneath the shattered glass, things were catching fire."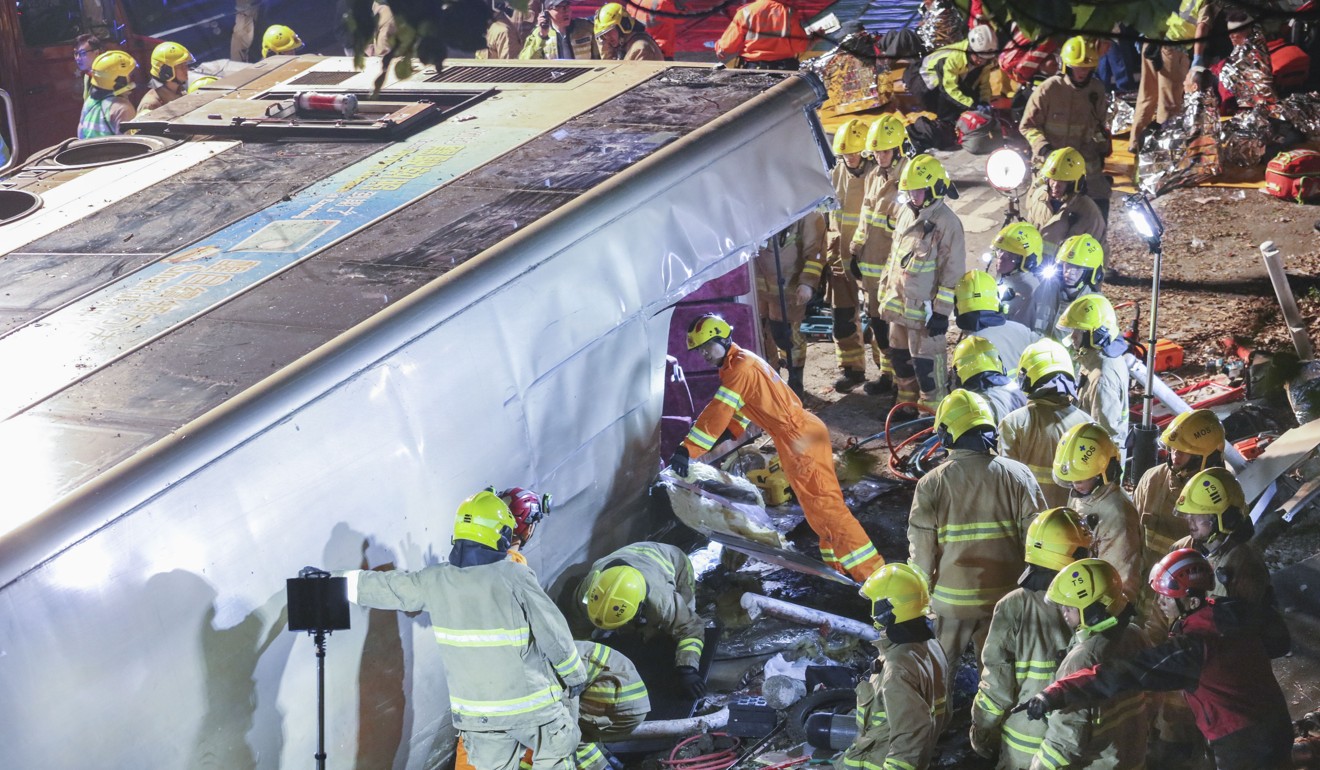 In the aftermath, Tsui recalled seeing a woman with a twisted neck and another passenger with shards of glass protruding from his head.
Tsui, who suffered pain in the upper left side of his body, offered his account as he sought treatment at Alice Ho Miu Ling Nethersole Hospital in Tai Po early on Sunday.
He and others tried to escape through one opening, but it would not budge due to damage.
"Luckily, someone pried open a hole for me to get out," he said.
Tsui later returned to the bus to pull out other passengers. He estimated that he helped five or six people.
Chartered mechanical engineer and veteran traffic accident investigator Lo Kok-keung estimated that the bus may have entered the downhill bend at a speed of up to 68km/h.
Based on the arc of the skid marks he observed at the scene stretching some 100 metres, and the gross weight of a full double-decker bus – about 22 tonnes – Lo calculated that it would have only taken about 12.4 tonnes of centrifugal force to overturn the bus.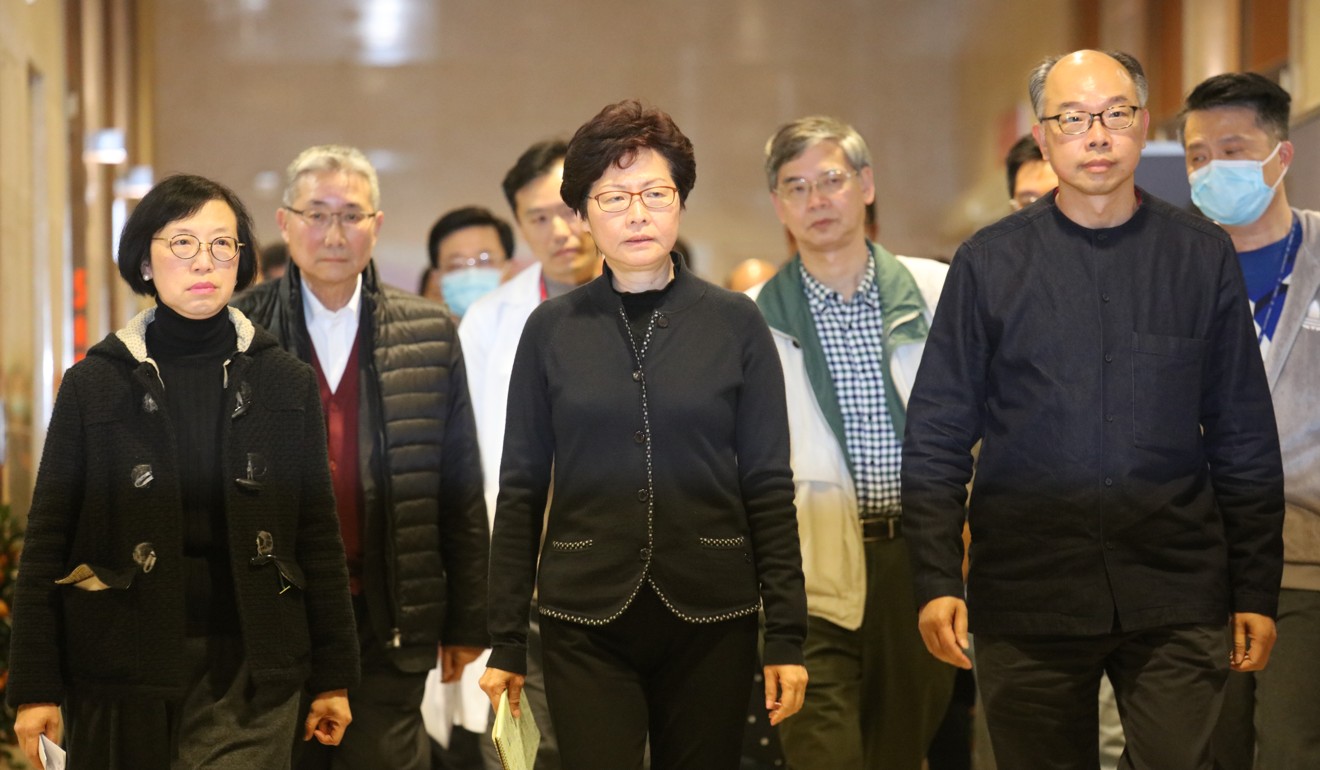 "The safe speed to enter the turn should only be about 40 to 50km/h," said Lo, adding that it would be prudent for transport officials to cut the speed limit of Tai Po Road, parts of which include several bends and slopes.
Kwok Wai-kwong, chairman of the KMB Staff Union, said all KMB buses had an automatic speed limiter which prevented the double-decker from going more than 70km/h. But he said it was possible that a double-decker travelling down a slope could potentially reach 75 to 80km/h.
The driver has been arrested for dangerous driving causing death, but police are looking into the possibility of manslaughter, pending further investigation. The government has pledged to launch a judge-led inquiry into the tragedy.
This article appeared in the South China Morning Post print edition as: survivors recount the shock and the horror