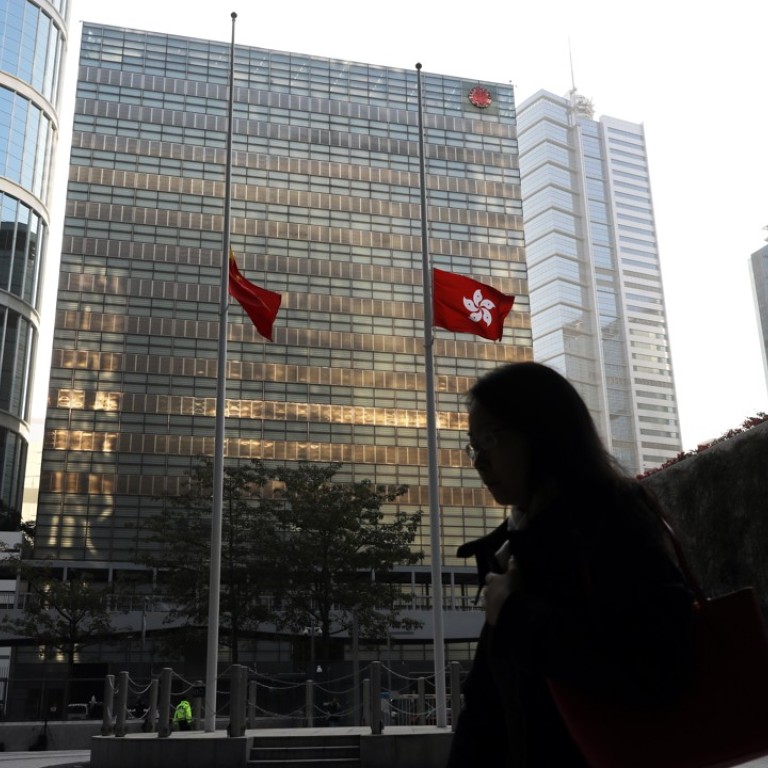 Flags flown at half-mast as Hong Kong mourns victims of deadliest bus crash in 15 years
Chief Executive Carrie Lam to skip annual Lunar New Year night parade out of respect for deceased
The flags of Hong Kong and the mainland were flown at half-mast at the government headquarters on Tuesday as officials and legislators observed a minute's silence to mourn the 19 people killed in the city's deadliest crash in nearly 15 years.
The local government staff and lawmakers, alongside mainland officials and members of the Chinese army based in the city, paid a moment's silence at 10am when the flags were lowered.
The citywide mourning came as the driver of the double-decker bus that crashed on Saturday, Chan Ho-ming, 30, was
remanded in custody
with prosecutors at Fanling Court revealing he could face more serious charges than the current one of causing death by dangerous driving, pending legal advice.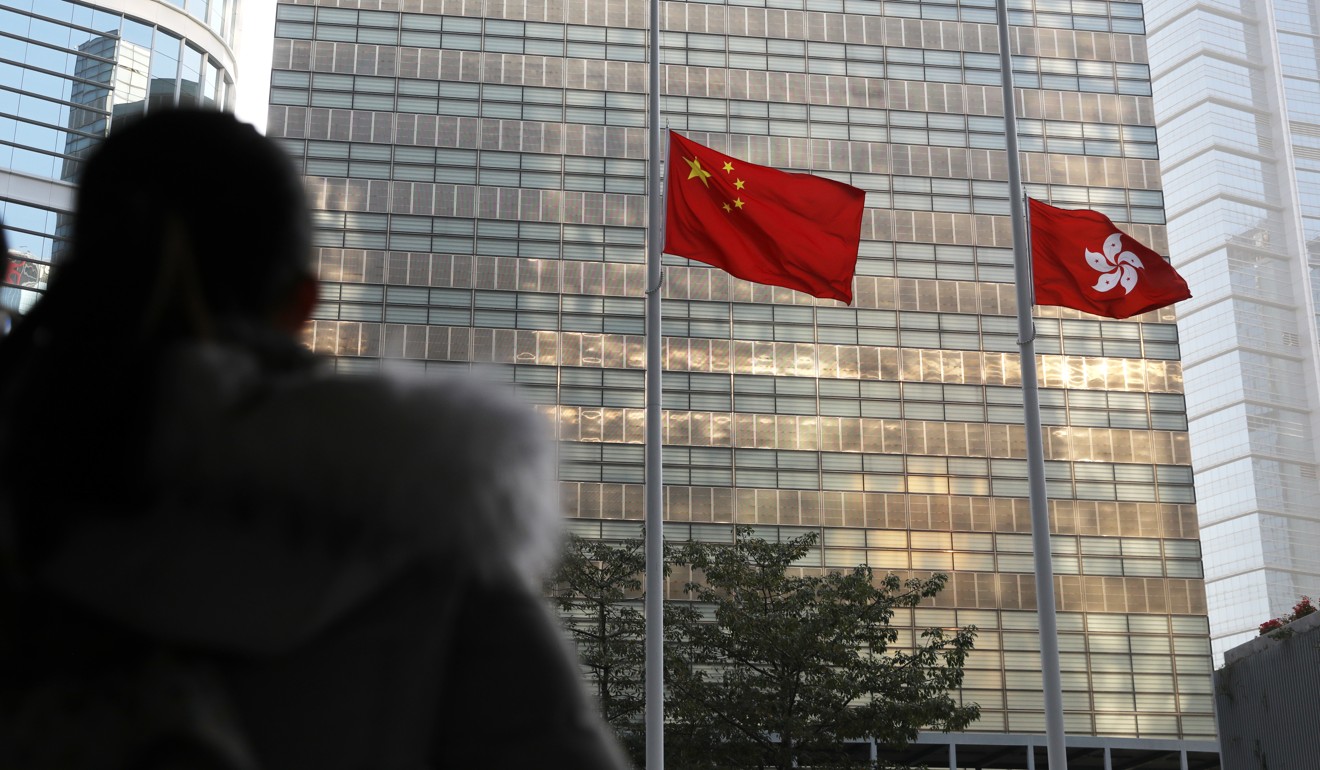 Ahead of her weekly
Executive Council
meeting on Tuesday, Lam said of the parade: "I notice the Hong Kong Tourism Board has already advised that it would continue to host the event because it is an international event targeting mainly tourists [with] performers coming from abroad … So I feel we achieve a balance by continuing to host this parade.
"But in line with what I have said – that the principal officials will be as low-key as possible in attending some of these events – I have told the Tourism Board that I will not attend and speak at the parade, which originally was planned."
Secretary for Commerce and Economic Development Edward Yau Tang-wah will represent the government at the event instead, she added.
The chief executive said she was confident the city could – and had sufficient resources to – help those affected in the aftermath of the crash.
In memory of the victims, lawmaker Kenneth Leung, chairman of the bills committee for the Inland Revenue (Amendment) (No 4) Bill, suspended a committee meeting halfway through at 10am and led lawmakers and staff in observing a minute of silence.
Meanwhile, the Tourism Commission announced that "A Symphony of Lights" – a 10-minute light show staged at Victoria Harbour at 8pm every night – would be suspended on Tuesday.
As of Tuesday afternoon, five passengers remained in critical condition while another five were in serious condition at various local hospitals, officials said. Twenty-two others were still hospitalised in stable condition.
Prosecutors were granted eight weeks to investigate and said they intended to interview 37 more passengers and other eyewitnesses, apart from the 28 they had already spoken to.
They are also waiting for analysis of a black box recorder that logs technical details during a journey, an examination of the wreckage as well as the 19 autopsy reports to come back.
Chan declared his occupation as a cook and appeared tired as he emerged from court under security.
His lawyer Timothy Wan applied for bail but was rejected by Principal Magistrate Ernest Lin Kam-hung after prosecutors objected.
The case is due to return to the same court on April 10.
The government announced on Tuesday that it was
calling off the Lunar New Year fireworks
set for Saturday, which would be the seventh day after the tragedy. According to Chinese tradition, the spirit of a dead person returns home on that day for a final farewell to loved ones.
A Tourism Board spokeswoman said "some overseas visitors" who were visiting especially for the fireworks had expressed disappointment.
Additional reporting by Rachel Leung 
This article appeared in the South China Morning Post print edition as: Minute of silence for victims of deadly bus crash