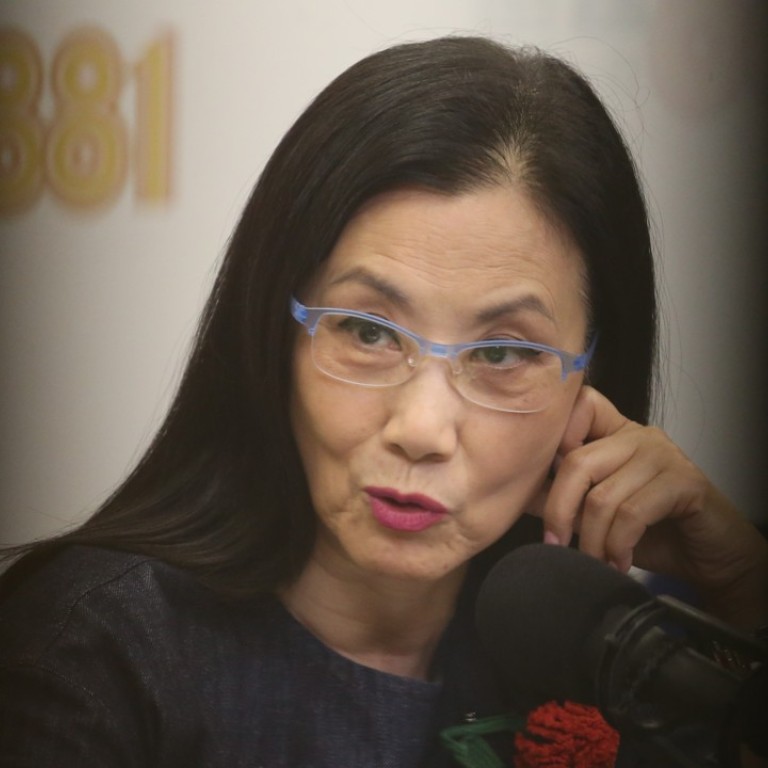 Resolved: row over who's in charge of Cantonese opera theatre's grand opening at Hong Kong arts hub
The Chinese Artists Association, previously left out of the picture, will now jointly lead the launch of the Xiqu Centre with another group
The dispute over who should lead the West Kowloon arts hub's Cantonese opera theatre grand opening has been resolved, with performers' group Barwo – or the Chinese Artists Association of Hong Kong – announcing on Thursday that it would share the spotlight with another group.
Together with Yam Pak Charitable Foundation, which also organises Cantonese opera shows, it will decide on the line-up of performances to launch the 13,800 square metres (148,542 sq ft) Xiqu Centre in the first quarter of 2019.
Barwo chairwoman Liza Wang Ming-chun
previously protested
that the group, which represents over 1,000 Cantonese opera performers, was told to be involved only in the world-class theatre's pre-opening at the end of this year.
On Thursday, Wang said she had taken her complaints to the West Kowloon Cultural District Authority, which runs the arts hub.
"We communicated and negotiated [with them] and fought for it.
"We discussed [the matter] in peace and harmony," Wang, an opera star, said after the group's annual Lunar New Year reception.
Pre-opening shows and rituals to "break in" the new theatre would take place on December 30, Wang said, and a week of ceremonial performances would follow after that.
"It is very important. We have to pay tribute to deity Wah Kwong so as to ensure safety of the stage," Wang said, adding that Barwo would run the week-long programme.
The Xiqu Centre, though long-awaited, has been criticised for a number of things, from its design to the person appointed to oversee it.
Last October, Barwo hit out at the authority for appointing Alison Friedman, an American specialising in promoting Chinese art in and outside mainland China, as the hub's director of performing arts.
Friedman was tasked to nurture the development of Chinese opera, dance, theatre and music, but the association said a Hongkonger with knowledge of Cantonese opera should get the job instead. In a statement, it called for a separate Chinese opera chief.
On Thursday, Wang said the association had been in touch with Friedman, who used to be based in Beijing, several times since she took the job.
"She is a nice person, yet she is too green to know about us," Wang said, adding that she spoke more to Executive Director Louis Yu Kwok-lit about the grand opening arrangements.
"We still demand that [the authority] set up another seat of artistic director, to be chaired by an expert in the industry," Wang said, noting that Friedman understood their insistence.
The authority said it had no updates regarding the opening of the Xiqu Centre.
This article appeared in the South China Morning Post print edition as: Artists' group to jointly lead opera theatre opening