Poverty
Get more with myNEWS
A personalised news feed of stories that matter to you
Learn more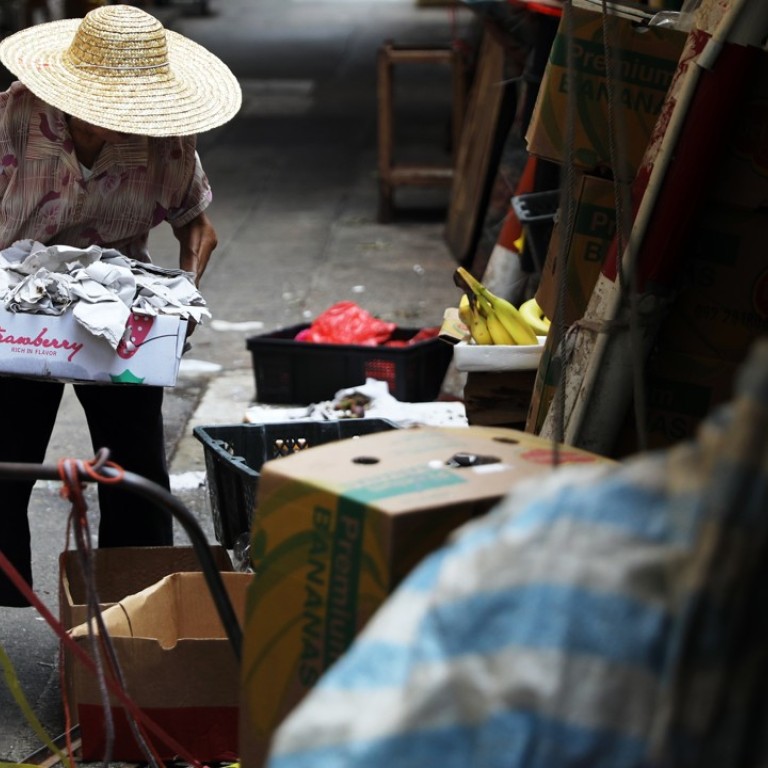 New study into Hong Kong's forsaken 'cardboard grannies' finds they earn just HK$716 a month
Study highlights plight of city's forgotten rubbish collectors, who toil in the shadows from morning to night gathering cardboard and other waste to make ends meet
Eight in every 10 Hongkongers who make a living by scavenging for discarded cardboard and other waste on the city's streets are women, and most are above the age of 60, according to the largest study ever of this mostly forgotten group.
The survey of 505 scavengers conducted earlier this year by concern group Waste Picker Platform also found that they managed to scrape together just HK$716 (US$91) a month on average from selling scraps for recycling.
Releasing its findings on Monday, the group estimated there were about 2,900 people on the streets of Hong Kong each day collecting rubbish, though it was a rough projection based on visits to 58 of the city's 320 recycling shops.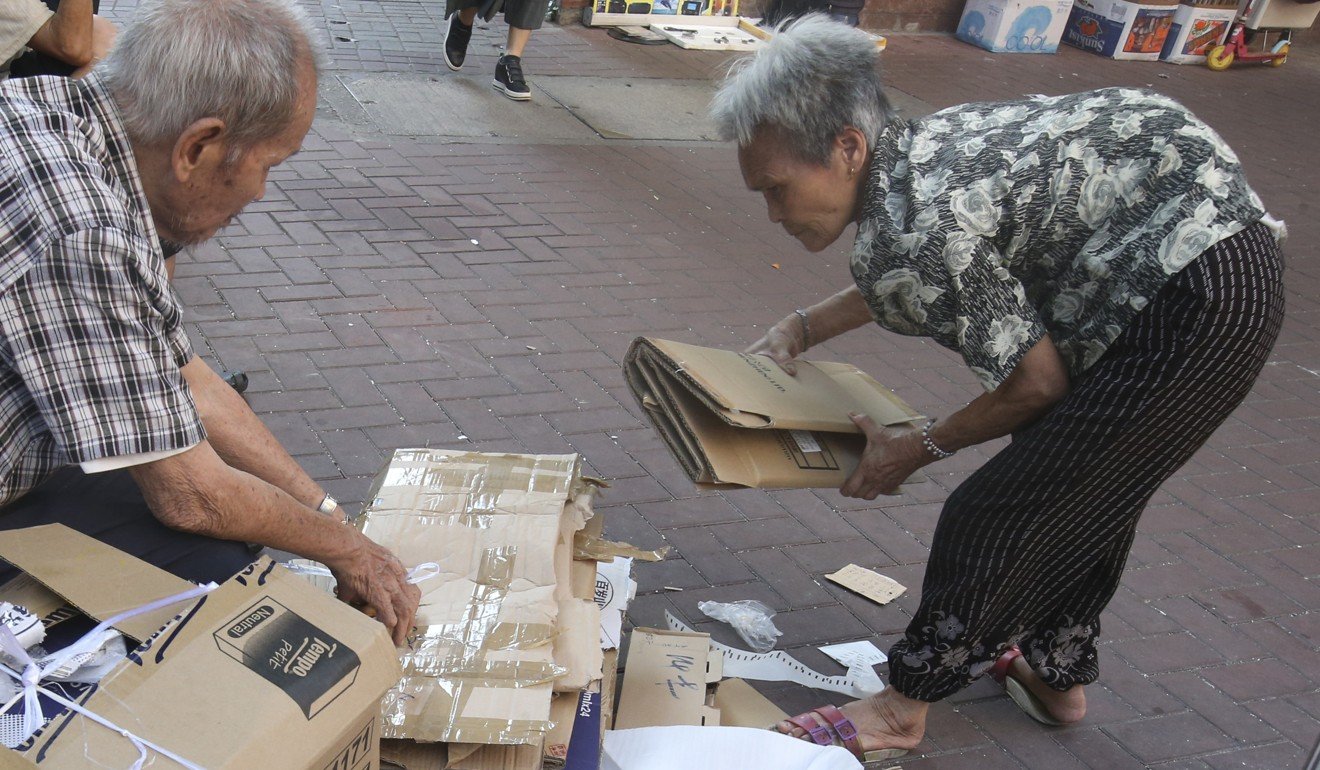 "They are mostly elderly people from the grass roots of society," said Chan Siu-ming, a volunteer for the group.
"They have to face great tensions with different people, including the government's Food and Environmental Hygiene Department and some members of the public."
The plight of street scavengers – many of them known as "cardboard grannies" – made headlines and attracted considerable public sympathy last June after an elderly woman
was prosecuted by the department
for selling cardboard without a licence. She had sold a piece to a domestic helper for HK$1.
The authorities later dropped the charges after a public outcry.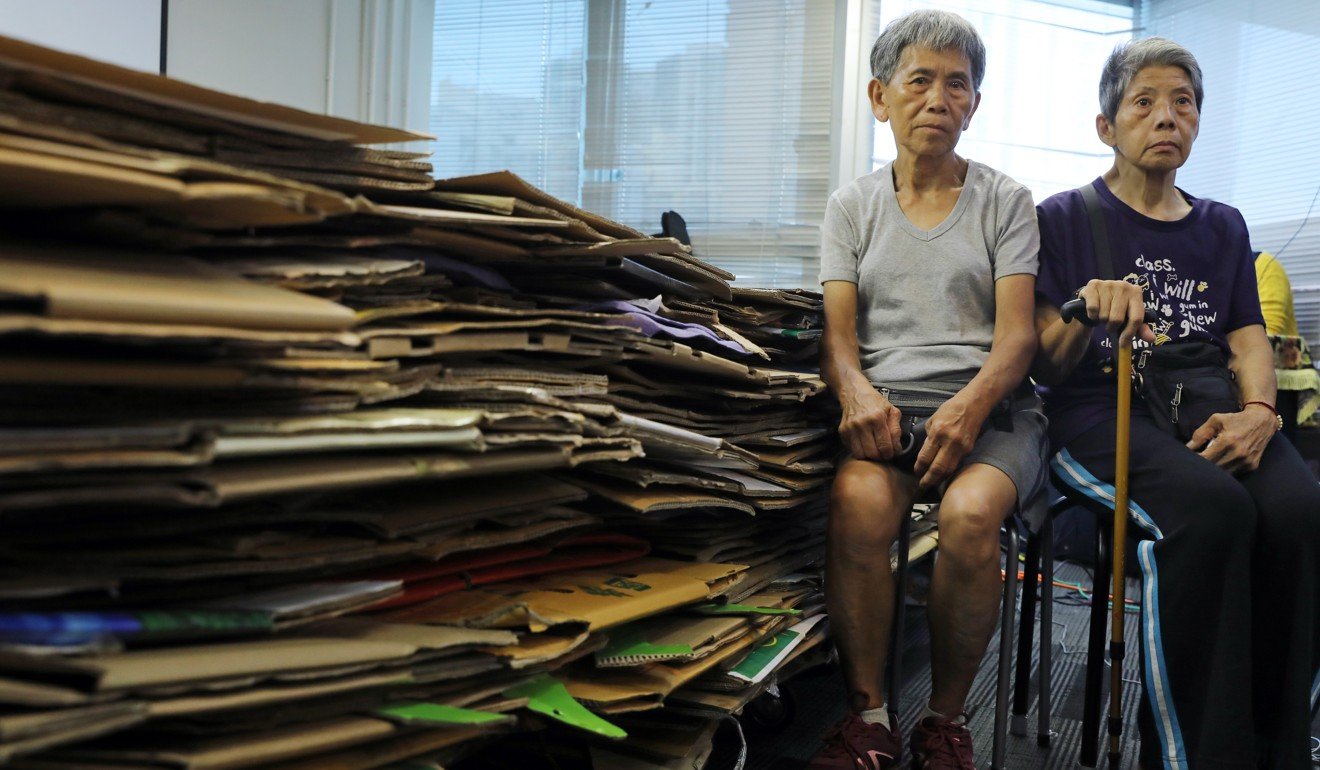 The study, conducted in March, covered 505 people in 11 districts across Hong Kong. Eighty per cent of the interviewees were women, and 82 per cent were aged 60 or above. The oldest was 96.
More than 60 per cent had been scavenging for more than three years. Overall, the scavengers spent a median 5½ hours on the work each day.
The average collector picked up 35kg of cardboard per session, and visited recycling shops to try to sell the haul 1.9 times a day. They earned HK$716 each month on average from the exercise.
Even after combining those earnings with other sources of income, such as government financial aid and wages from other work, more than 60 per cent of the interviewees still made less than HK$5,000 a month.
To put that in perspective, a government study released earlier this year found the median monthly rent in 2016 for a room subdivided from a larger flat in Hong Kong was HK$4,500.
An estimated 193 tonnes of cardboard and waste paper was collected by scavengers each day across the city, according to the study.
Close to 90 per cent of the respondents said they had started collecting waste for economic reasons, and about 25 per cent relied on it to meet their basic needs.
In doing so they faced a number of challenges, the researchers found.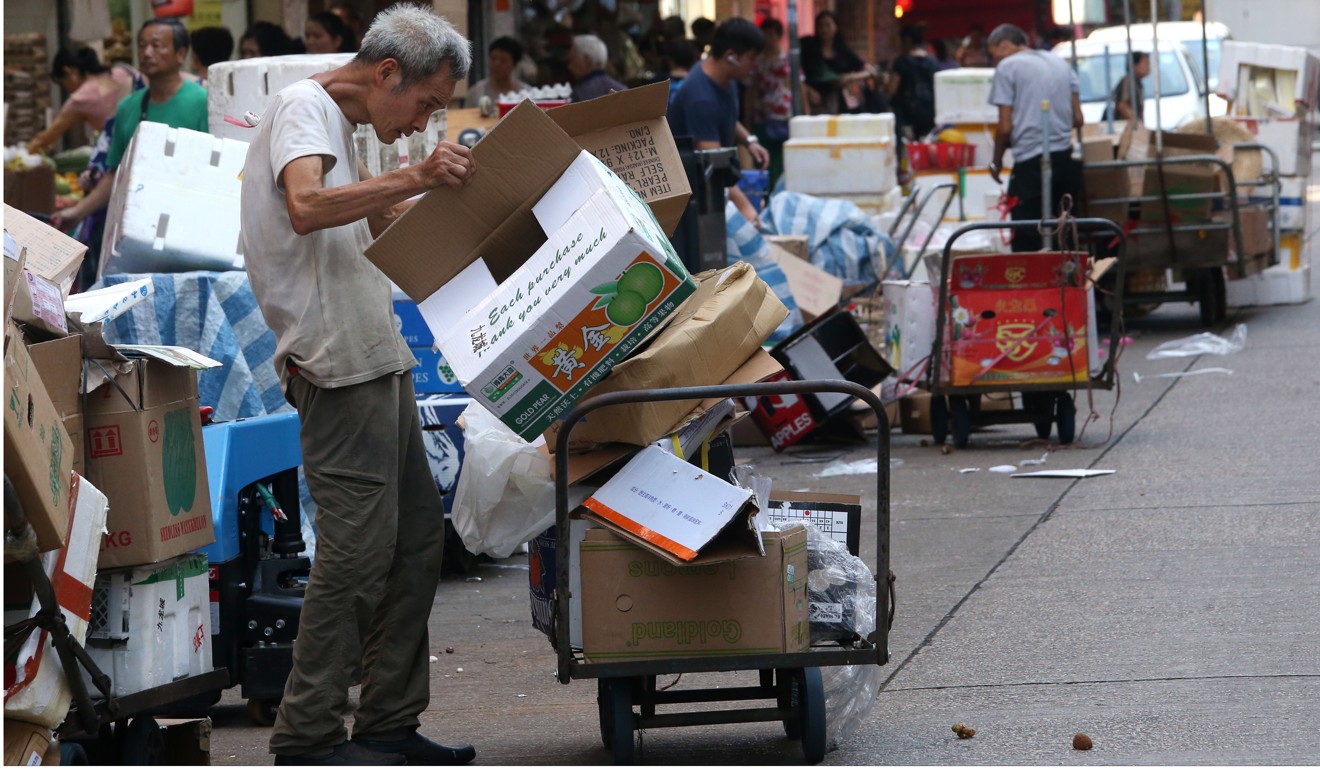 Some 17 per cent had been chased away by hygiene staff from the government. Another 9.3 per cent had their belongings confiscated.
Wong Yuet-han, 66, has been collecting cardboard in Sheung Shui for about four years. She takes home HK$60 a day on average, and is out scavenging every day from early morning until 1am at night.
Wong sleeps rough but refuses to rely on any government aid.
"I still have some energy so I can help myself. I don't want to add to the government's burden," Wong said.
She became tearful as she recalled how officers had confiscated the cardboard she had collected every two or three days in the past month.
Waste Picker Platform spokesman Tang Wing-him urged the government to take a more lenient approach to scavengers obstructing the streets. The group called for specific areas to be designated for cardboard collectors to ply their trade in peace.
However, the Environmental Protection Department poured cold water on the suggestion, noting that each scavenger would have her or his own preferred collecting route, based on the location of recycling shops.
The department said multiple factors such as fire safety and street management would also have to be considered, and it had no plan to set up designated areas for the trade.
A spokesman for the Food and Environmental Hygiene Department said rules governing obstruction and hygiene would be enforced without discrimination, and frontline officers were expected to "exercise both reasonableness and sensitivity" when taking action against scavengers.
This article appeared in the South China Morning Post print edition as: The plight of elderly scavengers revealed