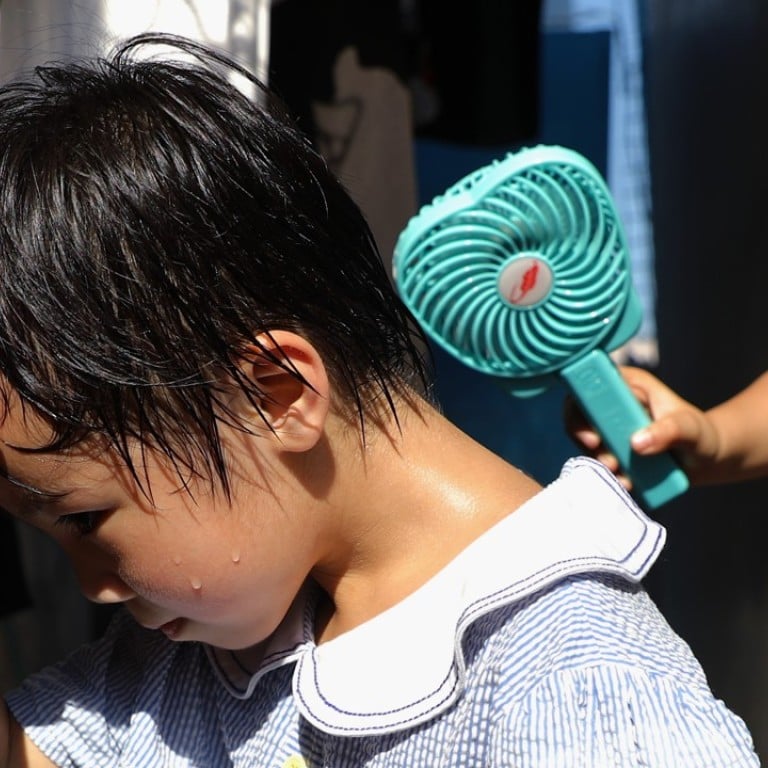 Residents in Hong Kong's poorest neighbourhoods struggle to keep cool as city endures another day of record long May heatwave
Cold showers are the only respite for residents of illegal structures and subdivided flats
"I like going to school because they have air conditioning," says Chiu Ka-wai, 6, running around the small rooftop house where she lives with her parents and cousin, as sweat drips from her hair on the hottest afternoon in Hong Kong so far this year.
On Tuesday, the 13th day of a record long May heatwave, the
mercury reached 35.3 degrees Celsius
– the second-highest for the month since records began. And the city was expected to endure the sweltering heat till at least Friday.
In Chiu's 250 sq ft home, an illegal structure on top of a 15-storey residential building in Tai Kok Tsui, Kowloon, the indoor temperature was over 34 degrees at around 4pm. The flat was equipped only with fans and its electricity supply was unstable.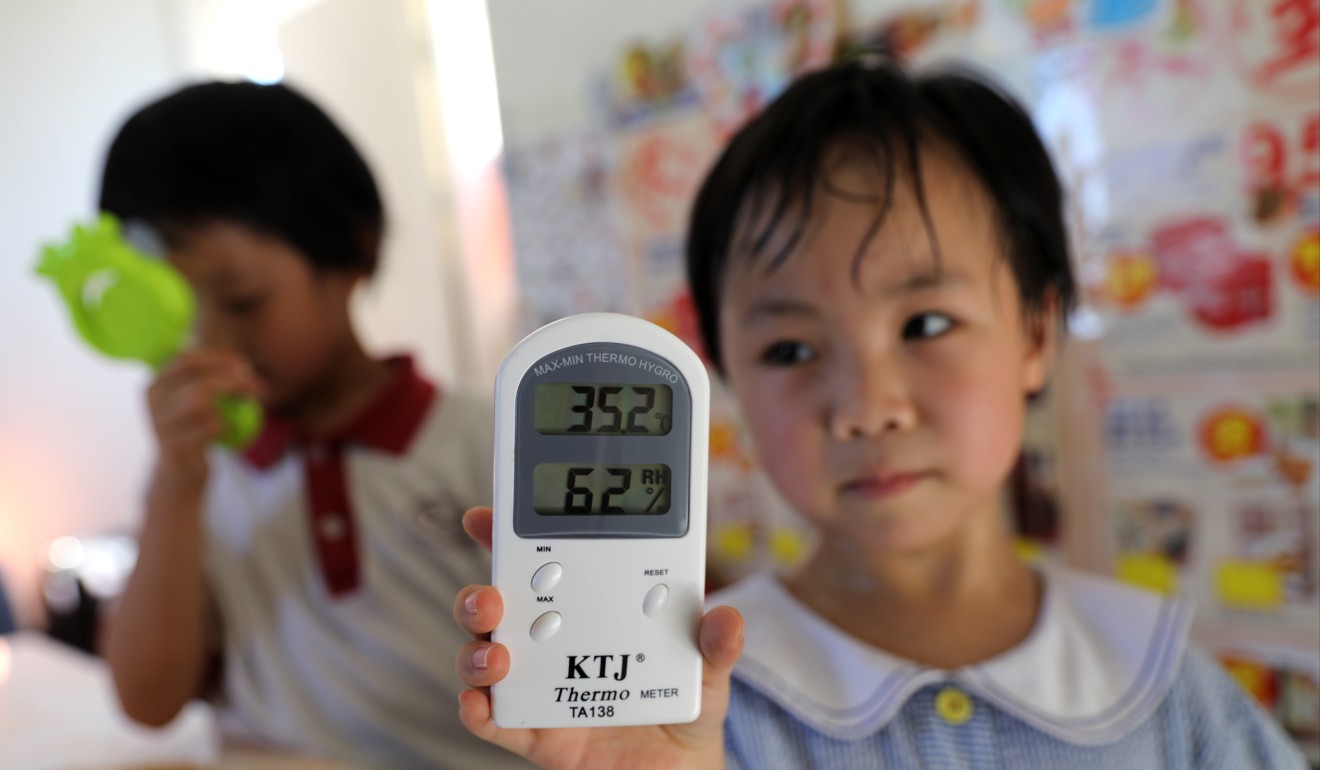 "We had a power failure just two days ago," said Lin Xiaohong, 47, mother of Chiu and a housewife. "[The two children] asked if we could stay in the MTR station instead of going home. I had to shower them with cold water twice a night to help them cool down."
Chiu's cousin, Wu Pik-yee, a 5½-year-old kindergarten pupil, also lives with the family.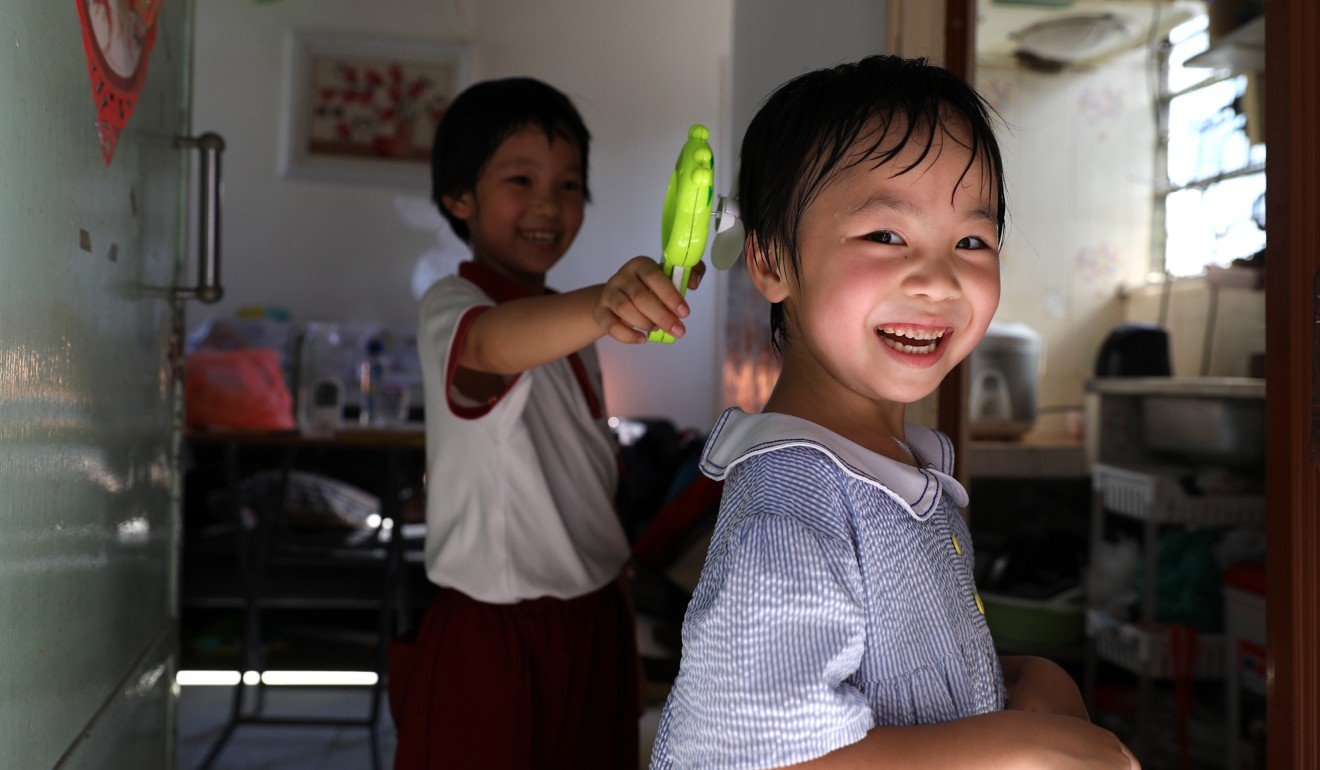 Relying on a monthly income of about HK$8,000 from Lin's husband Liang Yaoquan, a disabled man working as street cleaner, the family cannot even afford to have ice-cream in their fridge for the two children after paying their rent of HK$4,500 per month.
And there are few cool, public venues in the area.
"There is no public library nearby," Lin said. "We are reluctant to take the children to McDonald's because they might ask for food."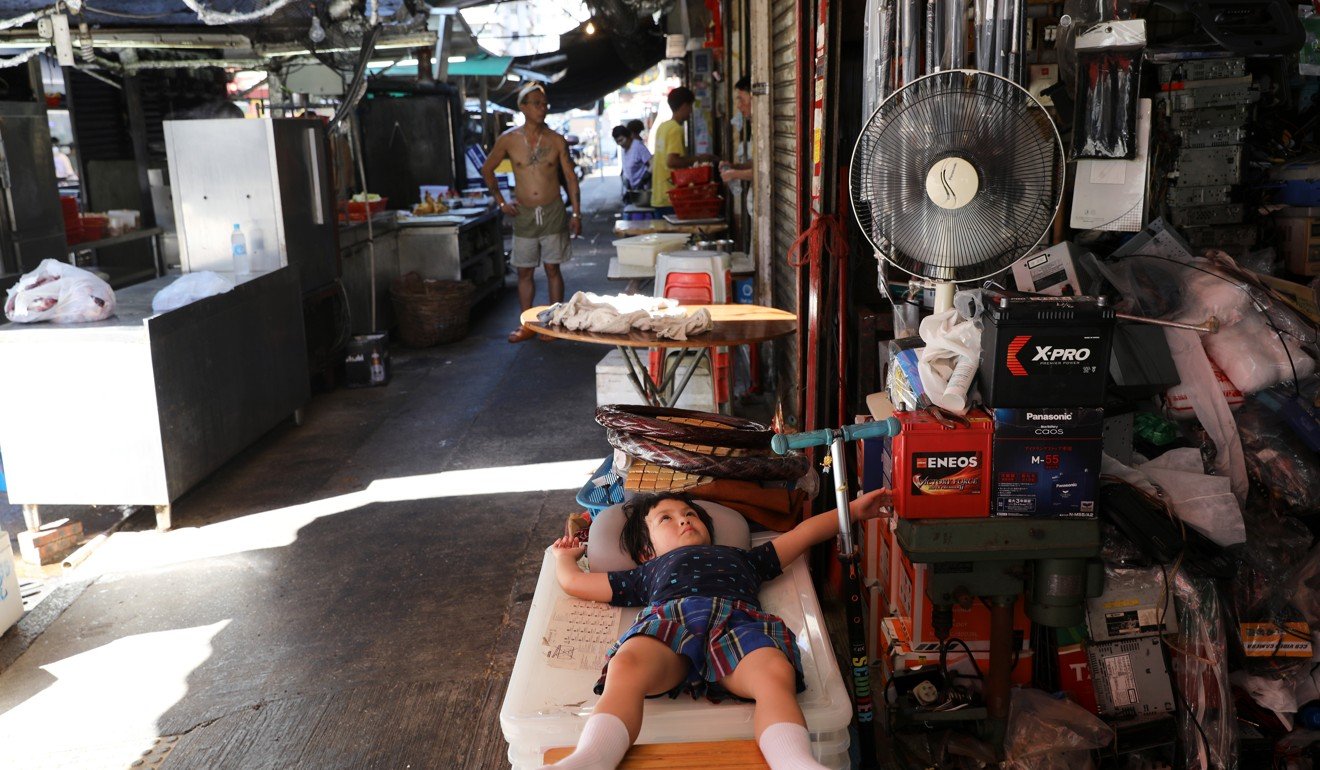 To protect the family from the unusual hot spell, Lin has been making soup with bitter melon and leaf mustard.
"All I have in the fridge are cheap or free vegetables brought back by their father [Liang] from Sham Shui Po, the district he works in," Lin said.
Some 20 minutes' walk north from Lin's home, 71-year-old retiree Cheung Wong-tim couldn't stop sweating in his 64 sq ft windowless subdivided room, sandwiched between other rooms in an old residential building in Sham Shui Po.
Cheung said recent days had been so hot he couldn't catch his breath and had to relieve himself with cold showers.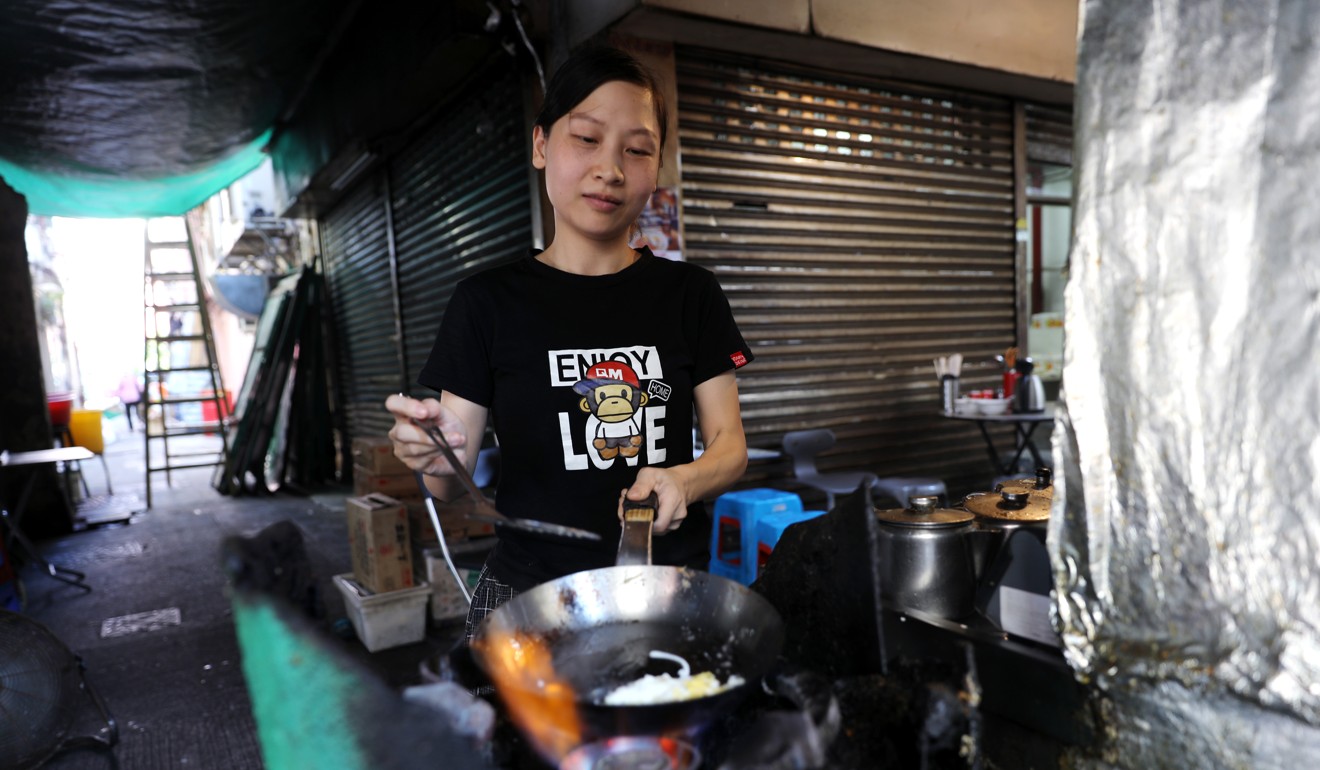 "During the day I escape the heat by staying in the municipal services building," Cheung said. "At night I stay in a park till 11pm to stay away from the stuffiness in my room."
Hong Kong's Lau Shui Heung Reservoir dries up:
On the streets, where additional factors pushed the temperature above 37 degrees, a 63-year-old street cleaner surnamed Chan, said she had to work from 6.30am to 4pm for a daily wage of HK$330.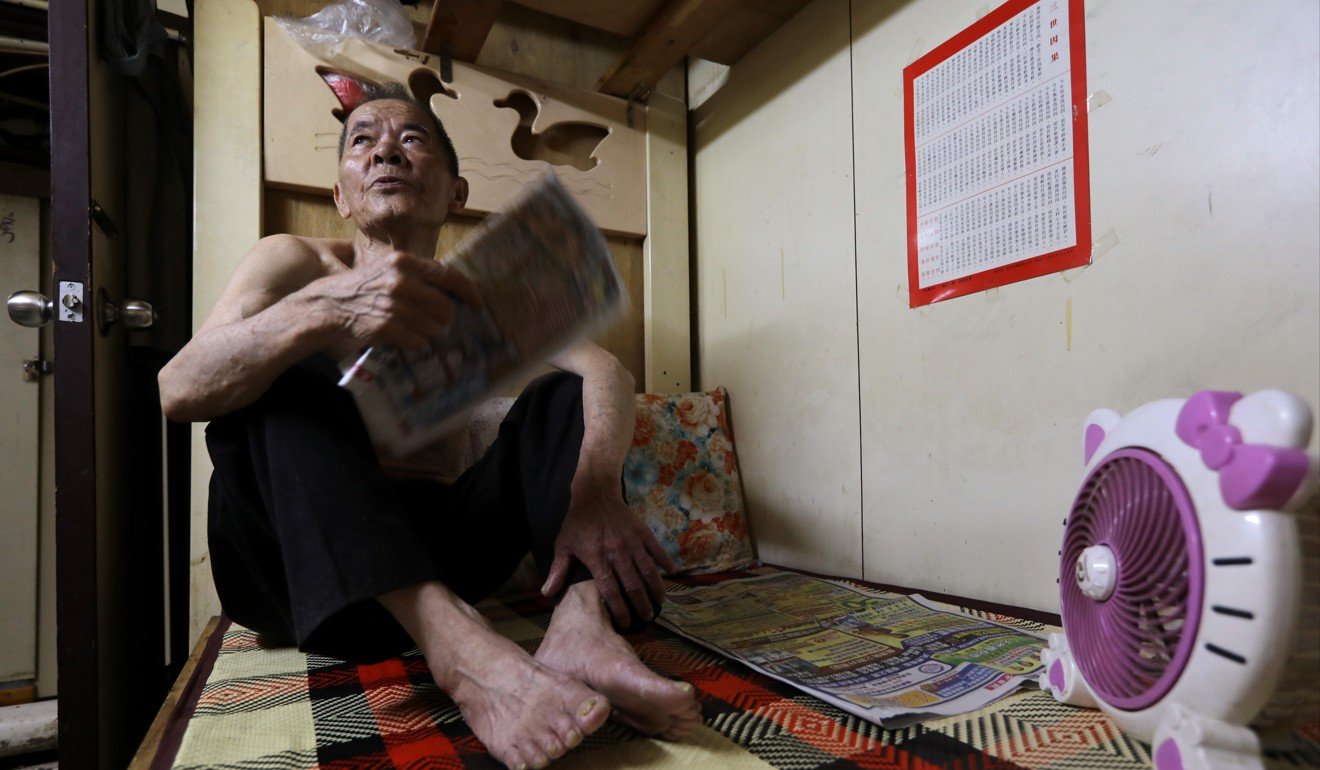 "Special subsidy and protection from my company? Why don't you help me ask them?" Chan said.
Suen, 29, chef and shopkeeper at a roadside food stall said she had got used to the heat while cooking on two stoves with open flames.
"But we've lost about a third of our usual dine-in customers due to the recent hot weather," Suen said. "People would rather order takeaway and eat in their air-conditioned homes."