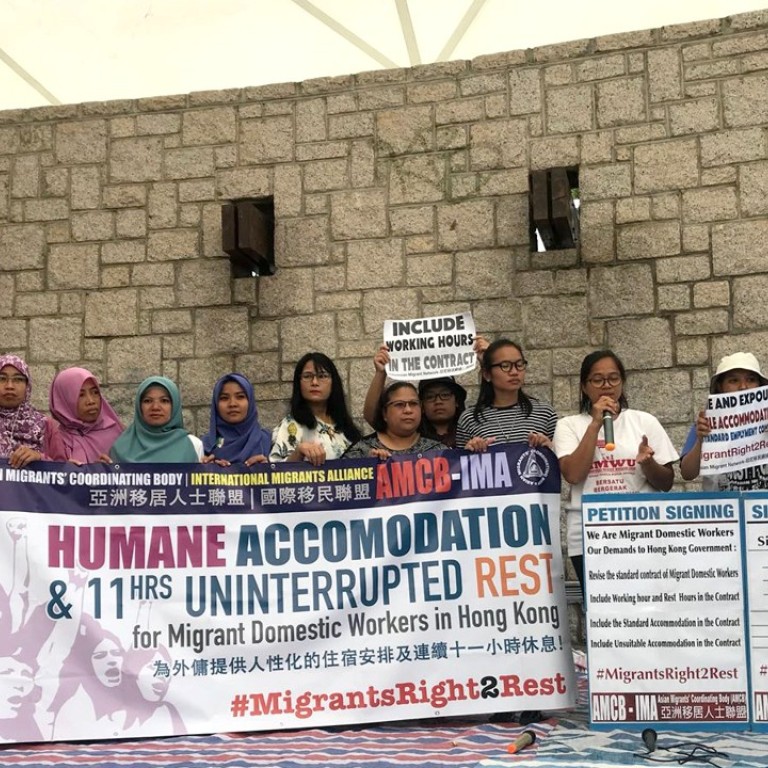 Domestic helpers want 11 hours rest and for you to stop treating them like 'slaves' Hongkongers told
Unions target 35,000 signatures as they launch new petition asking for 11 hours uninterrupted rest and an end to sleeping in toilets, kitchens, and store rooms
Domestic helpers' unions in Hong Kong launched a petition on Sunday demanding the government make it compulsory for employers to give their workers 11 hours of uninterrupted rest.
Organisers of the campaign hope to get 35,000 signatures, roughly 10 per cent of the city's domestic helpers, a number they believe should prompt the government to take notice.
They have also called for helpers to be given decent accommodation, so sleeping in kitchens, store rooms, and toilets would become a thing of the past.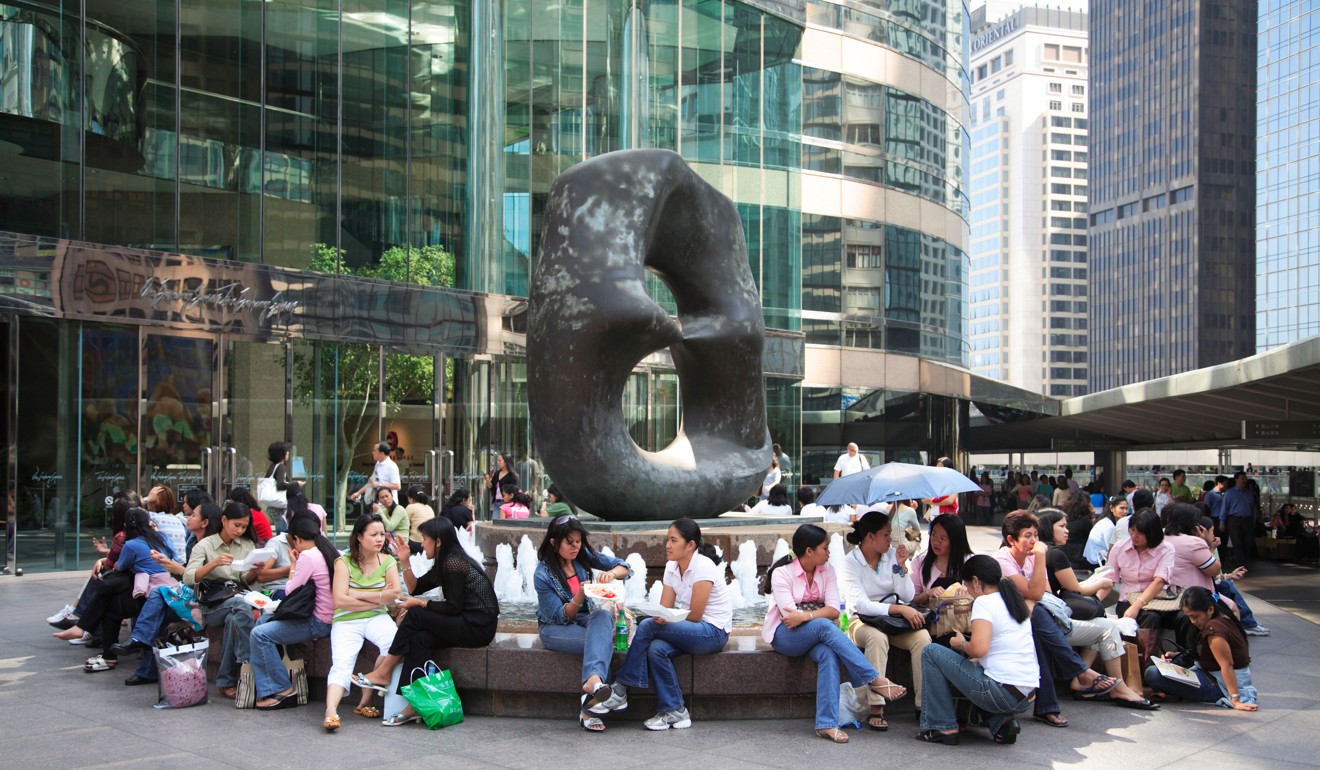 All of these issues should be stated clearly in the government's standard employment contract – the only contract the government accepts for people hiring domestic helpers – so they will no longer live like "slaves" in the city, campaigners added.
"The Hong Kong government must start treating us as workers, not slaves. It is high time that the Hong Kong government ensure we have proper rest," said Sringatin, spokeswoman of the Asian Migrants' Coordinating Body, an umbrella group of migrant workers' unions.
"Ensuring that we have proper rest means safer homes."
Sringatin made the demands as she and about 15 other unionists launched the campaign in Victoria Park, where many of the city's 370,000 domestic helpers usually gather on their weekly day off.
Workers have often complained they work 12 to 15 hours a day. Since they must live with their employers under the "live-in requirements", some have complained they are on call at all times, and so could be interrupted easily while resting.
Dolores Balladares Pelaez, another spokeswoman of the body, called on the government to punish employers that do this, and said a mechanism should be in place for workers to report violations.
Pelaez said the level of protection for domestic helpers in Hong Kong is "subpar" compared to international standards, adding: "This must change now."
Unionists have previously demanded that the Hong Kong government raise their minimum monthly pay by 25 per cent to HK$5,500 to prevent an exodus to China.
Their demands were prompted by Manila's labour minister, Silvestre Bello, saying in April that Beijing wanted more Filipino domestic helpers, cooks, carers and nurses. Bello's remarks were made after officials from the mainland and the Philippines signed a memorandum of understanding on Filipinos teaching English in China.
The Philippines' top diplomat in Hong Kong, Antonio Morales, has also urged the government to adjust the minimum wages to reflect the rising costs of living. However, he declined to put a figure on what he believed workers should be paid.
The lives of domestic helpers in Hong Kong came under the spotlight after the 2014 case of
Erwiana Sulistyaningsih
, who was abused for seven months by her employer, Law Wan-tung.
This article appeared in the South China Morning Post print edition as: Domestic helpers in push for 11 hours' rest