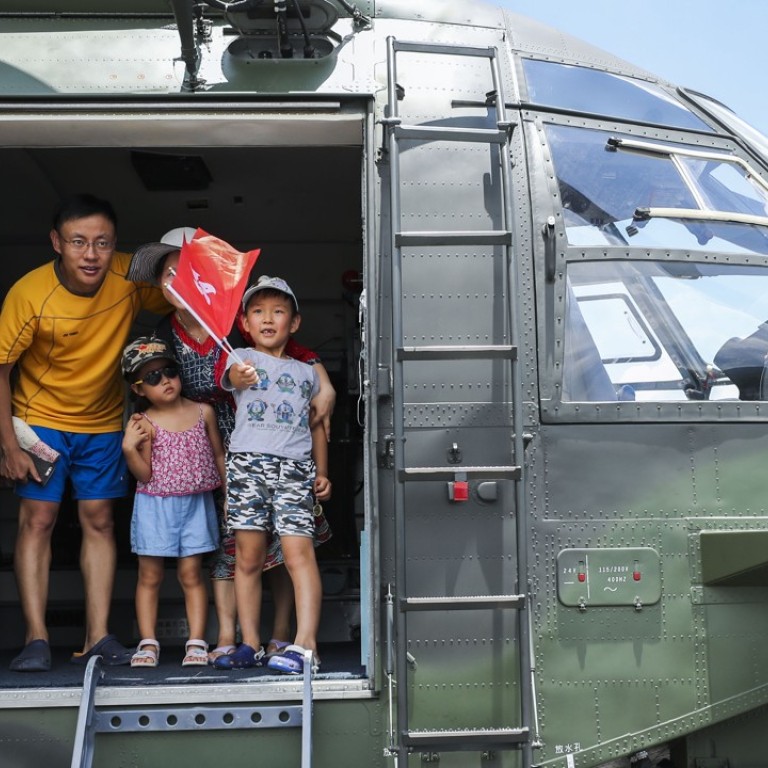 Thousands flock to Hong Kong's military bases for behind-the-scenes look at China's armed forces
Barracks in Shek Kong and San Wai open doors as part of annual celebration of city's return to Chinese rule in 1997
Thousands of Hong Kong residents, mainland visitors, and military enthusiasts flocked to two military bases in the city on Saturday as the People's Liberation Army opened its camps to the public once again.
About 22,000 visitors visited the barracks in Shek Kong and San Wai, while another 15,000 were expected to visit Ngong Shuen Chau naval base, on Stonecutters Island, on Sunday.
The military sites are opened every year in celebration of Hong Kong's return to China in 1997, giving the public a brief behind-the-scenes look at the country's armed forces.
In Shek Kong, elite soldiers joined members of the air force in demonstrating their regular military exercises, including a set of drills where they fixed bayonets to their rifles.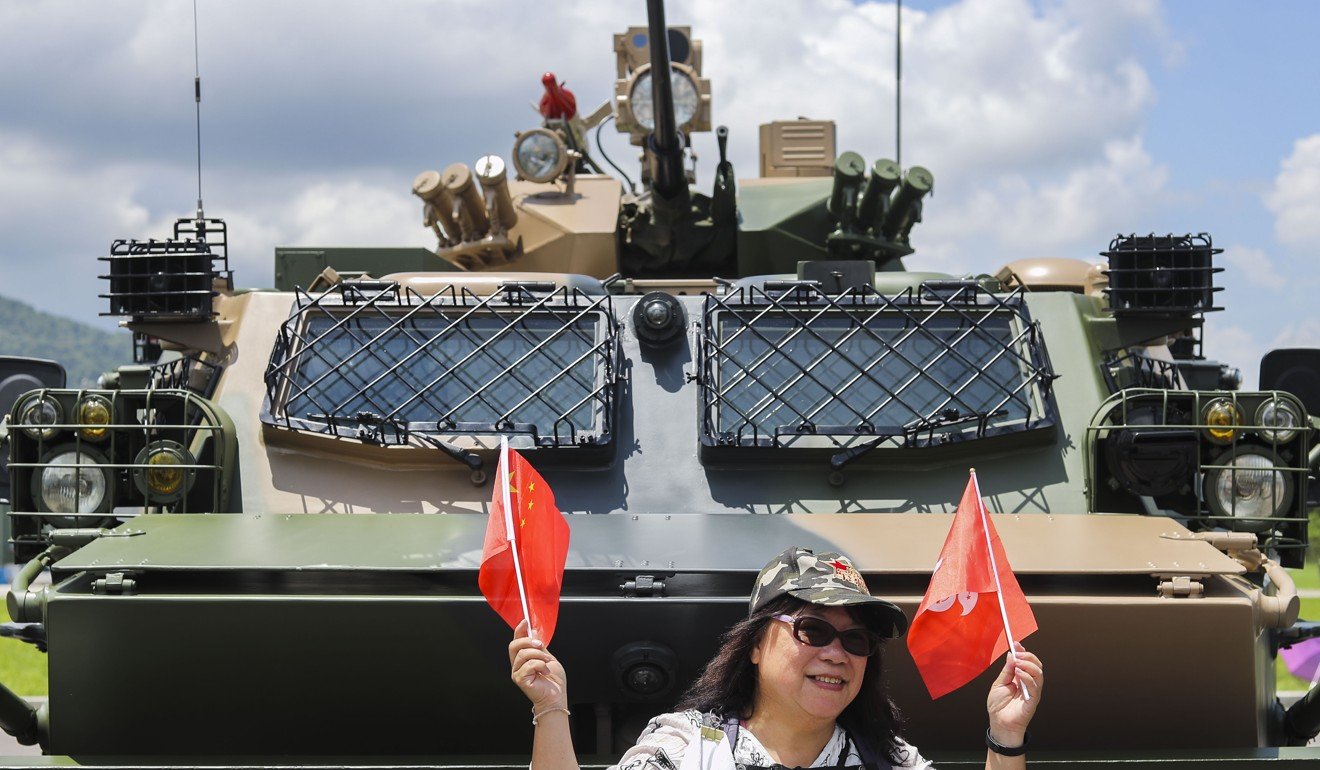 Visitors also watched the flag-raising ceremony, and a performance from the military band.
One visitor for the mainland, Peng Jing, left her house in Shenzhen at 7am with her 9-year-old son, who is a military enthusiast, to be able to watch the display.
"To me, the PLA garrison in Hong Kong has always been somewhat mysterious," Jing said. "I really want to learn more about how mainland soldiers help protect and maintain peace in Hong Kong."
Apart from taking pictures with uniformed soldiers, armoured vehicles and military helicopters, visitors could also handle weapons and visit the soldiers' barracks.
Ethan Yip Tat-sun, who was visiting for the first time, was impressed by how neat the soldiers were after touring their living quarters.
"It's very hot, but I feel great today because I can have a chance to meet the soldiers," said the 6-year-old, who wanted to know more about their personal lives, including how frequently soldiers got to read.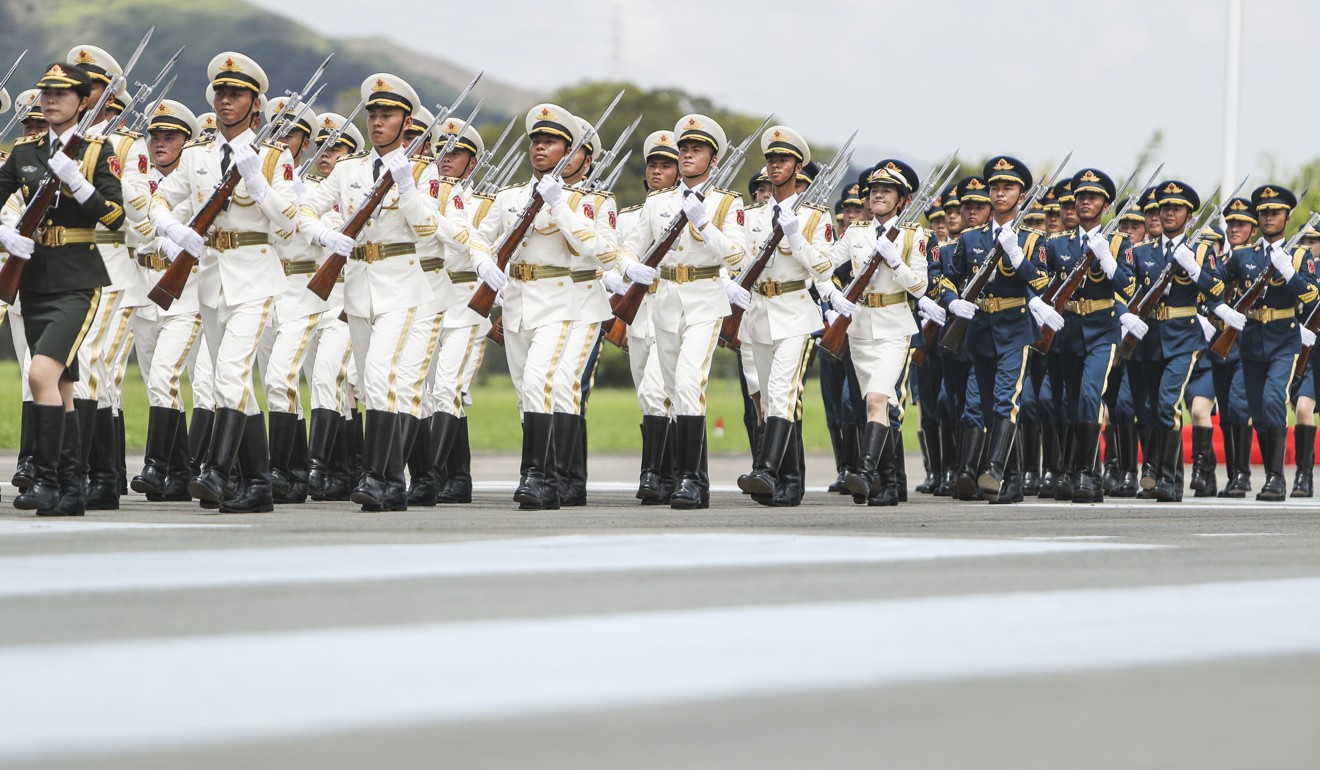 A PLA solider surnamed Zhu, who has been stationed in Hong Kong for 10 years, said he was surprised by the number of visitors.
Meanwhile Peng Zhao, who attended with his wife and 6-year-old son, said he noticed the difference between the barracks in Hong Kong and the ones on the mainland.
"We seldom have a chance to visit barracks on the mainland," said Zhao, who is from Qingdao but works in Hong Kong. "I only visited once because of a school summer military camp. The barracks here have a better environment and resources."