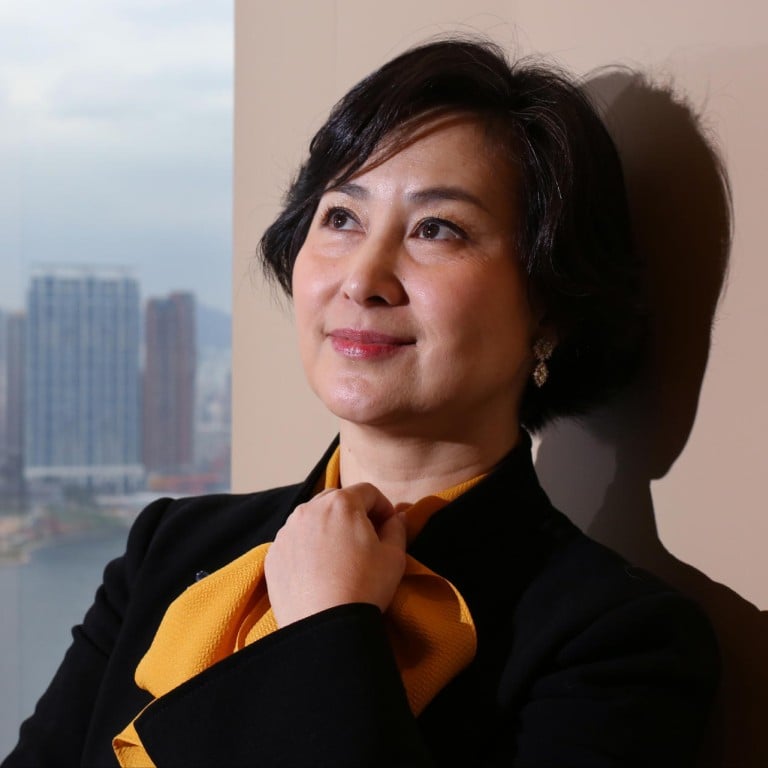 Pansy Ho tells Hong Kong to prepare for the next tourism revolution
The city must improve, improvise and innovate if it wants to attract more visitors in an industry that is vital to future prosperity, says Pansy Ho
Q: What can Hong Kong do to attract more tourists from different parts of the world, so that the industry can remain successful?
A: It must look beyond traditional sightseeing to a new tourism experience that is more personal
For someone who hardly ever gives interviews, Pansy Ho Chiu-king is surprisingly forthcoming and frank when it comes to talking about tourism.
Hong Kong's wealthiest woman, with a personal net worth of US$4.5 billion, waxes eloquent about developing the city's tourism industry in an exclusive chat with the , as she sits in her penthouse office at Shun Tak Centre where she runs the company founded by her father. She is one of Macau casino tycoon Stanley Ho Hung-sun's 17 children, but stands out as the strongest candidate to fill his formidable shoes.
"I think it's unnecessary," she says, looking at recent protests against mainland visitors by some Hongkongers who feel their quality of life has been sacrificed for the sake of the dollars brought in by the flood of travellers from across the border.
She finds it ironic that Hong Kong is having problems with people who speak a related language and share a similar culture when it should be trying to attract even more diversified sources of tourists from all over the world.
"If today you have an issue about one particular category of visitors then this could also happen when you have the ability to attract other market sources because everybody, when they first came, there were differences, cultural divides and everyone had to learn to encompass that," she says.
"Imagine one day if we were successful in diversifying our market source and we were capable of attracting people who do not possess the language know-how, who also have a completely different habitual preference, who have dietary restrictions and requirements, who somehow think that our way of life is not exactly the kind that would suit their requirements."
But she sees something positive in the fallout from the problem, which has forced the government to ask Beijing to regulate arrival numbers.
"This is only, in my opinion, a temporary time-out," she says. "It's a good time to reflect so that everybody can calm down."
From a business point of view it was bound to happen, she says, as first there was exponential growth in tourism over the past decade, and over-saturation is an expected part of the cycle.
"Obviously we did something right and have already been the beneficiary of this huge success, but clearly we also did something wrong because we did not manage it well, and it started to backfire on us."
But despite the social problems and the political uncertainty over universal suffrage, Ho is positive about Hong Kong's future. And she's convinced tourism will have to play a bigger and better role in that future. She talks about it as the "tourism economy".
"Tourism growth is not important only for the subsector itself. It can actually drive development of other complementary sectors including transport, infrastructure and real estate," she explains.
Hong Kong, in her opinion, has reaped the benefits of more than a decade of "glorious and very fast-paced development" ever since it began recovering from the severe acute respiratory syndrome epidemic of 2003. But now it is only looking at one particular source market - the mainland - which has led to a repetitive, monotonous and non-progressive focus.
"Should we just turn our backs to the Chinese market? Of course not," she says. "We've had the benefit of capturing 30 million of them, but the country is immense and we're only scratching the surface."
But what's more important, she says, is to diversify what the city has to offer to cater to all categories of tourists, including those from the mainland market, "which every other country is itching to get their hands on".
"You want the customers … but obviously everybody only wants what you call the 'premium' visitors, people who have high spending capacity, people who are more interested not just about themselves but also interested in helping to elevate the whole social and cultural development of the destination market itself," she says. "They will not work towards that goal - we have to work towards that goal. They have a choice as to where they want to go next. We need to make sure we would suit and fit their requirement."
Ho's concerns ring true in the context of mainland tourists increasingly preferring Japan, France, South Korea and Britain over Hong Kong. Her buzzwords are "improve, improvise and innovate" to capture them so that they keep coming back.
The city already has what it takes to achieve this, she says. "Hong Kong people are known to be innovative. We are the fastest in absorbing the new concepts and to put them into practice … in fact we have been easy to adapt to different trends and economic cycles."
She advises Hong Kong's tourism industry to capitalise on its obvious strengths, such as its unique culture, and cites local festivals as an example. "We do very well. That's why we should be the gatekeeper, the purveyor of these festivities," she says. "But we have to do more to attract a different set of customers. The world itself is yearning for a new type of touristic experience. Sightseeing alone is no longer satisfying. It has to be the sight and the sound and the taste and the emotion, it has to be the personal experience."
Ho refers to market predictions that by 2030, Asian tourists will lead the rest of the world in travelling overseas, accounting for 49 per cent of all global traffic, and that 40 per cent of them will be Chinese. She points out that Western tourism markets are nervous about how to cater for and accommodate this massive new surge of customers, while Hong Kong has already had more than a taste. "We should in fact view our current position as an advantage because we have gone through the first phase."
Ho made her own fortune by following in her father's footsteps and setting up the MGM Macau back in 2007.
But her real involvement in Hong Kong is through Shun Tak Holdings, the transport and property giant founded by her father which she has led to further success. Shun Tak's high-speed ferries were once pretty much the only mode of transport between Hong Kong and Macau, but times have changed, and Ho is following the "adapt and innovate" mantra she preaches to tackle those changes.
With the new Hong Kong-Zhuhai-Macau Bridge coming up, along with the high-speed rail link to Shenzhen and Guangzhou, she wants to diversify and take advantage of new opportunities.
Shun Tak now owns low-budget airline Jetstar Hong Kong, which is awaiting government approval, as Ho positions her flagship company to be the go-to service provider for land, sea and air travel in the region.
Her group is also involved in the management of the Kai Tak Cruise Terminal.
"Within the next decade people will no longer be talking about going to Hong Kong or Macau. It will be a joint itinerary. In fact, it should be extended to take in the Pearl River Delta area," she says. "In the long run we need a more fully integrated system starting with clear collaborative directives from governments and more concrete planning or even joint or co-managed directions by the commercial stakeholders to market this idea abroad."
Ho's face lights up when she talks about her own pet project. It's called the Global Tourism Economy Forum, and is now in its fourth year seeking to build international interest in tourism with a China focus.
"In the past tourism was shrouded in mystery," she says. "You thought you did not have any clue as to what to expect. Today you have all the information."
First tourism, now television: tycoon Pansy Ho's new challenge
When it comes to moving forward, Pansy Ho Chiu-king wants to develop the entertainment business, along with tourism, and is taking a shot at running a free-to-air television station in Hong Kong.
Speaking for the first time to the media about the subject, she told the what she has in mind by joining a consortium led by the second son of late former ATV owner Deacon Chiu Te-ken to apply for a domestic free-television licence. She clarifies that her aim is not to challenge dominant free-to-air station TVB. She's looking beyond that already.
"We are not talking about one player," she explains. "Now it's [already] dominated by multiple players…We have to evaluate our own strategy, not just by looking at TVB to be our ultimate competitor. It has to be multi-dimensional."
She says she's looking at the bigger picture - not just running another television station. "If Hong Kong needs to be dynamic, Hong Kong has to maintain a leading edge in terms of building multi-disciplinary entertainment offering because TV is also a platform where you showcase the kind of urban sentiment and your own idea about how overall the people in Hong Kong, especially the younger generation, want to portray themselves," she says.
"Having that platform will also help us in creating that overall environment because we are not talking about getting your own TV set. It is about watching it on different mediums."
In applying for a licence, Chiu's consortium has offered to invest HK$3.2 billion in the first six years to provide "free, multifaceted infotainment services".
Ho, who co-chairs MGM China, will be bringing her contacts and experience in the local and overseas entertainment industries to the table.
"In the long run, it is the way to go. To be able to provide a new form of service provision platform is potentially something that is important for the future," she says. But she also cautions that it's too early to say too much.
"It is a very complicated and lengthy process that we need to fulfil. We still don't know if we have a good business plan, whether we fulfil the requirement."
Securing the licence is only the first part of the big challenge. The competition is heating up.
TVB will invest more than HK$6 billion in programming over the next six years after the government agreed to renew its licence. With ATV out of the picture, other players are interested in filling the void, while current pay-television operators iCable and Now TV are gearing up to launch their own free-to-air services.
This article appeared in the South China Morning Post print edition as: Get ready for the next tourism revolution