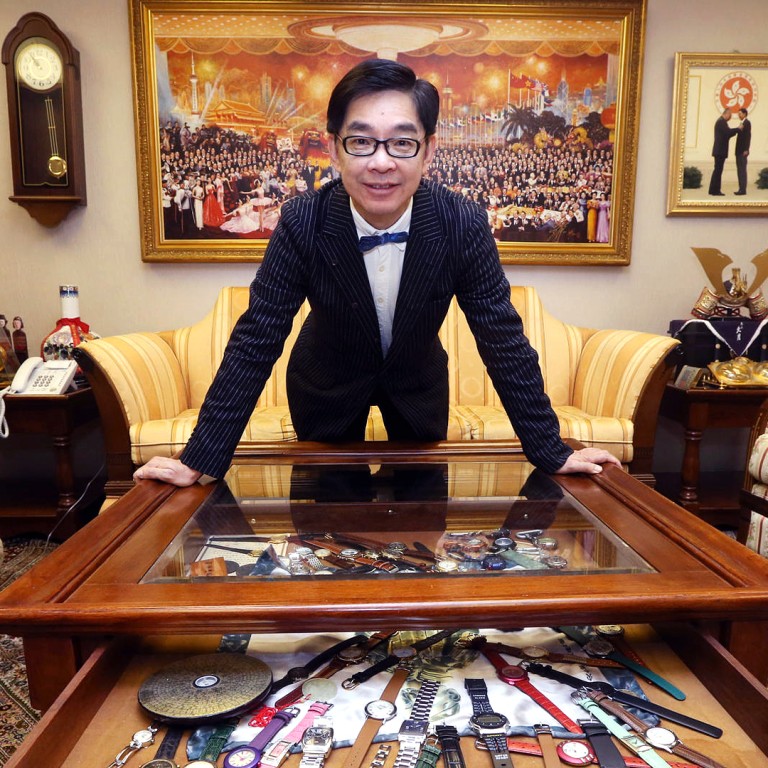 Hong Kong needs to burnish its image, believes Chinese Manufacturers' Association president Eddy Li Sau-hung
Chinese Manufacturers' Association president Eddy Li says the government should focus on building brands instead of political reform
Q: What does the future hold for Hong Kong manufacturing?
A: The next step is to build luxury brands, and the government needs to think about how to promote them
Pop into any kitchen in Hong Kong and chances are you will find a bottle of Lee Kum Kee sauce. Peek into a closet and chances are you will find clothing from Giordano or Bossini.
These local brands are well known and much-loved at home and perhaps even in the region. Internationally, however, they are also-rans, says veteran manufacturing businessman Eddy Li Sau-hung.
"Many of the Hong Kong brands are popular among everyday people," Li says. "But they are not high-end brands."
Hong Kong brands' inability to make that leap from regional status to international standing worries Li, the president of the Chinese Manufacturers' Association.
He thinks Hong Kong's reputation can be burnished if it can produce home-grown international brands and designs. To make it happen, he says, the government must create the right set of incentives and support structure to help market and promote local brands, and the private sector must give young talent a chance.
Since 2005, the non-profit Brand Development Council under the association has been seeking to promote Hong Kong brands, and develop the city into a "brands hub".
However, Li believes the business sector needs to be more focused.
"I think the next step is to build luxury brands that will blend with designers' work and art, and the government needs to think about how to promote them and nurture designers," he says.
During his budget speech in February, Financial Secretary John Tsang Chun-wah proposed setting up a HK$300 million scheme to encourage private sponsorship of local arts groups and cultural activities, and also earmarked HK$500 million to promote Hong Kong's fashion designers and brands.
Li approves of such measures. Drawing from the experience of his daughter Samantha, a fine arts graduate from the University of Hong Kong, he says he learned that the city's young artists face difficulties when starting out.
Watch: From subdivided flat-living to becoming a successful entrepreneur - Eddy Li reflects 
During the 's interview on ideas to take the city forward, Li sticks close to his brief - business - even though he is a known figure in political circles as a local delegate to the Chinese People's Political Consultative Conference, the nation's top advisory body.
On business, Li speaks freely and is not afraid of offering tried-and-tested ideas, such as promoting wholesale markets. They are not exactly known for their wow factor but Li is convinced they are the missing piece in the Hong Kong retail scene. They can add vitality to old industrial hubs, he says.
Lest you think Li is an old economy man, he is also quick to lament another missing ingredient in the Hong Kong business scene: a proliferation of e-commerce platforms for local firms. He wants the government to push for these services to go online in a big way.
Li, a watchmaker and managing director of Campell Group, became president of the manufacturing association last November and a member of the government's Economic Development Commission in January. He says officials are not doing enough to push such business ideas to make the city more vibrant.
"Hong Kong is good at retailing and exporting, but we can do more on developing our wholesale sector," he says.
"In South Korea they have the Dongdaemun and Namdaemun markets, in Zhejiang they have Yiwu , and there are many wholesale markets in Shenzhen. Hong Kong also has the potential to develop wholesale markets, as we have many manufacturers who make their products in the Pearl River Delta."
Li wants the government to encourage the transformation of vacant factory buildings in five areas into wholesale centres. The five areas - Cheung Sha Wan, Kwai Chung, Hung Hom, Kwun Tong and Wong Chuk Hang - used to be vibrant industrial towns in post-war Hong Kong.
"Cheung Sha Wan can be the location for wholesale fashion and textile products, as there are a lot of shops selling buttons, zips and fabric in its proximity, in Sham Shui Po," Li says. "We need better promotion because even Hongkongers are going to Namdaemun to buy clothes nowadays."
Similarly, factory buildings in Wong Chuk Hang and Hung Hom can be used for selling furniture and jewellery, he says, as there are such shops already there in these areas. In the same vein, Kwai Chung can host a wholesale market for electronic goods and Kwun Tong for gifts.
"It is good to revitalise factory buildings, but we need to consider how," Li says. "You can tear them down or turn them into elderly homes, columbariums or hotels … but turning them into markets could help the industrial sector use their own buildings to do their trading business."
Li himself has been buying factory buildings in Kwai Chung, Yau Tong and Wong Chuk Hang and turning them into office towers and hotels. A HK$1 billion project in Kwai Chung was completed in February to provide offices and retail space.
But he maintains that his wholesale market plan is not just for him, but will benefit society as a whole.
"Wholesale markets would provide business opportunities for entrepreneurs and the small and medium-sized enterprises … It was briefly mentioned in the budget last year, so I was a bit disappointed that the policy speech didn't elaborate on it [in January]."
Li points to the financial secretary's remarks a year ago that he had received proposals from lawmakers on how to promote sectors with development potential, such as building centres "for retail and wholesale fashion businesses at the district level".
In recent years, the surge in mainland tourists and parallel goods trading has fuelled tensions between Hongkongers - especially those living in the northern New Territories - and mainlanders. Mainland tourists have been accused of hogging daily necessities and fundamentally altering the retail landscape, with traditional stores priced out by those catering to the needs of the traders.
Although Beijing decided last month that Shenzhen residents' permits for unlimited Hong Kong visits will be replaced by the "one-visit-per-week" visa, doubts linger about the effectiveness of the new restrictions.
But Li believes that even if the wholesale markets become popular with mainland shoppers, it would still benefit local communities.
"Is it better for tourists to go there and shop, or for container trucks to go there for their warehouses and vehicle repairs?" he asks.
Li also calls on officials to explore ways to help local companies build e-commerce platforms that could rival mainland giants such as Taobao.
"The global business model is changing: traditional opportunities [such as exports] are shrinking, but new platforms, for example, [those for] online shopping, are emerging," Li says. "Manufacturers must work hard to cope with this, while the government can help with the large-scale [technological] infrastructure."
Yet, being the leader of an 81-year-old business chamber, Li knows that Hong Kong's enterprises must not only rely on the government's help.
Li's three-year term at the helm of the manufacturing association enjoyed a good start in January when bargain hunters helped push total takings past HK$900 million as the association's 49th Hong Kong Brands and Products Expo closed - up 15 per cent on the year before. Since 2004, that expo has been held in various mainland cities such as Chongqing , Harbin and Xiamen .
Li says he will now consider taking the expo to Macau, Taiwan and Southeast Asia to promote Hong Kong's brands and products.
"I believe that our free-trade systems, such as freedom in foreign exchange and tariffs … are good systems where the mainland is no match for us, and we also have good public order and welfare protection," he says.
"So the business sector must speak up and do things that are conducive to maintaining Hong Kong's business strength."
Despite the troubles of the past year, Li is optimistic about the business scene, given these advantages, where he says the mainland is playing catch-up.
However, he does worry about politics getting in the way of business, or as he calls them "internal factors" that slow down the pace of change.
"Politicised debates are stopping us doing many things; this is Hong Kong's biggest problem."
Li also suggests that Chief Executive Leung Chun-ying and Chief Secretary Carrie Lam Cheng Yuet-ngor are neglecting livelihood and business issues because they have been "preoccupied" by the political reform debate.
Last week, a report by the Chinese Academy of Social Sciences said Hong Kong had been unseated as the most competitive city in China for the first time in a decade. The survey, titled the Blue Book of Urban Competitiveness, placed Shenzhen in the top spot and Hong Kong second.
Li says that to regain the top spot, the city needs a "strong and powerful government" while the business sector and residents should speak up to support it.
"Shenzhen surpassed Hong Kong, Macau is very proactive and Southeast Asia is set to benefit from China's 'one belt, one road' policy," Li says, referring to President Xi Jinping's plan to boost infrastructure and trade cooperation in the region.
"But in Hong Kong, a minority are protesting over political reform … making the government's job difficult."
"Many businessmen are angry about this, and they hope their sector as a whole can step up to support the government … because we need a strong and powerful government, but now our government is in an unfavourable situation and many civic forces are obstructing it from doing things."
Hong Kong youngsters should quit 'complaining' and instead 'fight for opportunities', says Chinese Manufacturers' Association president Eddy Li Sau-hung
Like many entrepreneurs who started off with nothing, Eddy Li Sau-hung grew up in humble surroundings, spending his childhood in a subdivided flat in Wan Chai and relying on scholarships and earnings from work as a private tutor to finish secondary school.
He then earned a bachelor's degree in business administration at Lingnan College, now Lingnan University. After a short spell of work, Li went on to obtain a master's in the same subject from the University of California, Santa Barbara, and he returned to Hong Kong to work as a marketing salesman for a Japanese watch company.
In the 1980s, Li started his own business, firstly as a local agent for Japanese watches and parts, and later as the owner of a watch factory in Kwai Chung and Shenzhen.
In 1991, he was honoured as one of the Ten Outstanding Young Persons of the year by the Junior Chamber International Hong Kong. In 1994 - a year after he received the Federation of Hong Kong Industries' Young Industrialist Award - he was appointed by Beijing as a Hong Kong affairs adviser, to give advice to the central government on matters related to the handover.
Keen on lifelong learning, Li obtained his doctorate in economics in 1996 from Jinan University in Guangzhou, and in the same year became one of the 400 members of the selection committee that picked Tung Chee-hwa as Hong Kong's first chief executive.
The experience in public affairs proved vital for Li, as he was appointed in 1998 to sit as a delegate to the Chinese People's Political Consultative Conference - the nation's top advisory body - while also taking up other posts in public bodies in Hong Kong including at the Trade Development Council and Productivity Council.
In 2012, Li became the second vice-president of the Chinese Manufacturers' Association, before going on to take the association's top job, beating its first vice-president, Shirley Chan Suk-ling, to the presidency last year in a race in which he was regarded as the underdog.
Looking back at his career as the boss of a company with interests in sectors ranging from watches to finance and real estate, Li believes the younger generation of today should not be too worried about their career prospects.
"We have 12 years of free compulsory education now … but in the past we couldn't go to school if our parents didn't have money," Li said. "So, in fact there are a lot of opportunities in society to move up the social ladder … especially if you have a university degree."
He believes that instead of "complaining" about not having enough opportunities, youngsters should be "fighting for these opportunities", like the older generation did.
This article appeared in the South China Morning Post print edition as: Hong Kong needs to burnish its image