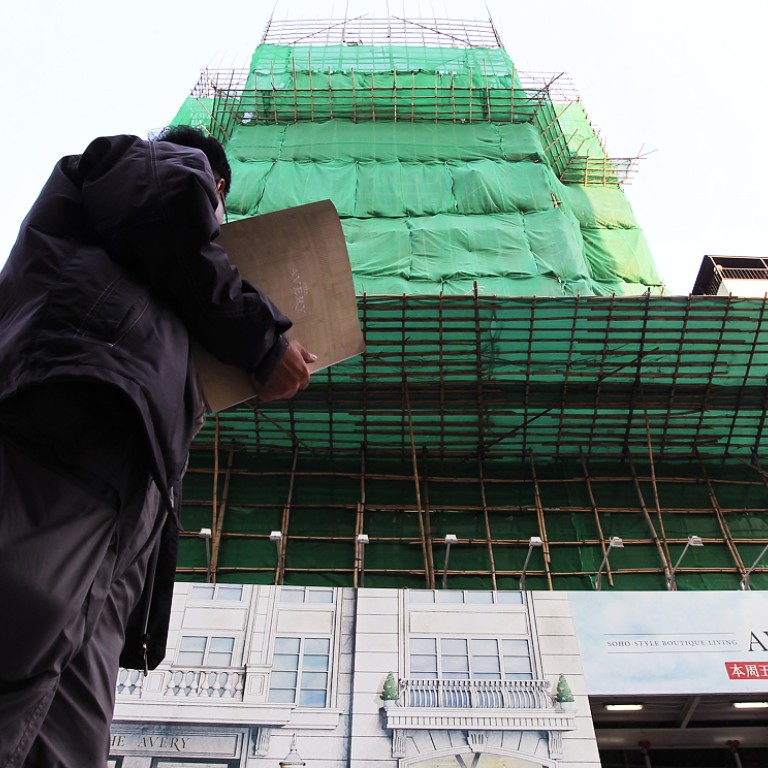 Hong Kong is third most expensive place for building costs, according to global survey
City comes in behind New York and London, but prices set to rise further
Hong Kong is one of the most expensive places in the world to construct buildings, especially if they are residential properties, according to a new survey.
At US$3,200 per square metre in construction costs, Hong Kong was only surpassed by New York (US$3,488) and London (US$3,357) in the International Construction Market Survey 2015 conducted by British-based professional services consultancy Turner and Townsend.
But the consultancy said the city's building costs would rise by up to 7.5 per cent in 2015-16 as construction volume was expected to increase 6.5 per cent in real terms this year.
It compared the average cost in the past 12 months of six types of construction: high-rise flats, prestige office blocks, large warehouse distribution centres, general hospitals, primary and secondary schools and shopping centres including malls.
For residential property, construction costs in Hong Kong were among the most expensive. According to the survey, construction costs for high-rise flats in Hong Kong averaged US$3,090 per square metre - 28.5 per cent below London's but 4.5 per cent higher than in New York.
Hong Kong is the most expensive place to build upmarket detached houses.
Its average construction cost is US$4,900 per square metre, against US$4,410 in London and US$3,710 in New York.
In terms of building costs for high-grade offices in the central business district, New York and London occupied the first and second places. Hong Kong came in seventh.
Hong Kong developers have been saying high construction costs - including the cost of labour - are a key factor in pushing up home prices.
CK Property Holdings chairman Li Ka-shing said in June that construction costs in Hong Kong were double those in the US and Canada.
"Hong Kong is an extremely expensive place to build, and average US residential construction costs are approaching half the equivalent Hong Kong costs for residential property," said Nick Townsend, managing director for northeast Asia at Turner and Townsend.
But the survey focuses on New York, where property costs are significantly higher than in the rest of the US, added Townsend.
This article appeared in the South China Morning Post print edition as: HK 3rd most expensive place for building costs