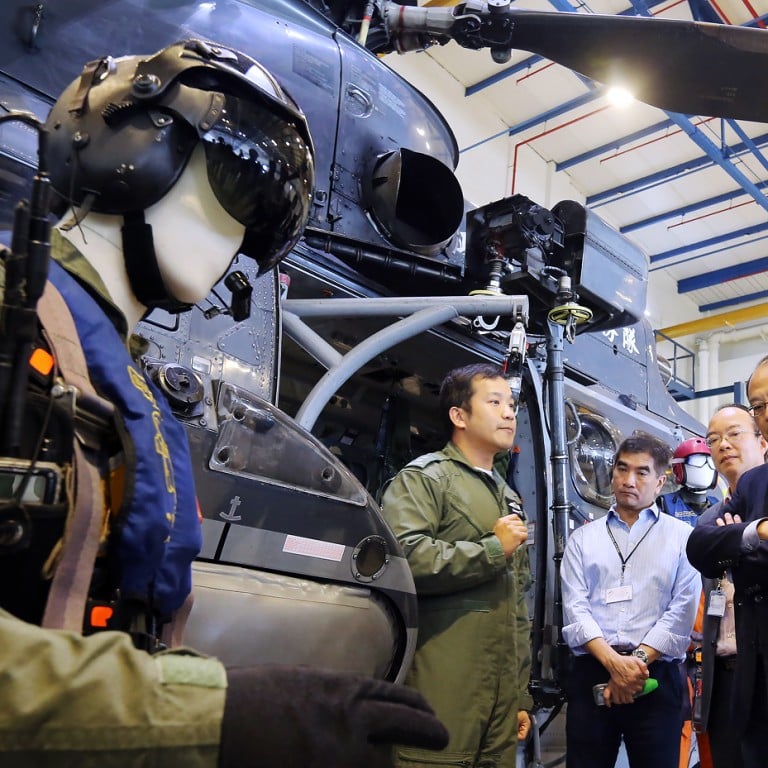 Hunting for the next generation of chopper pilots: Hong Kong government flying service speeds up recruitment ahead of retirement wave
The Government Flying Service is speeding up its recruitment of cadet pilots to prepare for a retirement wave in 2020, when more than a quarter of the department's forty pilots will be calling it quits, according to a top official.
"We are not unaffected [by the retirement wave], but we have appropriate measures such as increasing recruitment, speeding up our training of pilots, and requesting more resources from the government," said Captain Michael Chan Chi-pui yesterday.
The service, which mainly serves in search and rescue missions and firefighting operations across Hong Kong and the South China Sea, is recruiting four to six cadet pilots this year.
Seven new helicopters, worth HK$1.3 billion in total, will also be reporting for duty in 2017 and 2018.  The French-made helicopters, called H175s, will eventually be replacing the entire current fleet of seven helicopters, increasing passenger capacity and flying distance.
Speaking after a tour of the service, lawmaker Ip Kwok-him, chairman of the Legislative Council's panel on security, said he learned more about the work of the department and its contributions to the city.
"We now have a better understanding of their responsibilities and the problems they encounter," said Ip, adding that he learned that the service shoulders a heavy and challenging workload.  
Lawmaker Ng Leung-sing, the panel's deputy chairman, noted that as demands for commercial pilots in the Pearl River Delta increase, the service will face a serious brain drain.
Captain Daniel Ng Yu-keung, deputy manager of flight operations at the service, said the department is on the lookout for "multi-tasking abilities, leadership skills, and limb-eye coordination" from candidates. As a rule, to go from being a cadet pilot to a rescue captain pilot takes seven years.