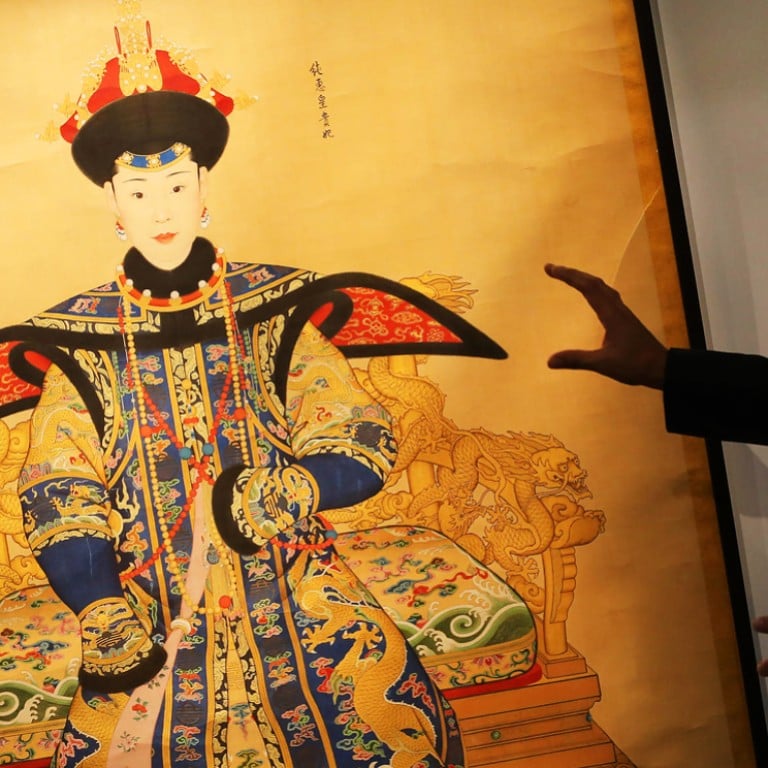 Arts beats stock crisis: why Hong Kong auctions draw new records despite China market slump
Imperial portrait fetches HK$137.4m as market defies gloomy forecasts
China's stock market crash appears to have little impact on the art market as record sales - including a world auction record for a Chinese imperial portrait - were achieved throughout Hong Kong's autumn auction season over the past week despite previously gloomy expectations.
Art market insiders said historical data showed money tended to go to the art market when stocks slumped, as quality artworks are viewed as portable assets that have stable value and are currency-neutral.
"When the materials are great, fresh in the market, spending on them is also seen today as alternative investment," said Nicolas Chow, deputy chairman of Sotheby's Asia.
Art dealer Vincent Chan said history showed art could remain steady, regardless of the financial markets and the conservative estimates of some works were attractive to art lovers.
Andy Hei, co-director of art fair Fine Art Asia, which closed yesterday, said sales of antiques this year were stable and new categories such as design, furniture and decorative art fared well, particularly the relatively inexpensive pieces at six-digit prices.
Leading the game is Sotheby's. Over the past week, the auction house totalled sales of HK$2.669 billion, including buyer's premium, with 76 per cent of the lots sold. The results exceeded the pre-sale estimate of HK$2.3 billion.
French auction house Artcurial's Hong Kong debut was also successful, with two-day sales totalling HK$63 million.
The first sale of comics in Asia fetched a total of HK$33.4 million, setting new records for Enki Bilal and Moebius. The Mercedes 1961 300 SL Roadster - the first sale at auction of a vintage car in Hong Kong - fetched HK$10 million.
Poly Auction Hong Kong totalled HK$900 million over its two-day sale, nearly 30 per cent higher than its pre-sale estimate. Top lots included Sanyu's painting , which fetched HK$59 million.
Sotheby's yesterday achieved a world auction record for a Chinese imperial portrait with the sale of a painting of Chunhui, consort of Emperor Qinglong, to an anonymous buyer.
The painting by court artist Giuseppe Castiglione, in a European collection for more than a century, fetched HK$137.4 million, more than doubling the pre-sale estimate at HK$60 million.
The 38 lots of the Ming furniture collection of renowned collector Dr Yip Shing-yiu - a first-time sale - were all sold yesterday, totalling HK$260 million, more than double the estimate.
Modern and contemporary ink artworks were well-received. Sotheby's fine Chinese paintings sale totalled HK$344 million, more than doubling the pre-sale estimate at HK$160 million, with 83.6 per cent of the lots sold.
Contemporary ink art sales, the largest scale of this category at Sotheby's, totalled HK$31.6 million, 20 per cent above estimates.
Sotheby's modern and contemporary art sales totalled HK$596 million, 40 per cent over the pre-sale estimate. Works by Japanese and Korean artists were sold out, including top lot by Yayoi Kusama, which fetched HK$54.52 million.
Bonhams held its first modern and contemporary art sale in Hong Kong, with works by Kusama and Yoshitomo Nara fetching above high estimates.
This article appeared in the South China Morning Post print edition as: What stock crisis? Art sales hit records