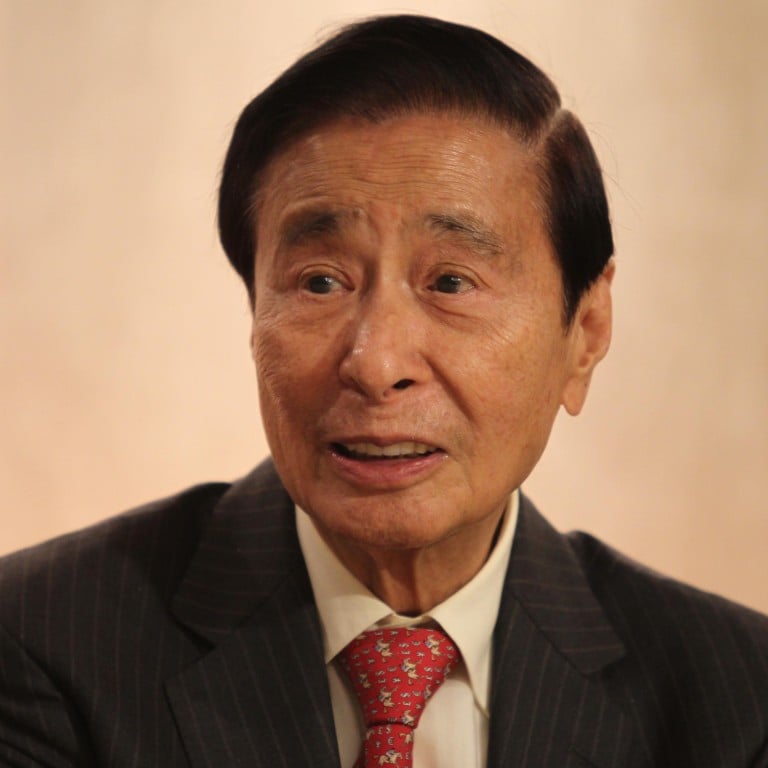 Henderson Land boss foresees mild correction in Hong Kong property prices
Hong Kong home prices will not see a sharp fall but rather a mild correction of about 5 per cent in the coming year, property tycoon Lee Shau-kee said.
"Land and construction costs are still high so home prices are unlikely to drop sharply," said Lee, who is chairman of Henderson Land Development.
Lee was speaking in Beijing after attending the topping out ceremony of a science and technology building at Tsinghua University, to which he donated 300 million yuan (HK$365 million).
Although the increase in supply in the next few years may put pressure on property prices, demand remained strong, he said.
A recent report by investment bank UBS said Hong Kong home prices could tumble 30 per cent by the end of 2017.
The Hong Kong economy was still in good shape and prices of mass residential properties were still on the rise, Lee said, adding that there was no need for the government to relax its measures to curb property prices at the moment.
He spoke of a 40 per cent chance of an interest rate rise this year, but said it was unlikely to weigh on Hong Kong's property market.
Lee said it was still a good time for end-users to buy property in Hong Kong, but said "speculation is not appropriate".
He was also upbeat about property shares and said some stocks listed in Hong Kong, such as Henderson Land, were trading at discounts.
"There is hope that the Hang Seng Index can rebound to 24,000 by the end of the year," Lee said.
Commenting on his mainland investments, Lee said he had no plans to withdraw as he was upbeat about the country's economic growth in the long term despite the recent slowdown.
"The outlook for China is good, and we look at the long-term prospects," Lee said.
Peter Lee Ka-kit, Lee's elder son and vice-chairman of Henderson Land, said the company was confident about the mainland market as it had recently bought a plot in Shanghai for four billion yuan.
The total investment for the project, which will be developed into offices, could reach 10 billion yuan, Lee added.
Another property tycoon, Li Ka-shing, has recently come under attack from the mainland media over his sale of mainland assets. They accused him of being immoral as the country was encountering hard times amid a slowing economy.
CK Hutchison Holdings, Li's flagship company, issued a statement earlier this month saying that reducing his property investment didn't mean his companies were not investing on the mainland.
Lee Shau-kee declined to comment on the criticism of Li Ka-shing, saying: "For doing business, different people have different views and practices".
Lee said his companies, including Henderson Land and China Gas, had been seeking investment opportunities on the mainland.
He also said he didn't feel any pressure about doing business on the mainland despite the recent criticism of Li, who he noted was doing similar business.