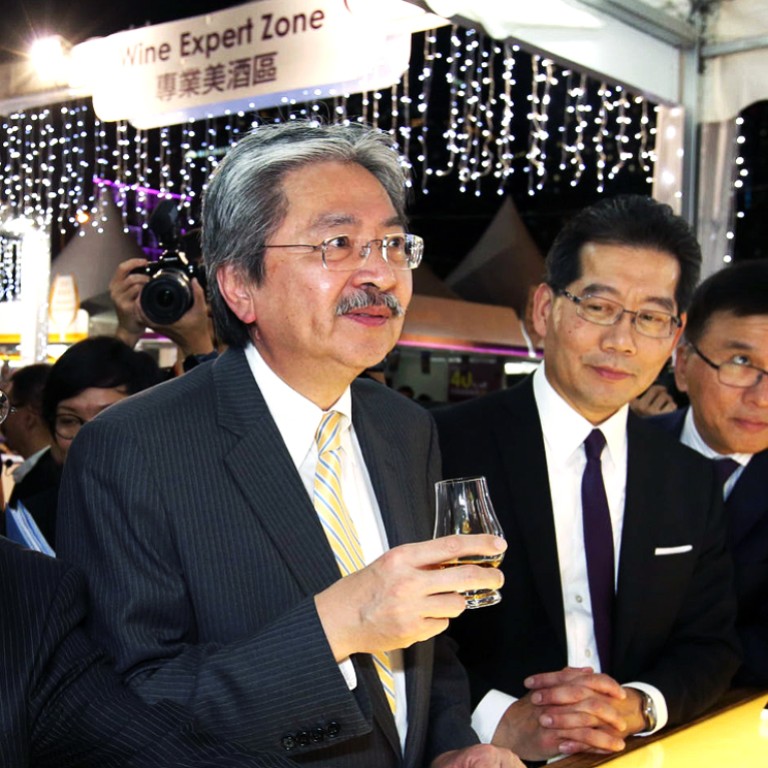 HK$12,000 to wash dishes? Hong Kong financial chief John Tsang laments effect of 'soaring' wages of the low-skilled on city's business owners
Financial Secretary John Tsang Chun-wah is courting controversy with his latest blog warning that "soaring" wages for low-skilled jobs need to be monitored because they are making it difficult for owners of small businesses.
In his Chinese-only message posted online yesterday, Tsang wrote that workers such as dish washers might be making a better living these days, earning up to HK$12,000 a month, but that was putting pressure on their employers running small to medium-sized enterprises.
The financial secretary said his latest line of thought was inspired by the city's increasing enthusiasm for premium alcohol products such as whisky while touring the Wine and Dine Festival at the Central harbourfront. While reflecting on people's improving tastes, Tsang discussed the poverty situation and growing demand for low-skilled labour.
He wrote that living standards in Hong Kong had obviously improved, and this was evident not only in people's refined taste for liquor. Statistics showed that the number of poor people in Hong Kong had dropped and they were making more money, he wrote.
 According to the latest official figures, the total number of people living below the povery line in the city was 1.325 million last year, slightly lower than the 1.336 million in 2013.
Tsang wrote that the low unemployment rate – 3.3 per cent in the second quarter this year, and steady at 3.4 per cent last year – indicated stable employment, which helped maintain strong domestic demand for goods and services amid an unstable global economic outlook.
"But we also have to understand the other side of the coin," Tsang wrote.
He recalled a recent meeting with operators of small to medium-sized business who ran dining, retail and recycling companies among others.
"Hiring staff was their greatest difficulty," Tsang wrote. "A restaurant owner said he couldn't find anyone to do a dishwashing job in the city centre even if he offered HK$12,000 a month.
"The market has a huge demand for such low-skilled labour, causing a continuous rise in salaries for these jobs, and increasing the burden on entrepreneurs."
Tsang warned that in the end, businesses that cannot survive the increasing labour costs and adverse economic environment might collapse, which would lead to higher unemployment and reduce spending power.
Felix Chung Kwok-pan, chairman of the pro-business Liberal Party, said Tsang's statement highlighted a difficult reality facing many entrepreneurs.
"There are a lot of vacancies and high turnover rates for jobs such as dishwasher," Chung said. "The implementation of the minimum wage has created a ripple effect. Young people don't want to do these hard labour jobs. Many choose to become security guards, which requires much less hard work for similar wages."
But Richard Tsoi Yiu-cheong from the Society for Community Organisation lamented that Tsang lacked understanding of the city's real poverty situation.
"Even if you pay [Tsang] HK$100 per hour to wash dishes, he wouldn't want to do it," Tsoi said.
"It is true that some jobs are paid higher than the minimum wage, but the level of minimum wage in Hong Kong is very low. The slight decrease in the number of poor is not a significant improvement of the situation.
"Besides the pay, you have to take into account the poorly structured working hours."