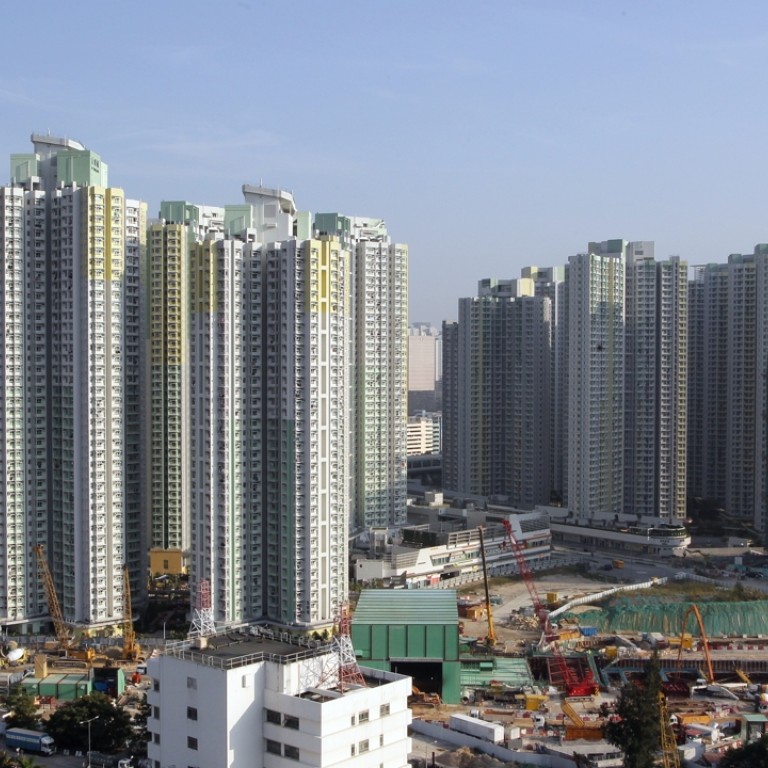 80pc of Hong Kong households can own homes with fixed land premiums for subsidised housing, urges former CE's think tank
Instead of renting, give public housing tenants chance to buy at big discount, says Tung's group
A think tank headed by former chief executive Tung Chee-hwa has proposed reforming Hong Kong's subsidised housing schemes to help at least 80 per cent of families own their homes.
Launching its first policy proposal since setting up a year ago, Our Hong Kong Foundation proposed that in future people living in subsidised flats should be allowed to pay a land premium to the government that does not fluctuate with the market. That would allow them to sell their property as a step to owning a home in the private sector.
People can now buy a Home Ownership Scheme flat from the Housing Authority at a discount but cannot sell it unless they pay a land premium, determined by multiplying current market price by the discounted percentage.
With property prices having soared in recent years, residents in the scheme complain that land premiums are so high it is impossible to sell their flats and buy another one privately.
Foundation adviser Richard Wong Yue-chim, professor in political economy at the University of Hong Kong, said: "To keep families in [subsidised] public housing from having to chase after a constantly rising target ... we propose a few options [including locking in the premium] at the year of occupation ... The long-term objective of [this] scheme is for 80 per cent of households in Hong Kong to own their property."
About 53 per cent of households own their homes. When Tung was chief executive from 1997 to 2005 he wanted to help at least 70 per cent of households own their home. Some critics say his plan to build 85,000 flats a year was to blame for the property slump after the 1997-98 Asian financial crisis.
Wong also proposed extending the idea to public housing estates built in the future. These are rented to families on low incomes and are usually not for sale, but Wong proposed allowing new tenants to purchase their flats at the market price.
So if a flat cost HK$4 million in the market, the government should sell it for half price. With government help, a resident should be able to buy with a 5 per cent down payment.
Last month the Housing Authority conceded that families and elderly single people faced an average wait of about three years and seven months to get a public flat, putting the authority's target of an average of three years further out of reach.
Wong believed his proposal would not prolong the wait, and he dismissed the suggestion that it would provide a "double benefit" for subsidised housing residents if the government helped them to rent flats and buy them.
"When property prices are rising continuously, I am not just helping them to get a place to live but to become homeowners, [otherwise] I fear that society will never be at peace again," he said.
However, housing minister Professor Anthony Cheung Bing-leung suggested it might be inappropriate if all new subsidised housing was built with the goal of home ownership.
"For many people, the best way to help them is to rent them public housing flats," he said.
And economist Dr Andy Kwan Cheuk-chiu, director of the ACE Centre for Business and Economic Research, questioned how Wong's proposal would solve the housing shortage.
In June, Cheung said the government might not be able to meet its target to build 290,000 public housing flats in the next decade, as the government had only obtained enough land to build about 254,000, and most plots would need to be rezoned.
On land supply, the foundation proposed developing 9,000 hectares of land - three times the size of Sha Tin - over the next three decades.
This article appeared in the South China Morning Post print edition as: Change rules so 80pc canown flats, think tank urges