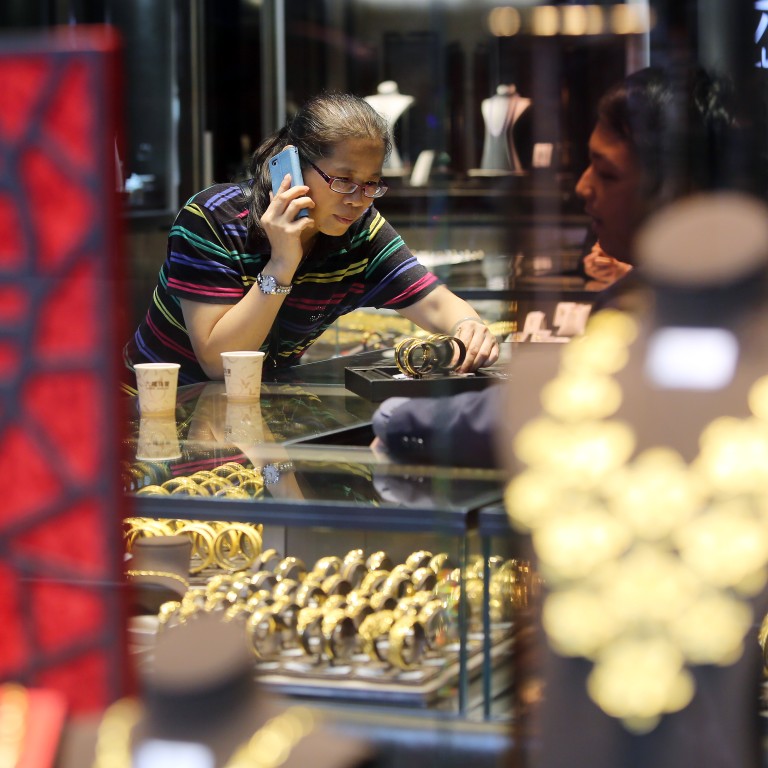 Hong Kong jewellery and luxury goods sales hit hard as number of tourists visiting city drops again
Hong Kong's jewellery sales took another pummelling in October, with double-digit declines amid a grim outlook for year-end local business.
Luxury goods sellers again performed worst among retailers, as fewer big-spending mainland visitors came to the city.
"Local retailers had already started to cut prices to lure buyers well before the year end," said Thomson Cheng, who chairs the trade body. But he added that most had no plans for large-scale lay-offs due to the slump.
Retail sales in October amounted to HK$37.2 billion - a 3 per cent decline year on year - after a fall of 6.3 per cent in September, the Census and Statistics Department reported.
The Golden Week mainland holiday in October failed to boost stores, as the value of sales of jewellery, watches and valuable gifts decreased by 17 per cent over the month, following a year-on-year fall of 22.9 per cent in September.
Sales of certain consumer durable goods such as smartphones were a rare bright spot, with a year-on-year jump of 36 per cent.
"The new iPhone model, which was launched in late September, gave a welcome boost to the sector," said Cheng.
Looking ahead, the government said the possible impact of the dimmer global economic outlook on local consumer sentiment needed to be watched closely. The outlook for sales was still likely to be constrained by the fall in tourists, it added.
Visitor arrivals in October fell 2.7 per cent year on year to about five million, after a decline of 4 per cent in September, according to statistics released by the Hong Kong Tourism Board.
Meanwhile, an annual survey found that 17 per cent of 1,272 Hongkongers polled would travel out of the city over the Christmas holiday - the highest rate in the past five years.
They planned to spend about HK$11,020 on average during the trip, according to the Shue Yan University study.
"Local retail sales are likely to be under more pressure as a growing number of Hongkongers travel over the Christmas holidays," the study noted.
This article appeared in the South China Morning Post print edition as: Luxury goods sales hit hardest as number of visitors drops again