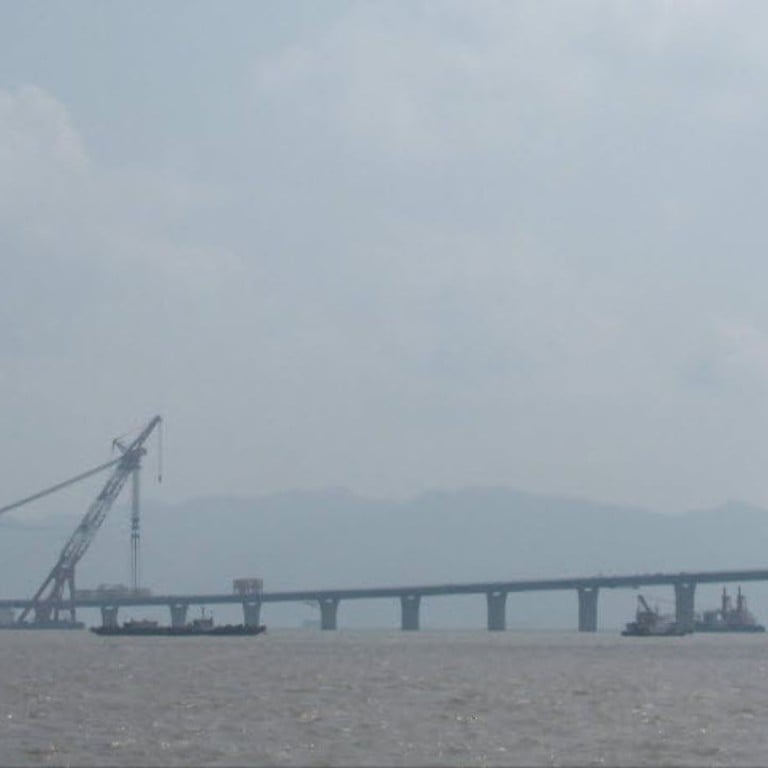 Hong Kong lawmakers fail to reach decision on request for extra HK$5.46b bridge funding
Government says cash needed to complete facilities in its part of 42km Hong Kong-Zhuhai-Macau project
Hong Kong lawmakers on Friday failed to reach a decision on the government's request for extra funding to finish its portion of the 42km bridge linking the city with Zhuhai and Macau, while officials offered no updated estimate on future vehicle traffic on the bridge.
The government is short of HK$5.46 billion to complete "necessary but not absolutely essential" facilities on the artificial island which would serve as the boundary crossing for the Hong Kong-Zhuhai-Macau bridge. The facilities in jeopardy include landscaping works, toilets, taxi stands and car parks.
It also needs the money to cover any contingencies which could further delay the project, which have already been delayed by at least one year to the end of 2017, with no official opening date yet announced.
"When the decision to build the bridge was made in 2008, a feasibility study was done and our traffic estimate then was 14,000 vehicles each day when it opens,"said Yau Shing-mu, undersecretary for transport and housing, during a two-hour meeting that resulted in no resolution.
"Governments from three sides are updating traffic estimates. But today we don't have a conclusion."
Yau stressed, however, that the bridge would play a strategic role by linking Hong Kong to the western Pearl River Delta and expected an increase of vehicle traffic in years to come.
In Friday's Legislative Council meeting, a motion put forward by People's Power legislator Raymond Chan Chi-chuen to adjourn proceedings was voted down by 29 votes to 18, despite support from other lawmakers in the pan-democrat camp.
Labour Party lawmaker Cyd Ho Sau-lan slammed the government for treating Legco like a cash machine.
"We can't approve funding each time there is a cost overrun," she said. "It's like treating Legco like an ATM. We have a duty to defend the money in the treasury."
Despite worrying about a huge influx of cars to Hong Kong when the bridge opens, New People's Party lawmaker Regina Ip Lau Suk-yee said it would benefit the city.
"The bridge will help Hongkongers go out,"she said. "In Tai O, you can see the bridge is largely completed. The tourists can see it . If we don't finish [the bridge], it's like throwing money into the ocean."
"To avoid hindering [discussions on] livelihood issues, it's better to quickly approve [the funding]."
Legislator Wong Kwok-hing, of the Hong Kong Federation of the Trade Unions, also urged a speedy approval of funding and criticised the pan-democrats for asking the same questions repeatedly.
"The opposition and pan-democratic lawmakers had repeated their questions many times," he said. "It's been a year already."
The finance committee will meet again next Friday to discuss funding for the bridge.