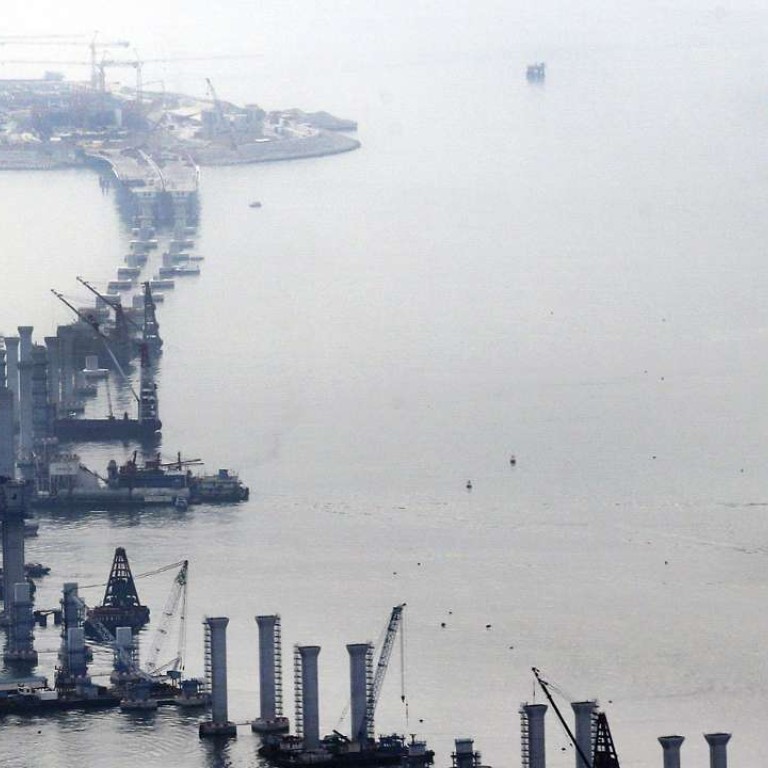 Bridge over troubled waters: Hong Kong government should publicise monitoring work on bridge to Zhuhai and Macau every month, says critic
Highways Department admits landing point has shifted but still aims to complete subsea tunnel to Tuen Mun by end of 2018
The government should publicise the monitoring results of construction work on the bridge linking Hong Kong with Zhuhai and Macau every month so as to ease public concern about the repeated drifting of an artificial island, a critic of the massive infrastructure project says.
Concerns have been raised about whether the drifting will continue intermittently or is just sporadic in nature. "If the movement proves to be periodical, it means that the tunnel linking the island [to Tuen Mun] can never be completed," warned Professional Commons convenor Albert Lai Kwong-tak.
"The government should address public concerns by releasing its monitoring data every month to update the project's progress."
Lai made the call as the Highways Department admitted on Tuesday night that the landing point at the northwest corner of the island had moved from 1 to 2.9 metres, not 3.5 metres as reported by veteran journalist Howard Winn.
It also insisted it still aimed to complete the subsea tunnel by the end of 2018.
"After assessments, reclamation consultants believed the seawall's condition was stable ... The Highways Department will continue to closely monitor the situation," the department said in a statement, adding that tunnel contractors had started to conduct strengthening works at the seawall.
In a recent article on his website, Winn quoted engineers familiar with the matter as saying that tunnelling had stopped for a few months because of the new movement and that the tunnel had to be "realigned".
"The Highways Department believes there is a sufficient contingency fund to handle the extra expenses," it said.
Last December the government delayed the completion deadline of the HK$36-billion Hong Kong section by a year to the end of 2017. It cited construction difficulties, including an unstable supply of materials, labour shortages and the slower-than-expected consolidation of reclamation work.