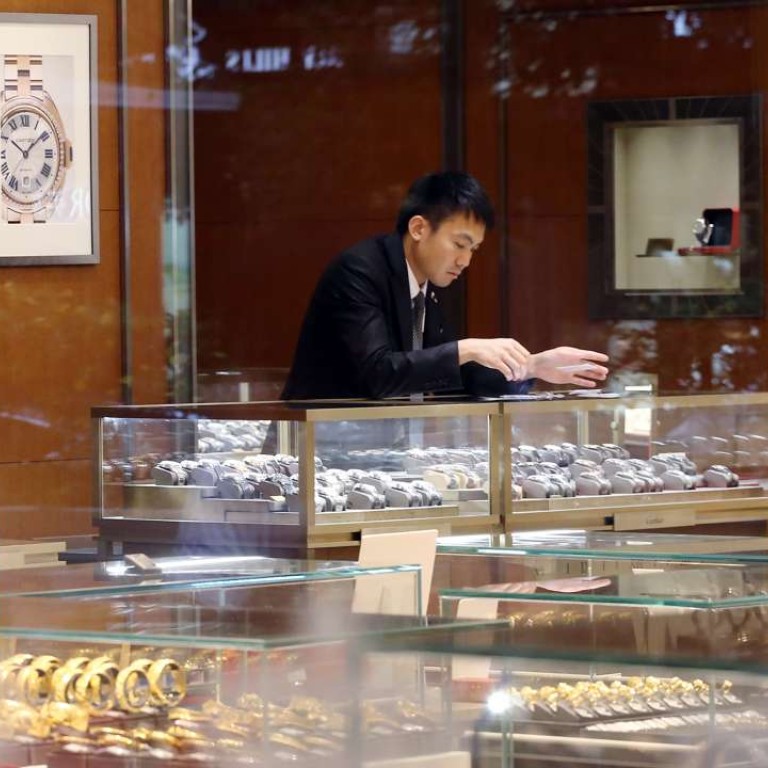 Update

|
Hong Kong retail figures ring up worst quarterly performance since 1999
But government figures reveal pace of sales slump slowed in March compared to previous two months as tourist numbers rebound
Hong Kong's retail business has taken a severe beating, with first-quarter sales plunging 12.5 per cent in a worrying reflection of the economic impact of mainland visitors spending less.
It was the poorest first-quarter performance since 1999, when a 13.8 per cent nosedive was recorded, and the worst may be yet to come.
However, the pace of the retail market slump slowed last month, as the 9.8 per cent plunge in March was less precipitous than in January and February, when sales contracted 13.6 per cent year on year.
Retailers suspect they haven't hit the bottom yet, despite better-than-expected mainland tourist arrivals during the "golden week" national holiday. The number of visitors from across the border climbed 7.1 per cent compared with the three-day break last year.
Some retailers reported ­improved sales in early May, Hong Kong Retail Management Association chairman Thomson Cheng Wai-hung said on Thursday, but it would take time to tell if the unexpected recovery was a one-off or could continue.
Cheng noted the appreciation of the Japanese currency and the Kumamoto earthquake had prompted many mainland tourists to choose Hong Kong over Japan during the three-day break. But it was not enough to turn around the city's year-long retail and tourism slump, he added.
"This year's golden week was very special," Cheng said. "I still can't see much good news for the rest of the year."
He expected full-year retail sales to drop 6 to 7 per cent.
Cheng said the improvement in overall tourist numbers may not be able to spur retail sales like a few years ago, as cash-rich mainlanders were no longer flocking to the city. "The time has gone," he said.
Among the 21 retail categories surveyed by the government, 10 recorded growth in March – compared with just one in February.
The growth was led by medicines and cosmetics, which ­increased by 1.5 per cent over a year earlier, while sales of food, alcoholic drinks and tobacco ­improved 2.6 per cent. Chinese medicines and herbs expanded 4.4 per cent.
Jewellery, watches and other valuable gifts, usually popular with mainland visitors, plunged by 20.3 per cent. They were ­followed by apparel and commodities in department stores, declining 11 per cent and 5.4 per cent, respectively.
A government spokesman blamed the "weak" retails figures on inbound tourism. "The uncertain economic outlook and asset market consolidation conceivably also hurt local consumption sentiment," he said.
Hong Kong also had a bad start in the second quarter as the purchasing managers' index (PMI) showed operating conditions in the private sector worsened in April – at the fastest pace in eight months.
The PMI – which gauges the economic health of the city's retail, construction, manufacturing and service sectors – slipped to 45.3 in April from 45.5 in March. A score below the 50-point threshold means contraction, while one above means expansion.
The latest reading indicates a 14th consecutive month of ­decline.
Markit economist Annabel Fiddes attributed the poor performance in April to a faster decline in total new business, which resulted in companies cutting costs.