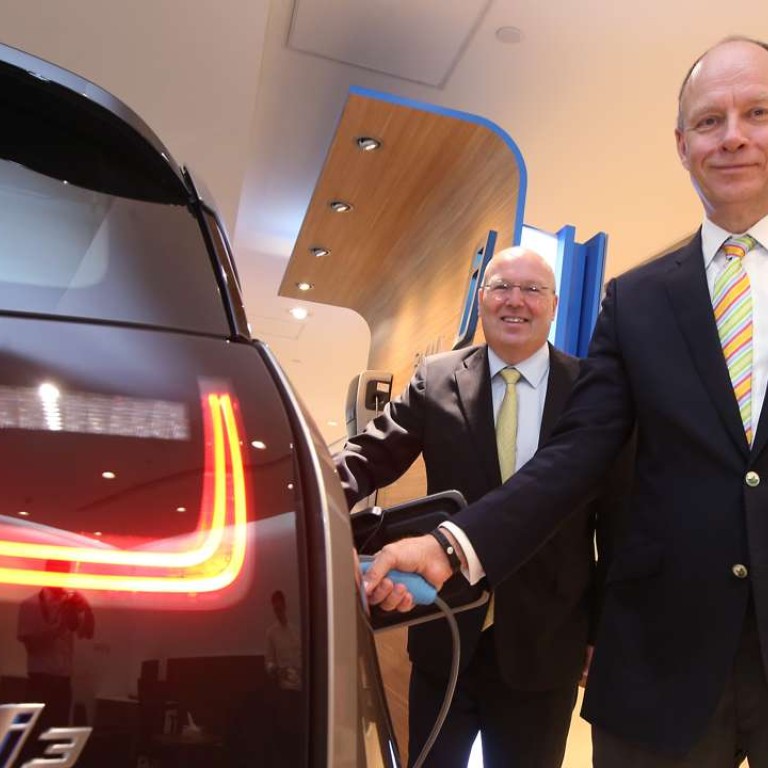 German carmakers look to muscle in on Tesla's dominance of Hong Kong's burgeoning electric market
Consul General Nikolaus Graf Lambsdorff says government has to "set the right framework" for development of the industry
German carmakers are looking to take a bigger bite out of the electric vehicle industry in Hong Kong – one of the fastest growing markets for manufacturers but which is currently dominated by one player.
German Consul General Nikolaus Graf Lambsdorff said "e-mobility", whether in full electric form or its hybrid cousin, should be the "normal way of transportation" in Hong Kong and hoped German marques could offer new technologies and more choice for drivers.
The number of electric vehicles on the streets of Hong Kong has grown almost 60-fold since 2010 from less than 100 to over 5,800 as of this July.
American company Tesla Motors commands 80 per cent of the local market.
"In the end it should be the consumer that should decide who is successful in the market and who is not. But the government has to set the right framework," Lambsdorff said. "It's happening. Maybe a bit slow, but Hong Kong is moving in the right direction."
"You can already buy electrically-driven BMWs ... Volkswagens. They will expand these [offerings] to consumers."
Full electric vehicles such as Tesla's Model S, the BMW i3, Volkswagen e-Golf and Nissan LEAF enjoy a 100 per cent waiver on first-registration taxes up to next year.
Kevin Coon, vice-president of BMW Group's Hong Kong, Macau and Taiwan importer office, said a transition by mainstream consumers to electric vehicles would be inevitable, but he suggested plug-in hybrids – which can run on both batteries and petrol – would be a good bridge between the two in Hong Kong.
More tax concessions would mean a greater choice of low-emission vehicles for consumers – especially those with "range anxiety" – at more affordable prices, he said.
"Right now, those models are not supported by any type of government subsidy ... so in a way there isn't much of a level playing field," Coon said.
It is understood the European Chamber of Commerce Automotive Council has written to the Environmental Protection Department to lobby for waivers for plug-in hybrids.
Edwin Lee King-yan, vice-chairman of electric vehicle advocacy group Charged Hong Kong, said he believed some incentives could be provided to hybrids as they were a step up from petrol vehicles, but "zero tax" should be left for "zero emissions" vehicles only.
"The question is why they aren't going the whole step to full electric, which is the future," Lee said. Range anxiety, he said, was no longer a big problem in Hong Kong as it once was.
Tesla recently announced revamped battery packs for its Model S and Model X which will provide greater range.
Steve Man, who heads Asia research on the car market for Bloomberg Intelligence, said it was unlikely the government would provide big tax incentives for plug-in hybrids as its purpose was to spur a wider range of gas-free vehicles.
The Environmental Protection Department said concessions were currently only being offered to vehicles with no tailpipe emissions. The waiver is due to end in March and may or may not be extended.
Man expected the brand equity of German marques to give them a natural leg up in the electric market as most consumers gravitated to brands they were familiar with.
"They know Germans are already good at making cars," Man said.
As for strategy, Man believed German carmakers would have to make financing plans more appealing to attract buyers. Tesla, on the other hand, would have to lower prices in the face of European competition.
Charged Hong Kong's Lee said: "Tesla has demonstrated brand loyalty can be trumped, but the Europeans should be playing catch-up."