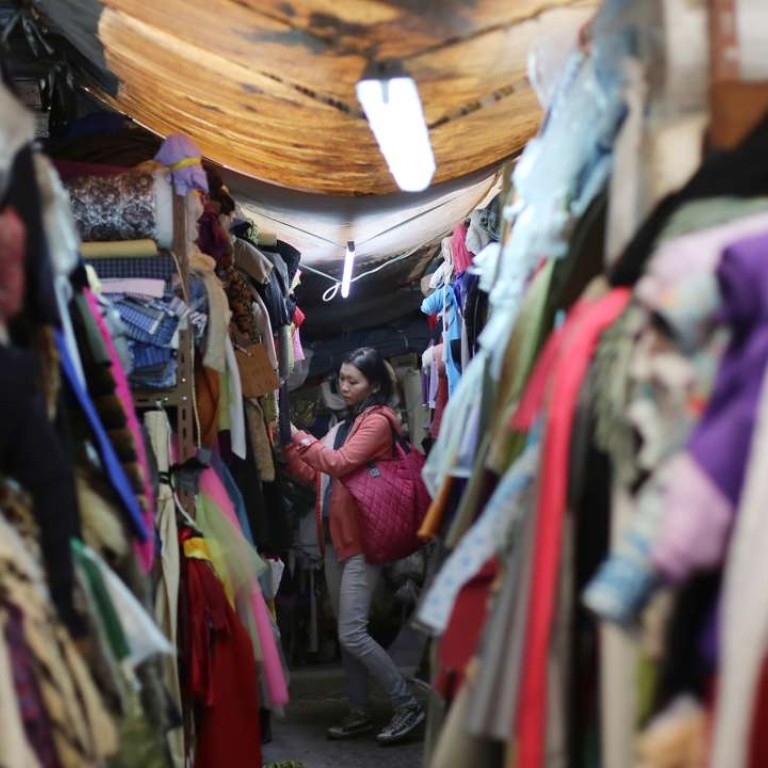 Government offers compensation, sets deadline for hawkers to vacate iconic Hong Kong textile bazaar
Remaining traders at the 38-year-old Yen Chow Street fabric market have been given until February
Vendors at Hong Kong's 38-year-old fabric market in Sham Shui Po have been ordered to vacate the bazaar by February after more than a year of negotiations with the government.
The Food and Environmental Hygiene Department (FEHD) issued letters to 52 self-claimed unlicensed fabric vendors from the famed Yen Chow Street Hawker Bazaar in Sham Shui Po, West Kowloon, yesterday.
Of the recipients, 33 eligible hawkers were offered a compensation moving fee of HK$60,000 or HK$15,000 and priority bidding for new stalls at the Tung Chau Street Temporary Market, with a 20 per cent discount off their rent.
The remaining 17 were unable to prove their identity as vendors and are not eligible for the compensation offer or the additional privileges if they relocate.
The government aims to develop the Tung Chau Street Temporary Market into a new fabric market by 2017.
All 52 vendors have been asked to respond to the government's letter by mid-October and then vacate the bazaar by the next February, when the department says stalls at the new market will be ready.
It's the third deadline given by the department to vendors after previous attempts in January and June failed to convince many to move.
Some 40 fabric vendors are still operating at the Sham Shui Po Bazaar, which was established in 1978 and once housed more than 190 textile stalls.
The iconic market's relocation riled local fashion designers and students who feared it could spell the end of affordable textile traders and sources. Conservation activists also voiced their disappointment with the government's plan to demolish the site after similar markets in Central and Jordan were also cleared out.
"I am very disappointed," Ho Ying, a spokesman for Yen Chow Street Hawkers Bazaar Concern Group and an unlicensed vendor, said after receiving the notice.
Ho said the government's discounted monthly rent, ranging from HK$2,800 to around HK$4,900 per month, was still unaffordable.
"That is nearly the monthly income of a stall," he said.
A source from the department said: "They [unlicensed vendors] have not paid for anything for the past years in the bazaar, we have already given them the biggest tolerance in terms of compensation and moving date."
The source said of 21 licensed vendors from the bazaar, 13 had arranged to return their licence for an ex-gratia payment of HK$12,000 while eight had decided to continue their business in stalls managed by the department, paying a HK$4,000 per year licence fee.
Felix Chung Kwok-pan, re-elected lawmaker for the Textiles and Garment constituency, urged vendors to take the offer.
"Many other fabric vendors would be interested in bidding if they do not want to relocate," Chung said.
This article appeared in the South China Morning Post print edition as: Compensation for hawkers at doomed Yen Chow Bazaar