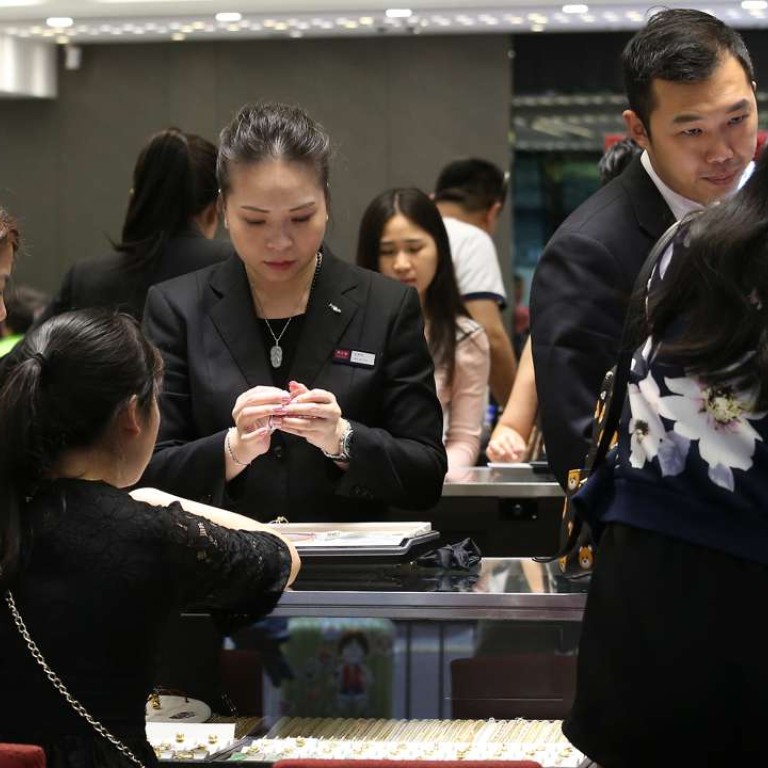 Luxury items in Hong Kong less costly than Singapore, report says
The city has fallen below its regional rival in latest wealth survey, with fewer mainland tourists splurging on high-end products and services
Hong Kong has been surpassed by Singapore in terms of the cost of luxury living as mainland tourist spending in the city dwindled, Swiss Bank Julius Baer's latest Asia wealth report shows.
The report tracked price movements in US dollars of 21 luxury goods and services in 11 major Asian cities over the past year, including watches, jewellery, ladies' shoes, wine, residential property and business flights.
Hong Kong fell one place to third position while Singapore moved up one place to second. Shanghai again topped the list as the most expensive city for luxury living in the region.
"Singapore has overtaken from Hong Kong as the second most expensive city in Asia as the latter remains out of favour with Chinese tourists," the report said.
The average price of the basket of goods and services surveyed fell 0.56 per cent in Hong Kong, compared to the same period last year.
The price of wine fell 15.6 per cent on average, while residential property fell 8.7 per cent. Jewellery items, popular with mainland tourists, saw a price drop of 6.8 per cent.
Despite the price correction in housing market over the past year, Hong Kong remained the most expensive place in Asia to live in, with high-end properties about five times more costly than the regional average, according to the report.
Meanwhile, golf club membership fees in Hong Kong jumped 35.6 per cent during the period while the average price of cigars and pianos rose 12.5 per cent and 8.2 per cent respectively.
Despite the decline in luxury consumption, however, Swiss Bank remained optimistic about Hong Kong's economy, saying it expected the city's property sector to remain resilient and its retail sector to stabilise.
"There is also optimism in the commercial sector, where the transition from luxury shops to mass market shops is close to completion, and landlords can start from a new base."