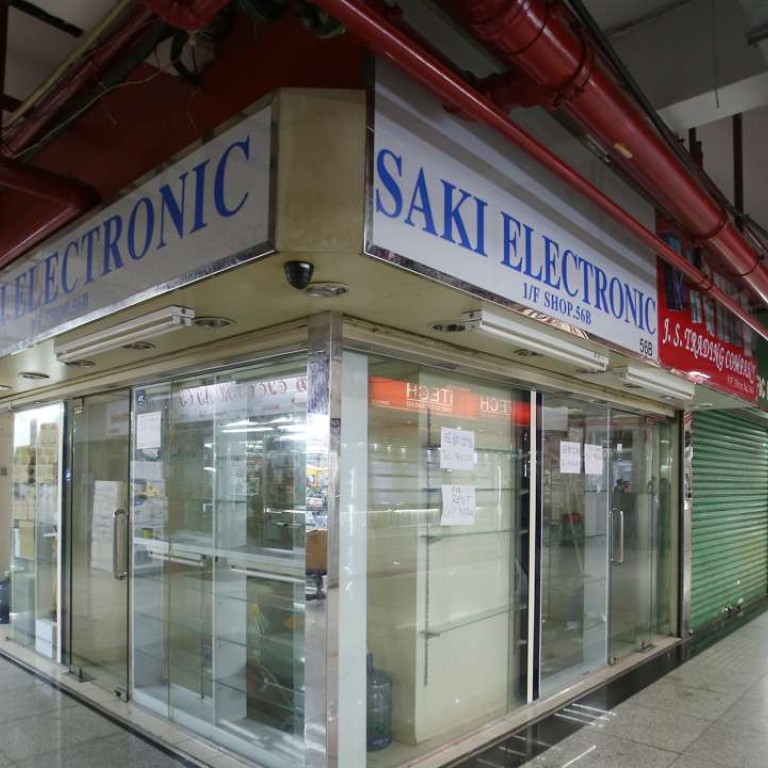 Slump shuts shops at Hong Kong's Chungking Mansions
Rents have plunged and vacancies are high at famous Hong Kong commercial complex, where simply getting a unit was once extremely difficult
Bob Kripalani, an electronics goods retailer at
Chungking Mansions
has seen his fair share of ups and downs over the past 25 years, but he has never seen a business slump as severe as now.
Shopfronts lining the arcade on Nathan Road, Tsim Sha Tsui, are mostly vacant and shoppers are few.
Kripalani, the owner of Bob Electronics, recalled that when he first opened his store, business was so good that he "did not have time for lunch".
He is among dozens of ­retailers scattered throughout Chungking Mansions, an iconic 55-year-old building near the tip of Kowloon, which travellers on a shoestring budget have long called home.
The building is a trading ­ecosystem, which for nearly four decades has hosted businesses predominantly owned by ethnic minorities, such as Indians, ­Pakistanis and those of various ­African nationalities.
But now, retailers are struggling to stay afloat, blaming ­unwelcome loiterers and tightening visa restrictions on certain countries for the downturn.
"Customers used to come from many countries and they would hand-carry phones (put them in their hand luggage)," ­Kripalani recalled. "We use to make cargo for them. Each day I sold plenty of mobile phones."
As a result of declining ­business, rents have plummeted and vacancies are at a rate not ­previously seen by long-time ­retailers in the building.
"Eight years ago, my rent was HK$35,000 per month. And now the rent is only HK$7,700,"­ ­Kripalani said.
"And still it is ­difficult to cover the rent because business is just so bad."
Once upon a time, Chungking Mansions saw nearly 100 per cent occupancy rates, with bidding wars common for trading space. Today, an estimated 40 per cent of shops on the first floor are empty.
"We had a two-year [rental] contract, and people used to come to us [and ask] 'when is your contract over?'," Mahmood Sheik, owner of Munisons, said of eager retailers who used to try to take over his contract.
Watch: How Hong Kong's iconic Chungking Mansions became what it is today
Sheik said nowadays, however, local Indian customers are becoming increasingly uncomfortable with shopping in Chungking Mansions with "asylum seekers" loitering, giving ­uncomfortable stares and causing occasional fights.
He said families rarely come to the building together any more.
"You only do because you [have] to buy something, and then you come alone."
Murli Hathiramani and his brother have been operating their general goods shop for 35 years and in that time have never seen shops left vacant for such a long period of time. Some for up to two years.
Meanwhile, the vendors of Amsua Trading Company, which has been in business in Chungking Mansions for 23 years, said they were also in the midst of an unprecedented downturn.
Owner Alyas Ahmad, blamed the fall in trade on the Immigration Department's increased scrutiny on African travellers.
"They don't give Africans visas. They used to come to us when they wanted to get retail goods," Ahmad said.
Bob Electronics' owner Kripalani agreed, saying that fewer African visitors had led many China-made mobile phone shops to vacate.
Recent media reports detail instances of Indian businesspeople, tourists and families being detained for several hours by the Immigration Department over whether they are genuine visitors or if they plan to overstay their visa. There have also been cases of outright rejection and travellers being put on a return flight.
This has visitors rethinking whether they will revisit the city, and according to traders, is keeping customers away, not only from Chungking Mansions, but from wider Hong Kong.
Ahmad said for a start, the government should make the visa process easier for repeat visitors to Hong Kong, hoping it could help turn around business.
In response to the traders' concerns, a spokesman for the Immigration Department said the department "reviews its visa policy from time to time and considers making adjustments or introducing new measures where necessary to ensure that, while facilitating travel convenience for genuine visitors, its visa policy is able to maintain effective immigration control."
The spokesman added that Hong Kong continues to maintain an "open visa policy".
To try to keep his business afloat, Ahmad decided to sell new items outside his usual stock of electronics and watches, such as cooking oil, olives and packaged milk.
Meanwhile, those who could not handle the economic conditions have closed their shops and returned to the labour market.
With rents falling and trade in electrical goods, mobile phones and gadgets down, the economic make-up of Chungking Mansions is beginning to shift from a shopping arcade into an ethnic food bazaar as more budding entrepreneurs try their hand at opening up restaurants and eateries.
But despite the retail gloom, many of the older shop owners said they would live out their twilight years running their shops for as long as possible, and remained hopeful that the shopping arcade would survive in some form.