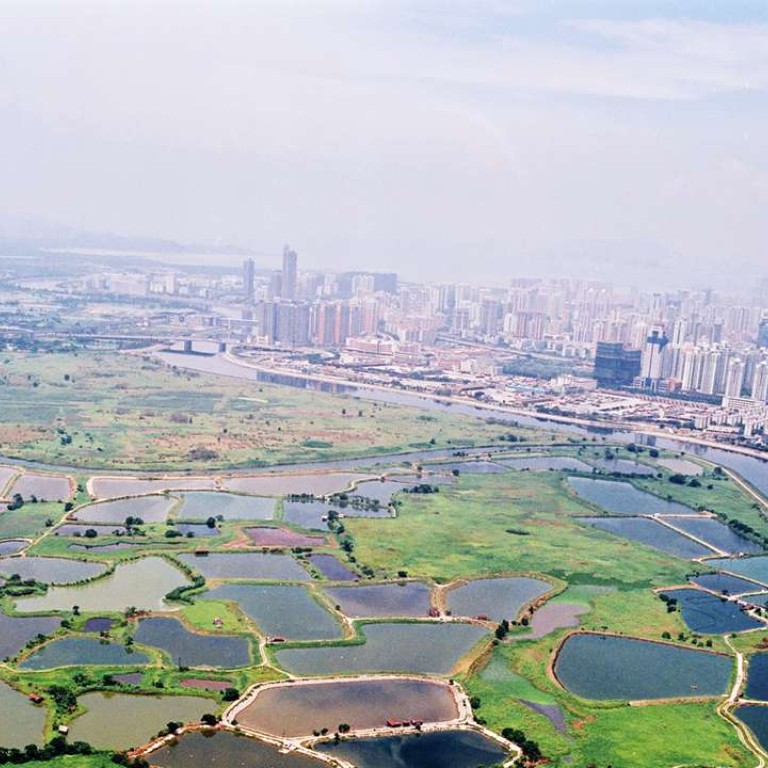 Shenzhen start-ups fear slow work on Lok Ma Chau Loop tech park
Firms in country's innovation hub say Hong Kong may take too long to build technology park at border, while local companies fear being left out
Start-ups in China's IT hub Shenzhen have warned that Hong Kong might take too long to build a joint innovation and technology park at the Lok Ma Chau border, given how rapidly the sector is developing.
At the same time, Hong Kong's innovation and technology commissioner is insisting the ambitious Lok Ma Chau Loop project will not cater to mainland companies over local ones, responding to concerns that the location is convenient for Shenzhen but too remote for Hong Kong.
On Tuesday, the city signed a landmark deal with Shenzhen to develop the park, with the mainland side accepting Hong Kong's jurisdiction over the 87-hectare site for the first time since the 1997 transfer of sovereignty. The project is expected to take more than seven years to come online.
Start-up entrepreneurs who spoke to the Post on Wednesday stressed the need for speed and practicality in developing the Hong Kong-Shenzhen Innovation and Technology Park, along with guarantees of easy access, free flow of capital and international procurement of the latest technology.
"The news has been spreading quickly among tech start-ups in Hong Kong and Shenzhen," eSight Technology founder Huang Bufu said. "We are looking forward to the park becoming a win-win intersection with advantages from both sides, like Hong Kong's global vision and talent and Shenzhen's strong hardware manufacturing capabilities, access to great funding and government support, and channels to reach the mainland market."
But Huang had a caveat as well: "High effectiveness is also crucial for the project. Seven years of development is too long for tech start-ups."
Others echoed the same concern. "Many tech start-ups in Shenzhen have ambitious plans to be listed a few years after setting up, so the development of the park should be hurried," said Zeng Zhao, who founded educational start-up Pujiang Tech last March. "If not, it will fade away."
On this side of the border, the discussion on Wednesday focused more on whether the city or its tech-savvy neighbour stood to benefit the most from the park, which will be built by Hong Kong at a cost yet to be decided.
"We do not believe [the park] will attract more Shenzhen companies than Hong Kong companies," Commissioner for Innovation and Technology Annie Choi Suk-han said on a radio show.
She said she believed the manager of the park – a subsidiary of the Hong Kong Science and Technology Parks Corporation, which oversees the Science Park – would establish a set of standards to balance the number of local and outside start-ups.
Choi noted there was great demand locally for additional space to develop technology, and the existing Science Park in Sha Tin housed a mix of local, mainland and overseas companies.
"It may be helpful for us to attract overseas investors and IPOs in Hong Kong in future," she said.
On the Shenzhen side, Huang noted that at least 10 of his employees, holding Hong Kong and overseas PhDs, currently had to commute daily between Hong Kong, where they live, and Shenzhen, where they work.
"The park will be attractive and fit for start-ups of our kind which can meet with venture capitalists and global talent, bringing international cooperation together in one community," Huang said. "But a range of further policies are needed to make it happen, like visas for talent, unobstructed channels for money flow and currency exchange, and so on.
"A Hong Kong-backed company operating in such a park will also make it easier for international procurement of core and hi-tech components, compared to mainland enterprises."
Shenzhen-based tech giants also welcomed the project.
"The park is a crucial step to get moving on cooperation between Shenzhen and Hong Kong in innovation and science," said Liu Ruopeng, chairman of Kuang-Chi Group. "I believe it will bring further opportunities for local tech enterprises to go global."
Back in Hong Kong, Choi said the government would consult the Legislative Council in the first session of the new year and apply for budget approval. She said the government hoped the project would start as soon as possible.
The government would set up a convenient entry and exit system for mainland employees in the park, she added, citing as a reference the current APEC Business Travel Card scheme, which allows easier immigration clearance.
Choi also acknowledged concerns raised by environmental groups that the mega project could cause an "ecological disaster" for the surrounding wetlands. She said the environmental impact had already been assessed and would be taken into account at the detailed design stage.
Although within Hong Kong's boundary, the loop is only 3km from the Shenzhen government headquarters.
Undersecretary for Innovation and Technology David Chung Wai-keung said Hong Kong was a compact city, so although the loop might seem remote, it would be convenient to work there after access and connections were improved. He cited the demand for space at the Science Park now after similar concerns about its remote location when the idea was first conceived.
Chan Kim-ching, founder of land concern group Liber Research Community, said the government had already planned similar parks in several other locations in the New Territories, and he questioned whether Hong Kong could muster enough demand for so many technology spaces.
He was also worried about an added impact on property prices, suggesting the park could increase the demand for Hong Kong flats among mainland employees who would compete with locals.
Internet Professional Association president Witman Hung Wai-man argued Hong Kong would need even more space for start-ups to become a technology-driven economy.
This article appeared in the South China Morning Post print edition as: Shenzhen fears slow progress on border tech park Shenzhen firms cite need for speed on tech park as locals fear being left out