Focus
Get more with myNEWS
A personalised news feed of stories that matter to you
Learn more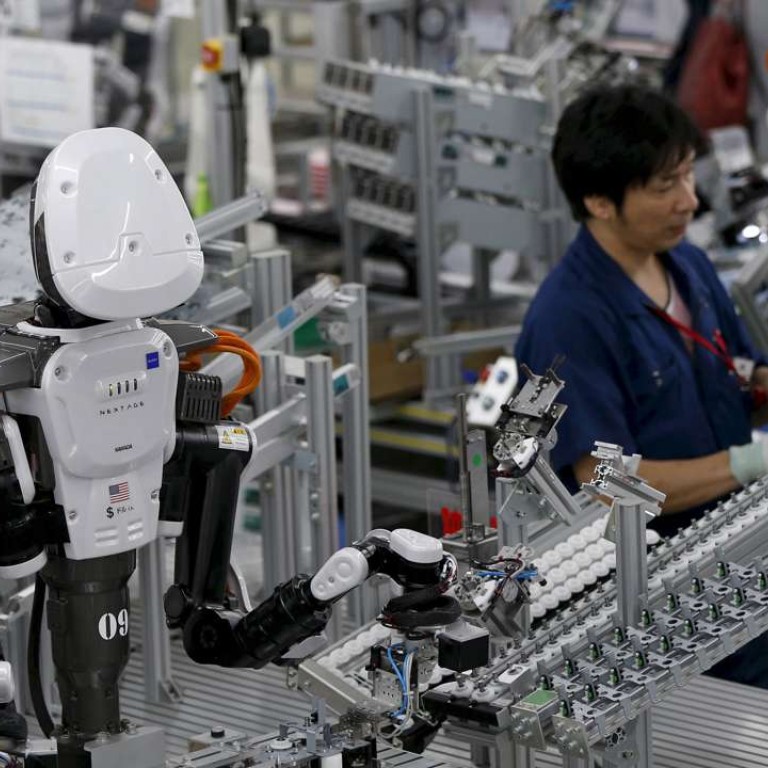 Can Hong Kong keep up with the rise of the robots?
Japan is leading the field, but experts believe the city has the potential to exploit the technology just as well, if not better
In a classic scene from science-fiction thriller i, Robot, mass-produced NS-5 humanoid robots churned out from the production line assert control over the human race after a self-evolving supercomputer governing their behaviour goes rogue.
The film is set in 2035, and while such prospects may sound far-fetched in 2017, alarm bells were set off recently when a Japanese insurance firm sacked 34 staff to make way for an artificial intelligence system.
The computer software, manufacturer IBM claims, is a cognitive technology that can "think like a human", and the company that adopted it aimed to achieve 30 per cent extra efficiency when calculating insurance payouts for clients.
Japan has been a leading nation for embracing innovation and technologies, leaving its Asian neighbours – and perhaps even the world – in the dust.
But Hong Kong can do just as well – if not better – says an academic who specialises in mechanical, aerospace, electronic and computer engineering.
Professor Michael Wang Yu from Hong Kong University of Science and Technology said there had been a very strong sense of the need to build an innovation ecosystem.
"The [Hong Kong] government has been trying to demonstrate more mature technologies that could be helpful for some local companies … I mean robotic technologies that have been tested out already and utilised somewhere else," he said.
Wang, founding director of the Robotics Institute at HKUST, said one of the university's five strategic areas was to boost research in robotics and automation technologies.
Comprising students and academics from various fields of engineering, the institute boasts three pillars of research, education and entrepreneurship.
"We want students in our community to be interested in taking up new ideas and technologies, and grow them into businesses," he said.
He gave the example of
drone manufacturer DJI
, a Shenzhen-based firm founded by a HKUST alumnus and a former member of the Automation Technology Centre, the predecessor of the Robotics Institute.
Like DJI, the professor believed, a lot of start-ups were "moving into new fields where no one had been before".
"DJI figured out the right technology, figured out the need for the people, made a product and opened up a market – that's very similar to [Apple's] iPhone," he said. "That's where Hong Kong can also prosper."
Harry Shum, executive vice-president of artificial intelligence and research group at Microsoft, who gave a talk recently at HKUST, said the city had huge potential to develop artificial intelligence in the medical and transportation fields.
"The city's dense population and environment … [coupled with] advances in computing power means there is a lot of room to grow," he said.
Shum, who specialises in speech and vision recognition research, said Hong Kong's advantage was its world-class universities, which nurture the "brightest students", while having China to provide a wealth of opportunities to test out their ideas.
In robotics development, he said the relatively smaller sizes of Hong Kong's homes provided a good test bed to conduct research on "home care" robots, which assist with daily chores and household duties.
"AI and robotics are definitely going to be the future," he confidently predicted.
While the city had the research capabilities and infrastructure, the biggest problem was funding, according to Wang and many of his fellow researchers.
Realising the need to catch up with its regional counterparts, the Hong Kong government set aside HK$2 billion in the policy address last year to set up an
innovation and technology venture fund
.
To be rolled out in the coming months, the initiative is aimed at encouraging the development of high technology and diversifying the city's economy, which is overwhelmingly inclined towards finance, tourism and logistics.
Wang said over the years, gross expenditure on research and development in the city contributed less than 1 per cent of gross domestic product, lagging far behind its regional counterparts.
According to the Innovation and Technology Bureau, HK$15.6 billion was spent in the area in 2013, representing 0.73 per cent of GDP.
To put that figure into perspective, data compiled by the UN's Educational, Scientific and Cultural Organisation suggested South Korea derived 4.29 per cent of its GDP from research and development in the same year, the most in the world.
Japan came third with 3.58 per cent, while both Singapore and China attributed 2 per cent of its economy to research and development.
Henry Hu, who co-invented a coffee vending machine featuring a robotic arm and advance online ordering system, said one of the biggest challenges for them was getting the funds to build a prototype.
To help achieve their goal, they applied for the incubation programme at Hong Kong Science and Technology Parks Corporation, a non-profit body set up by the government.
"The application process was very straightforward and we managed to get extremely cost-friendly office space at HKSTP. Being able to recruit skilled local engineers quickly and work out of HKSTP at nearly no cost was very helpful in getting us started," said Hu, who is now chief executive officer of his start-up, Cafe X.
The machine involves customers ordering their caffeine fix over the phone, with the option of scheduling a pick-up time to save queuing.
Once there, the customer enters a code, and the robotic arm goes to work by pushing buttons and handing over the cup, all without manual assistance. One machine is currently operating at a busy concourse inside the HKSTP.
While HKSTP provided the infrastructure and networking opportunities, they still needed money to fund the project.
"CoCoon Ignite Ventures from Hong Kong made a bet on us very early on and so far it has turned out to be a good investment for them. I really commend their unconventional appetite for risk," Hu said.
The company has since closed a round of equity financing from Silicon Valley institutional investors after demonstrating its robotic cafe technology at the Launch Festival in San Francisco last year and winning best overall start-up.
While Hu and many of his peers continue to work out novel solutions and drive innovation, traditional industries are also keen to adopt technology and make work easier and more efficient.
Engineering firm Gammon Construction, which employs more than 8,000 people with an annual turnover exceeding HK$19.5 billion, has long faced a shortage of manpower.
To lure talent into the industry and relieve the workload of employees, the company ordered two sets of "zero-gravity arms" from the US.
The mechanical devices, which can operate without power, allow workers to operate machinery without shouldering their weight, reducing the strain and fatigue caused by repetitive tasks such as drilling and tiling.
The arms have been deployed at the construction site of the Tseung Kwan O Data Centre since September, with mostly positive feedback.
At the same time, two sets of exoskeletons were bought from Japan to help workers carry heavy loads.
Innovation manager Andy Wong revealed the procurements cost around HK$400,000 and they would study if the trial scheme was to be expanded by gauging workers' feedback, efficiency and sustainability.
Human resources chief Edmond Lai said the firm faced a 5.4 per cent shortage of workers, rising to 21.8 per cent for electrical and mechanical technicians.
The company admitted it would continue to streamline processes and reduce reliance on manpower, such as introducing modular fabrication, the use of pre-cast parts shipped from factories for faster assembly at construction sites.
Robotic arms are even saving lives. Queen Mary Hospital's Department of Cardiothoracic Surgery has successfully used the technology to conduct
minimally invasive heart operations
on 14 patients, with benefits of smaller incisions, reduced chances of complications and faster healing times.
Asked if there were fears that the machine would replace surgeons one day, the department's chief of service, Timmy Au Wing-kuk, laughed off the idea, pointing out the robotic arm had to be operated by trained doctors.
"The [robotic arms] only help us navigate areas hard to reach by human hands, but other than that we're still in total control of the procedure – even though the machine was operated in another room," he said.
While companies and institutions continued to embrace technology to streamline manpower, Wang said from a research point of view, automation was completely different to robotics.
Robotics, he said, was categorised as a system that made autonomous decisions with self-programming capabilities.
Factory production lines all employed machines, but the procedures were repetitive and did not involve any intelligence, the professor pointed out.
He gave the example of Taiwanese electronics manufacturer Foxconn, which plans to fully automate its factories in mainland China by replacing human workers with robots in a three-phase scheme.
The Post reported last year that a Foxconn plant in Kunshan, Jiangsu province, had already replaced 60,000 workers with robots.
Asked why most postgraduate students in his department came from mainland China with few local faces in research labs, Wang gave a coy answer. "This is a much harder subject that is not for everyone."
When pressed for a more concrete explanation, he said he believed the limited opportunities in Hong Kong deterred many teenagers from studying engineering, and those who did had few incentives to stay on after completing their studies.
"China is entering the robotics industry aggressively. There is potential for Hong Kong companies to join the trend," he said.
This article appeared in the South China Morning Post print edition as: The rise of therobots