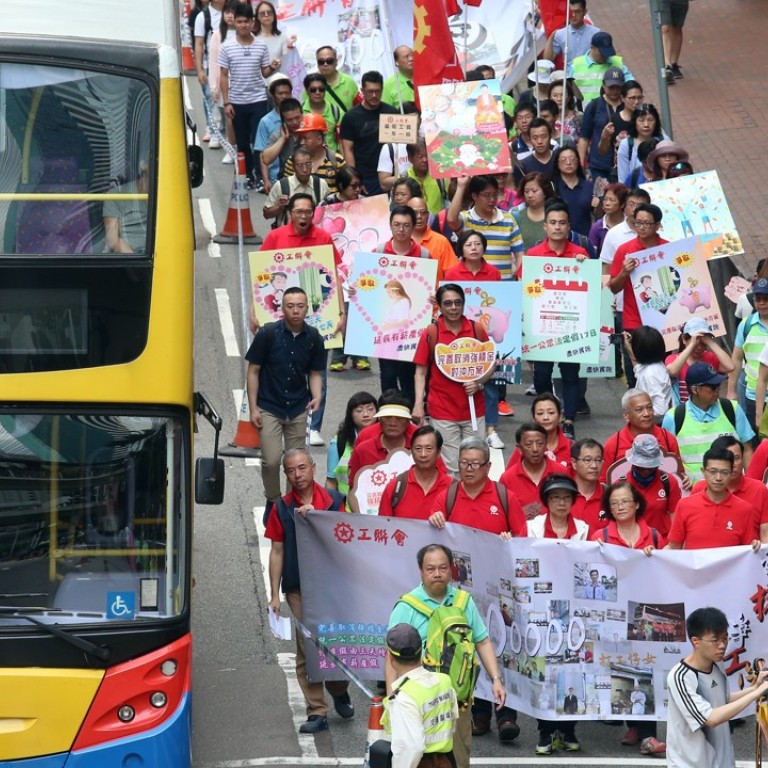 Thousands of Hongkongers join Labour Day marches for better rights and benefits
New minimum wage is the spur for workers to air their grievances on pay, pensions and holidays
Thousands of workers took to the streets of Hong Kong to mark Labour Day, calling for better benefits and welfare, including an end to the practice of employers dipping into employees' pension funds for severance and long-service payments.
Three separate marches were organised by labour groups and political organisations on Monday, as the city's new minimum wage of HK$34.50 an hour – an increase of HK$2 – took effect.
"The progress on Hong Kong labour rights has not been ideal in the past," said Stanley Ng Chau-pei, chairman of the pro-Beijing Federation of Trade Unions.
"The current government has to push forward with this in its remaining months in office."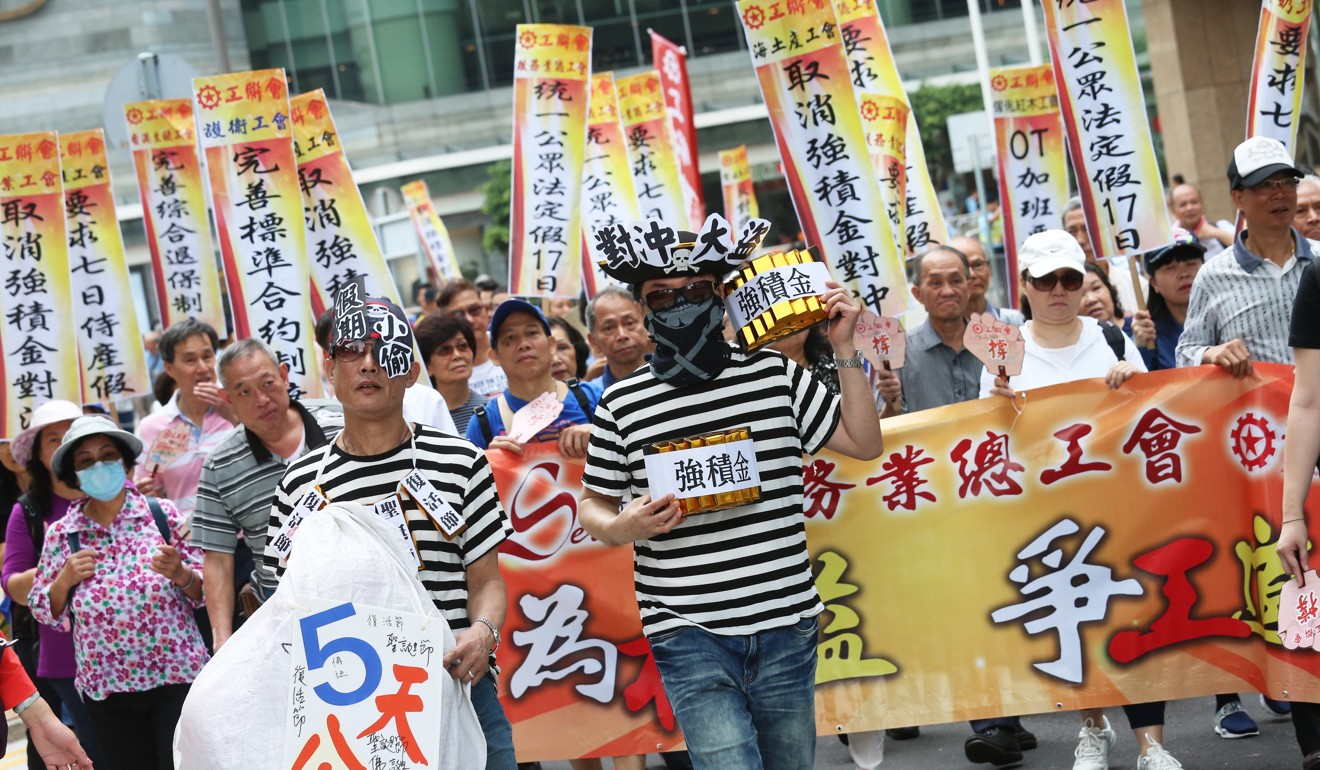 Organisers estimated that more than 4,000 demonstrators from the construction, transport and services sectors turned up for the march, displaying banners demanding "five work days a week" and "17 statutory holidays".
"Protect workers' rights, fight for justice," they chanted as they marched on government headquarters at Tamar.
Only 12 of the city's 17 public holidays are statutory, meaning employers can choose not to grant their staff a day off on the other five.
Protesters also demanded an end to the deeply unpopular offsetting mechanism for the
Mandatory Provident Fund
– Hong Kong's retirement savings scheme – which allows employers to use their contributions to a worker's retirement fund to offset severance and long-service payments.
A march by the pro-democracy Confederation of Trade Unions from Victoria Park in Causeway Bay to government headquarters saw a turnout of about 2,500, according to the organiser.
Confederation chairwoman Ng Man-yee said the government had done little for local workers who contributed greatly to Hong Kong's economic success.
The new minimum wage of HK$34.50 an hour also failed to match the rapid increase in living costs, Ng said.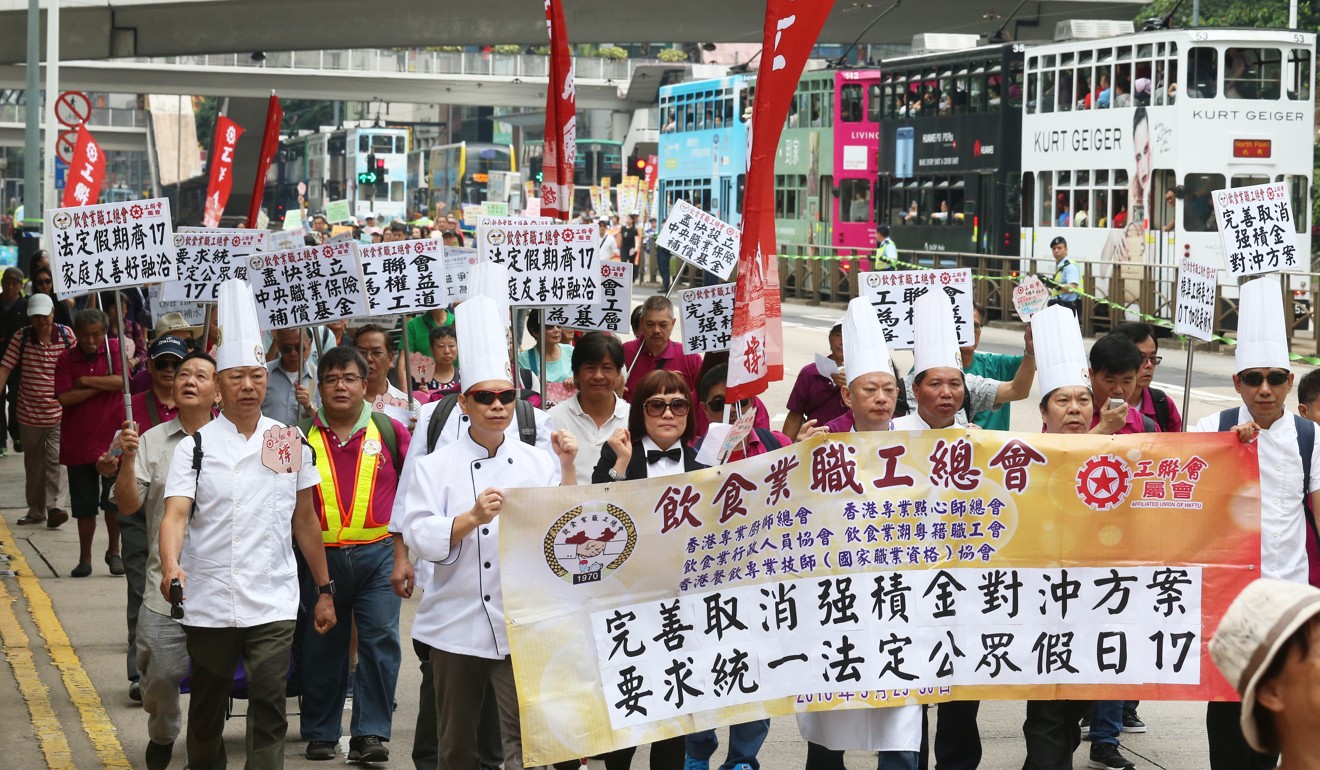 Construction workers from Nepal and Southeast Asian domestic helpers joined the protest to complain about long working hours.
Umi Sudarto, who heads a concern group for Indonesian domestic workers, called for working hours of the city's maids to be capped at eight hours a day and urged the government to ease the requirement for them to live with their employers.
"We need better living conditions," she said. "When we are with our employer 24 hours a day, we have no time to study, exercise and do cultural activities."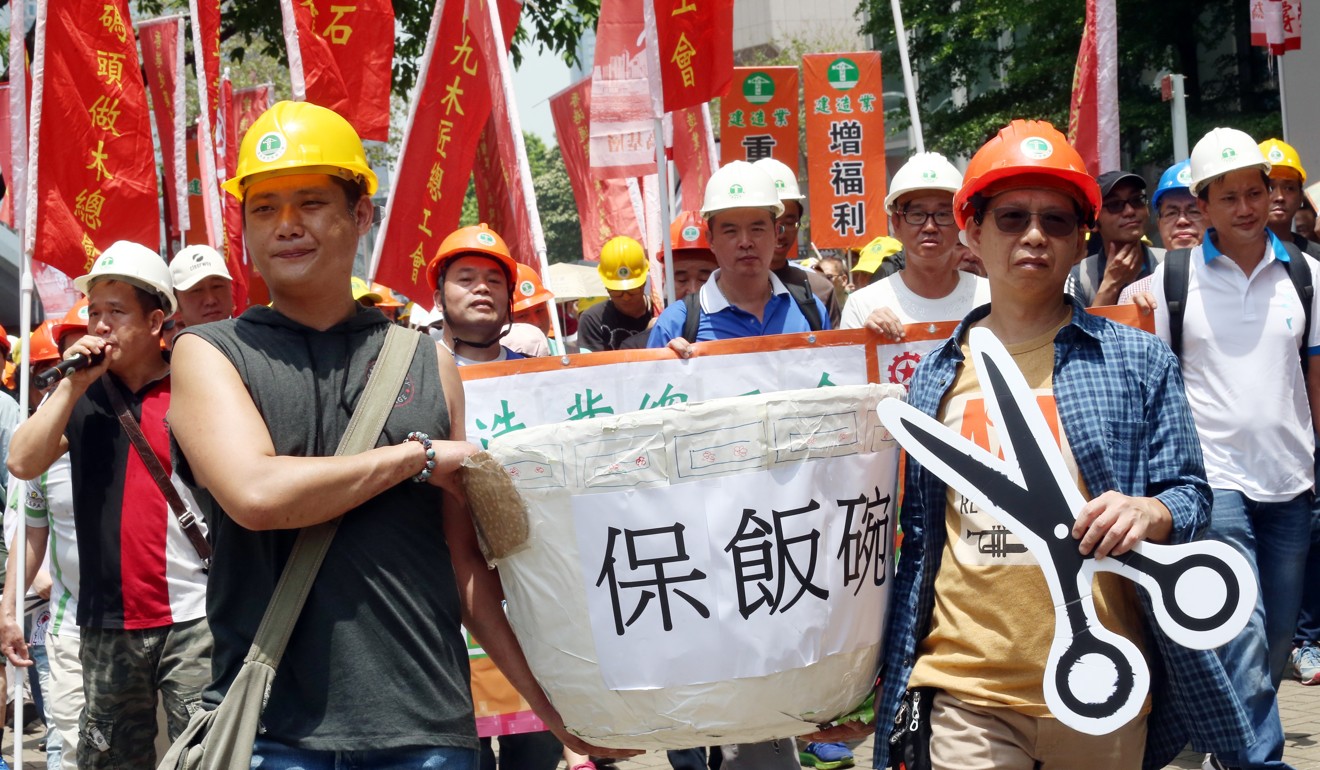 Another 200 people from grass-roots organisations, including women's rights associations, public housing focus groups and elderly rights concern groups, staged a separate rally, calling for legislation to standardise working hours, retirement protection for all and better overtime pay.
Organised by pan-democratic political group the Neighbourhood and Worker's Service Centre, the march from Chater Garden in Central ended at the Legislative Council in Admiralty.
Housewife Lee Fun-tai, 52, said she was fighting for the rights of part-time workers, asking for better welfare after retirement.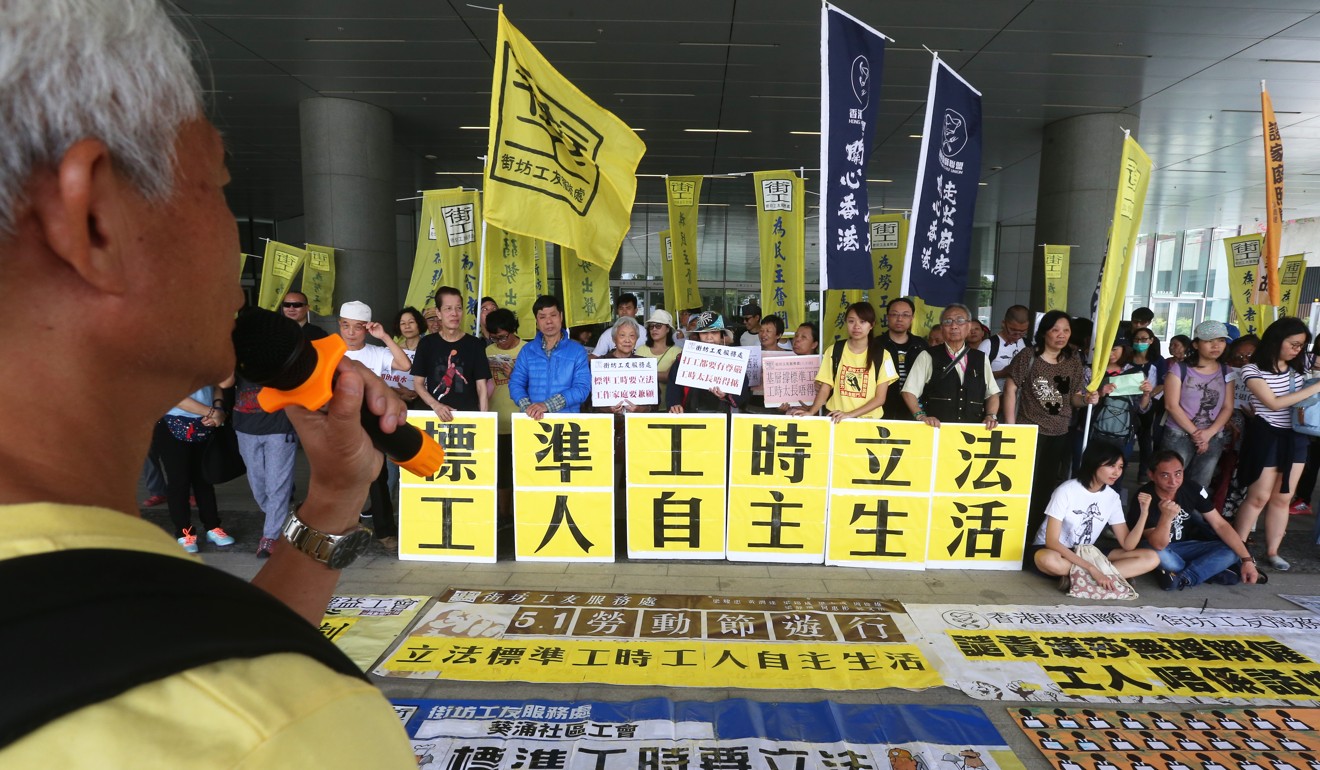 Lee, who has never held a full-time job because she had to take care of a daughter with Down's syndrome, said she was worried about her future.
"What if all my three children do not take care of me after I get old? What can I do then without any government protection?"
The government replied that it had been improving workers' rights at a pace that suited Hong Kong's socio-economic development, taking into account both employees' interests and affordability.
This article appeared in the South China Morning Post print edition as: Thousands march to demand better rights and benefits