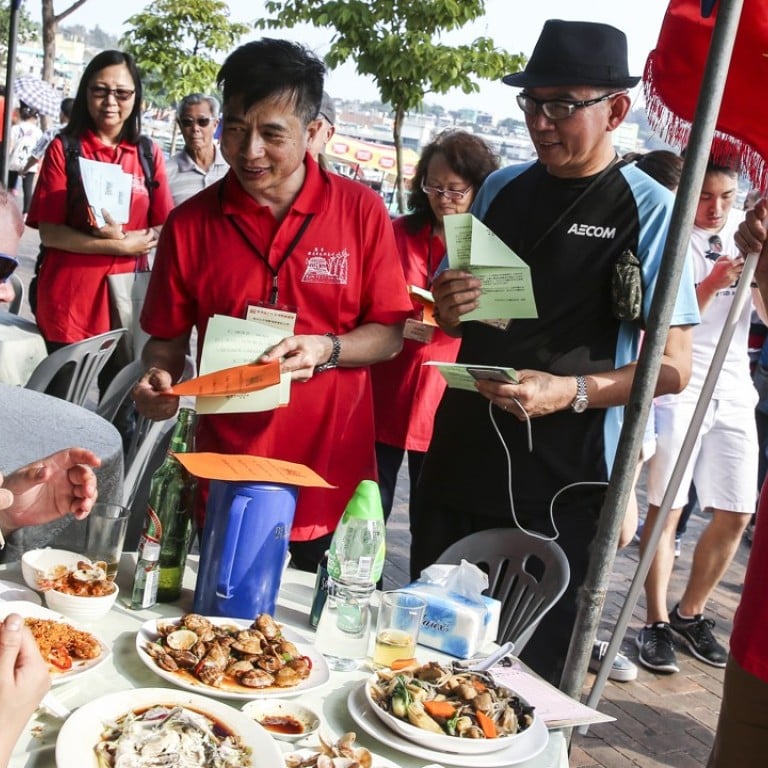 Meat off the menu for three days during Cheung Chau bun festival
Locals want to revive century-old tradition and urge tourists and restaurants to observe practice
The popular tourist island of Cheung Chau has stopped serving a staple fare – seafood – since Monday to resurrect a three-day vegetarian tradition as locals attempt to steer its
annual bun festival
back on track.
The practice to refrain from consuming meat dates back to an ancient Qing Dynasty ritual during the week-long bun festival where islanders vowed to become vegetarian, in a pact with Pak Tai, the Taoist God of the Sea, to drive off evil spirits.
But the tradition has largely gone off track in recent years as the rustic way of life and scenery on the island drew tens of thousands of local and overseas visitors.
With the annual bun event taking centre stage, seafood favourites such as grilled squid have found a place among the festivities.
"Tourists should respect our tradition if they'd like to participate in the festival," Yung Chi-ming, who has served as chairman of the festival's organising committee since 2004, said.
"People should practise abstinence from eating meat during the festival."
It is even more apt to observe the tradition this year because the festival's major celebrations, including the "floating colours" parade and bun scrambling competition, coincide with Buddha's birthday.
To bring back the century-old tradition, Yung said the committee had stepped up efforts to educate tourists, restaurants and shops on the three-day practice of refraining from consuming meat during the event.
Committee members would also beat drums and hand out leaflets during the bun festival to raise awareness, he added.
"About 90 per cent of the shops have agreed not to sell meat products [during the three days]. Their response is very encouraging," Yung said.
Some seafood restaurants would serve Chinese vegetarian cuisine instead, he said, while snack stalls would replace fish balls with spring rolls on their menu, and western style restaurants would offer spaghetti with vegetables. Other stores will close for business for a few days.
Celebrations officially kicked off last Saturday culminating in Taoist ceremonies, lion dances and a colourful children's parade on Wednesday.
This article appeared in the South China Morning Post print edition as: meat off the menu for cheung chau festival