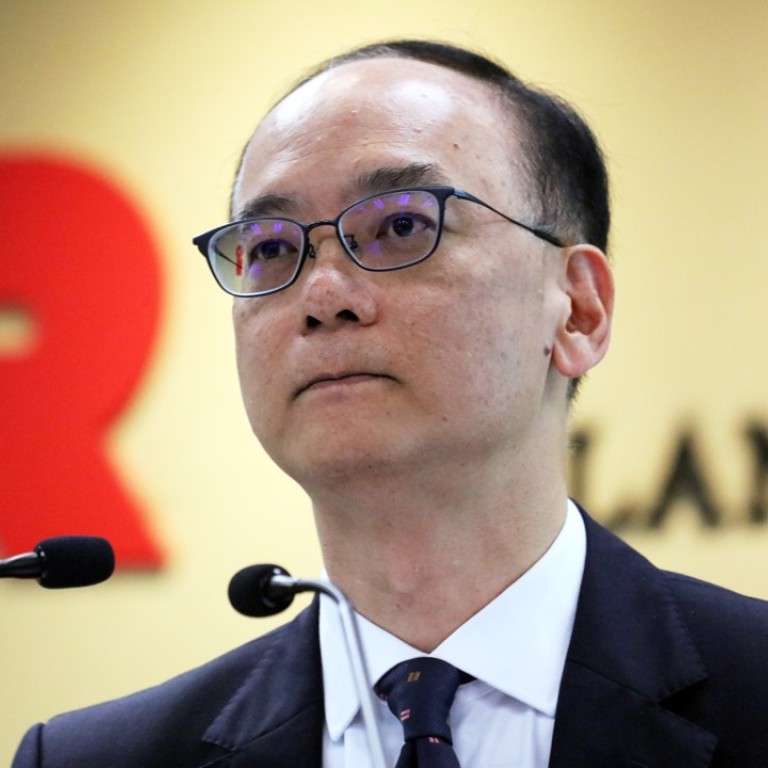 Hong Kong tax revenue to fall further on fewer stamp duty collections for property
Officials attribute drop to waiver of business registration fees but stay mum on outlook of property market where speculation has been rampant
Hong Kong's tax revenue is set to further shrink to HK$286 billion by the end of next March, partly due to an expected 22 per cent plunge in
stamp duty
for
property transactions
.
The Inland Revenue Department on Tuesday announced that overall tax revenue collected in the 2016-17 financial year was HK$290.2 billion, down about HK$1.1 billion or 0.4 per cent from the previous fiscal year.
The revenue drop for a second consecutive year was attributed mostly to a waiver of business registration fees. In 2015-16, the taxman collected HK$291.3 billion – a 4 per cent drop.
Of the total collected, nearly half, or HK$139.2 billion, was from profits tax, while salaries tax accounted for some HK$59.1 billion. With the expiry of the one-year waiver of business registration fees, the department expected to collect some HK$2.6 billion from this source in 2017-18, from only about HK$228 million in 2016-17.
Commissioner of Inland Revenue Wong Kuen-fai estimated property stamp duty would contract by 22 per cent to HK$29.2 billion in 2017-18.
Wong declined to speculate on the outlook of the property market, only saying the department's estimates were based on "a basket of factors", including the market trend and volume of transactions affected by government cooling measures.
On higher income from stamp duty measures introduced since last November, Wong said the government coffers could become the victim of their success.
"It is a demand-side management measure. In plain English, it is to discourage people from buying. So, if the measure is successful, the stamp duty revenue could be hit," he said.
In an attempt to dampen speculation in the residential property market, the government
last November increased the stamp duty
for all residential property transactions to a flat rate of 15 per cent. Last month it further tightened the measure to cover first-time homebuyers who acquire multiple flats using only one sales and purchase agreement.
Baptist University economist Dr Billy Mak Sui-choi said the slight dip in tax revenue was insignificant, given the government's huge fiscal reserves and surplus.
But Sharmaine Lau Yuen-yuen, chief marketing officer at mReferral Mortgage Brokerage Services, predicted a boom in stamp duty in 2017-18. She cited her company's research finding that mortgage loans drawn for the first quarter of 2017 had soared some 86 per cent over the same period a year ago to HK$71.2 billion.
The volume of transactions for residential units rose from 3,286 in January to 4,079 in February, and 5,856 in March this year, according to Land Registry data.
Wong also asked the city's 2.6 million taxpayers to watch out for the familiar "green envelopes" reaching their letter boxes within the next couple of days. They will have to file their tax returns by June 2, with an extra month for those who do it online.
This article appeared in the South China Morning Post print edition as: Tax revenue set to fall further on plunge in stamp duty