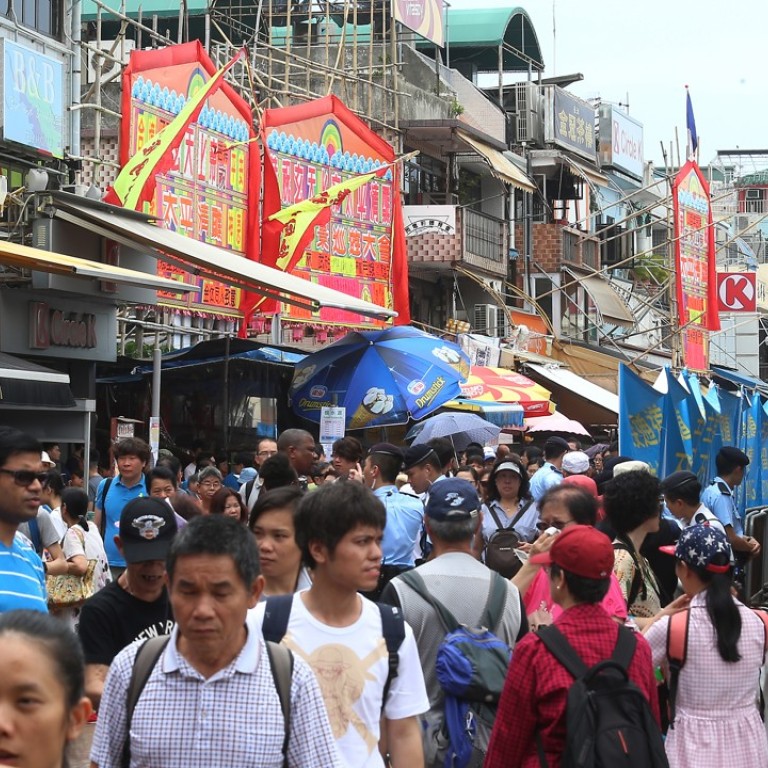 Why Cheung Chau's bun festival did not lead to a business boom for island despite large crowds
Retailers blame vegetarian custom and fear of projected masses
Despite tens of thousands of tourists flocking to Cheung Chau for the bun festivities, the visitor surge did not translate into a boom for businesses on the island.
Shop owners blamed the dent on their fortunes on a bloated forecast of visitor numbers, which turned some away, and an attempt by residents to resurrect a local vegetarian tradition, which discouraged eateries from selling meat.
As of 9pm on Wednesday, some 48,000 people had travelled between Central and Cheung Chau – more than double the island's population.
But for Charlotte Chau, owner of Wonderful Shop, which is just 30 metres from the pier and sells budget accessories, jewellery and ornaments, business did not spike as expected. "Sales were about the same as previous years," she said.
Lodge rentals also did not capitalise on the visitor surge.
Andy Ho, who operates Sea View Holiday House offering about 20 lodges, said bookings were only 80 per cent full as there were few overnight stays.
Restaurants along the promenade also felt the pinch, partly because of a local Taoist tradition to go vegetarian during the bun festival. Fierce competition, however, led to some eateries ignoring the custom even before the ban was lifted at 3pm on Wednesday.
The 30-year-old East Lake Restaurant was one such example. Owner Connie Man said: "Locals like us all observe the tradition, but tourists may not wish to follow."
The custom also led to meat being taken off the menu of street snacks.
Welcome Food Court stopped selling its signature giant fish balls and grilled squid and cuttlefish, offering cobs of corn and fried turnip cakes instead.
Staff member Yeung Siu-ngan, a Cheung Chau native, said business would no doubt take a hit, but did not give specific numbers. She insisted that the island's heritage must be respected, adding that the biggest issue was the overestimation of visitor arrivals by the government.
"They always claim that as many as 60,000 or even 80,000 would show up on the [final] day ... this scared others who initially planned to visit," she said.
But for some shops, tradition pays.
Kwok Kam Kee Cake Shop attracted queues of up to 80 people. Martin Kwok, who handles the family business, said they hoped to sell more than 10,000 "peace" buns, priced at HK$9 each. The buns were all vegetarian.
Kwok said: "This is our history, and we hope to preserve it."