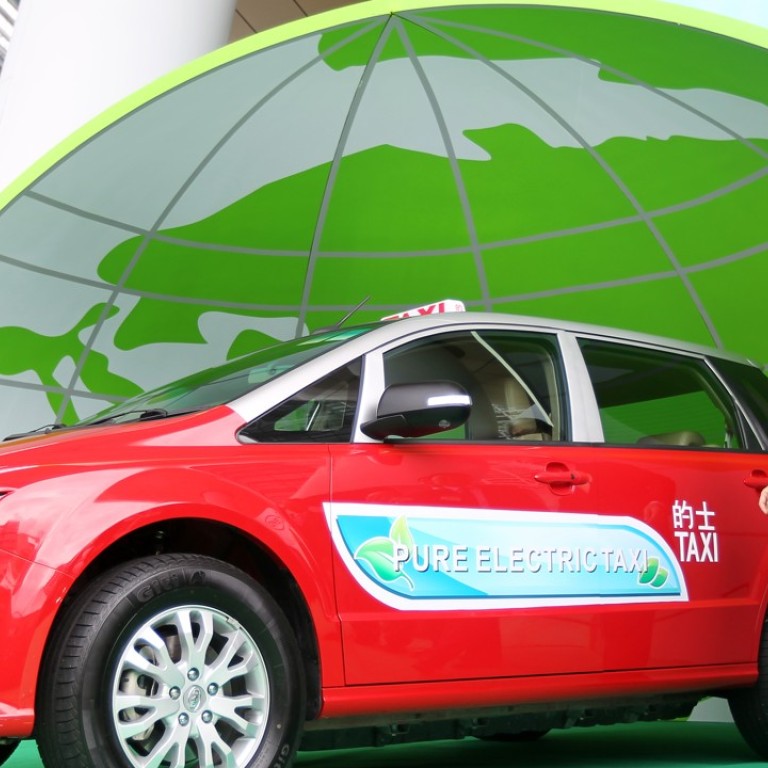 Hong Kong electric taxis will not operate round the clock due to long charging times
Government reaches conclusion after 40 trials of electric vehicles
Hong Kong's two-year trial run of electric taxis has backfired as its long charging time was viewed as unsuitable to operate the cabs round the clock.
The Environment Bureau reached the conclusion as it examined the results of 40 trials of electric vehicles funded by the government's Pilot Green Transport Fund.
The government set up the HK$300 million fund in 2011 aiming to encourage greener energy use for commercial vehicles. As of the end of March, the fund had approved 94 trials of electric vehicles with about HK$86 million in subsidies.
However, the trial run of three electric taxis – namely e6 cabs by Chinese automaker BYD – was halted as the three trial operators have switched to register the vehicles as private cars, according to a government paper submitted to the
Legislative Council
's environmental affairs panel.
"High production cost, limited service life, long charging time and low energy density of e-vehicle batteries are the key constraints for electric vehicles to take up commercial transportation duties," the bureau said.
"A taxi under normal operation cannot spare about four hours a day for charging," it added, pointing out that electric light buses and coaches also experienced similar problems.
Because of their long charging time, e-vehicles were judged unsuitable for commercial use entailing high mileage and heavy payloads, especially in the logistics or courier sectors.
As for the two-year trial of six double-decker hybrid buses, which feature a Euro VI diesel engine and cost HK$5.5 million each, the bureau said there was no strong reason for promoting their use because their energy-saving performance "fell far short of expectation".
Over the period, the hybrid buses were found to consume on average 0.4 per cent more fuel than conventional diesel buses on the same routes – far short of the 30 per cent fuel saving as reported in overseas economies.
"The poor fuel economy performance of the hybrid buses should mainly be due to the high air-conditioning loading in the hot and humid summer in Hong Kong, which could account for up to 40 per cent of the fuel consumption," it said.
The two-year trial of 36 single-deck electric buses starting from the end of 2015 also encountered many roadblocks. The first batch of five BYD e-buses had malfunctioning bus doors, broken wheel bolts and excessive regenerative braking torque. Their trial period is to be extended for five months to make up the time rectifying the problems.
The trial of the second batch of five Great Dragon e-buses by Citybus and New World First Bus, which was scheduled to start in September last year, was also put on hold due to doorbells flaws. It is to be resumed in June.