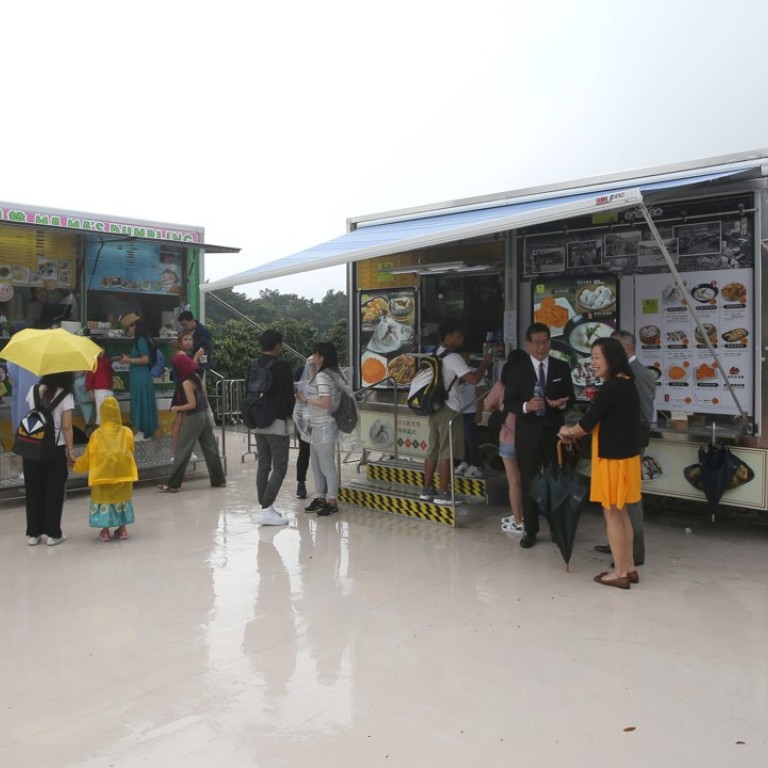 Food truck scheme sees second Hong Kong operator drop out, citing business difficulties
Dessert cafe Xiao Tian Gu pulls out as The Butchers Club takes its place
Dessert cafe Xiao Tian Gu became the second operator to withdraw from Hong Kong's food truck scheme.
After the first operator, Chrisly Cafe,
dropped out in March
, the second cafe, owned by actress Jo Kuk Cho-lam, announced on Monday that its withdrawal was a "business decision".
"We were very honoured to be able to join the food truck pilot scheme. However, until now we couldn't complete [our preparations] within the targeted time frame," Xiao Tian Gu said in a statement. "We therefore made an appropriate business decision and withdrew from the scheme."
It thanked those who had offered opinions and helped during its preparation, including other food truck operators, manufacturers, retailers and the scheme's coordinators.
Kuk's cafe, specialising in Hong Kong-style desserts, was one of 16 food truck finalists last year on the strength of dishes such as its new-style egg puff and mango pomelo sago with herbal jelly dessert cup.
Since launching in February, the two-year pilot scheme has been hit with complaints. Some operators have claimed it is difficult to attract customers at certain locations. Each participant is required to operate at one of eight designated locations for two weeks before rotating to another location.
A Tourism Commission spokesman said Xiao Tian Gu was required to obtain relevant operating licences within six months of receiving its "notice of conditional recommendation" – a document that allows an operator to proceed with its application after being selected.
While the licences had to be obtained on or before February 10, the commission postponed its deadline three times due to the cafe's "technical difficulties" in preparing its food truck.
As a replacement scheme is in place for such withdrawal scenarios, Xiao Tian Gu's vacancy is to be filled by The Butchers Club, which is offering its original burger as its signature dish.
Chrisly Cafe, formerly known as Capital Cafe, was selected to join the scheme for its "bamboo charcoal sandwiches with Iberico ham and fried egg". However, it withdrew before rolling out a food truck and was to be replaced by Jajambao, a start-up offering veggie buns.
The commission spokesman said the two new participants had to obtain relevant operating licences within six months of receiving their notice of conditional recommendation. The commission said it would stay in close contact with both and extend necessary assistance as they got their trucks ready and applied for licences.
This article appeared in the South China Morning Post print edition as: Food truck scheme sees second operator drop out