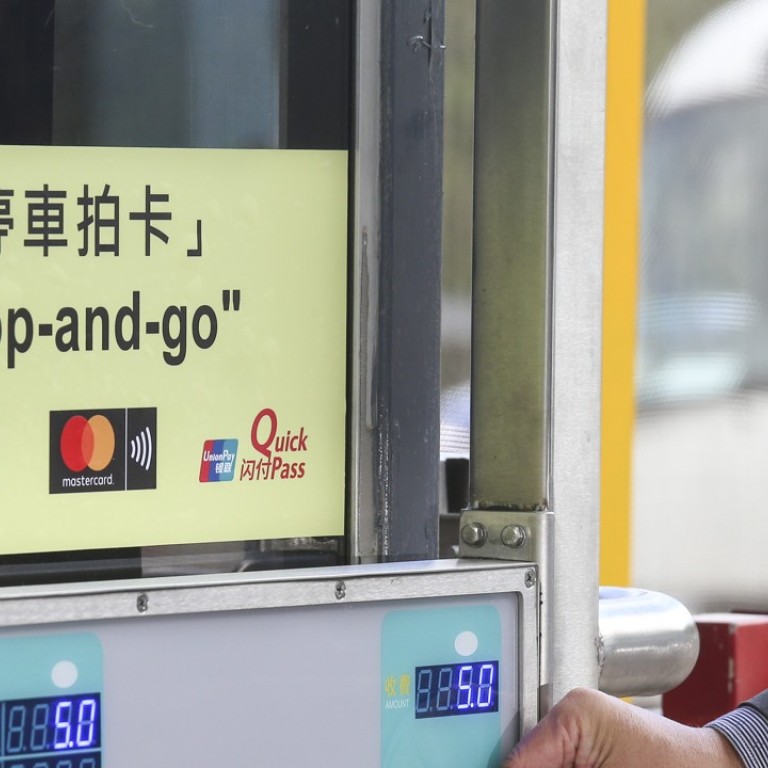 No manpower cuts at toll booths in Hong Kong's tunnels even after new e-payment arrangement
Transport Department says it will not lower number of operators, as new process still requires workers to key in vehicle class manually before accepting e-payment
Manpower in Hong Kong's tunnel toll booths will not be cut, the city's government has said, even with the imminent roll-out of more electronic payment options.
Drivers can soon use four additional ways to pay tolls at the government's eight tunnels – Octopus, and contactless credit cards issued by local banks namely Mastercard Contactless, Visa payWave and UnionPay QuickPass. They will be able to use these options starting from July 23 at the earliest.
So Chun-chuen, Chief Transport Officer (Tunnels and Tsing Ma) of the Transport Department, said on Friday that he expected the new e-payment arrangement, dubbed "stop and go", to be used by more than 80 per cent of drivers.
"All the tunnel toll booths will be equipped with "stop and go" e-payment, which will bring more convenience," he said. But the number of toll collectors at manual toll booths will not be lowered as they are still needed in the e-payment process.
With this new arrangement, the toll collector manually keys in the vehicle class and drivers then tap their smart cards on the readers installed at manual toll booths. Once the transaction is completed, the card reader will display a green light.
Drivers can pay by cash if the transaction fails.
So said the new e-payment options would halve the transaction time to five seconds.
"Trials [have shown] the five-second stop-and-go is feasible," he said. "However, in actual situations, it will depend on different factors such as the failure of the driver to find his card in time."
Currently, 54 per cent of drivers hand over cash instead of using Autotoll – the sole existing electronic payment service, So said. With Autotoll, there is a monthly HK$35 management fee and cars with Autotoll tags can drive through toll booths without stopping.
Charles Mok, lawmaker for the Information Technology functional constituency, said Hong Kong is lagging behind in terms of e-payment for tunnel and road tolls.
"Many countries or cities have no toll booths at all," Mok said. "The stop-and-go option is just a move from the Stone Age to the Bronze Age, which is a little progress but still outdated."
He said the best option is "no stop", meaning to record the vehicle's number or tag as it drives through, with the toll charged by phone.
"Even if you still have to use "stop and go", which is not ideal, accepting only Octopus and credit cards is still too limited as nowadays people use phone payments like Apple Pay more," Mok said.
A taxi driver, who wanted to be known only as Mr Yeung, said he would continue to use cash. "Some passengers suspect they are being cheated if they do not witness the cash-paying process," he said. "Octopus may also not be convenient for us drivers, who have to pass the tunnels many times every day, as there is a limit on the deposit."