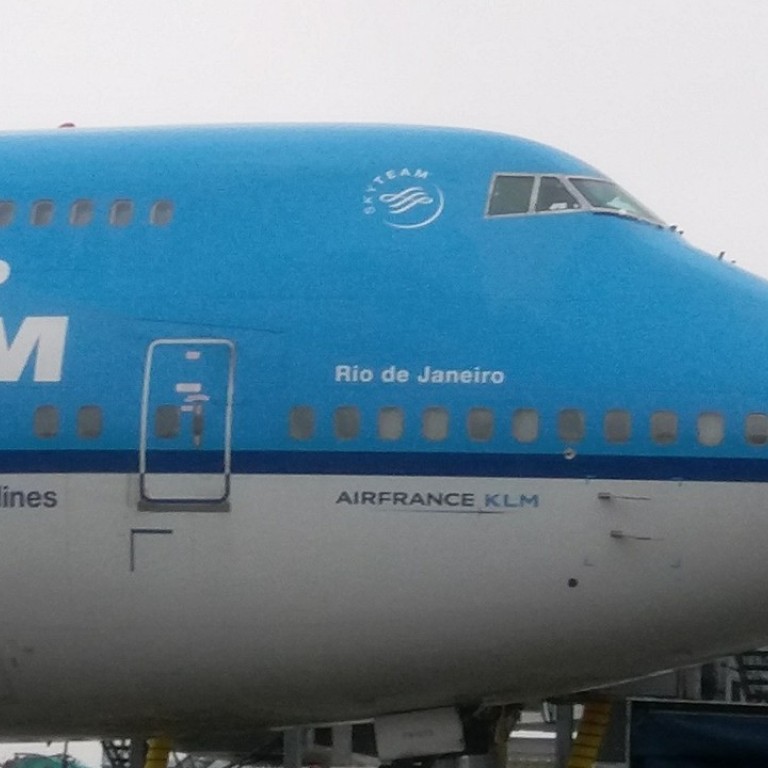 Only one plane lands in Hong Kong International Airport as Typhoon Hato wreaks havoc with flight schedules
Buffeted by winds reaching up to 113km/h, KLM flight from Amsterdam landed in Hong Kong on Wednesday morning as airport sees 65 per cent reduction in daily flights
A plane from the Netherlands was the only flight to land in Hong Kong on Wednesday during the five hours that a severe typhoon wreaked havoc on the airport.
In extremely challenging conditions, with wind speeds of between 80km/h and 113km/h buffeting the aircraft, KLM flight 887 from Amsterdam, landed at 10.33am at Hong Kong International Airport (HKIA).
An Ethiopian Airlines flight from Addis Ababa, flight 672, aborted its landing at Hong Kong moments from touchdown and was diverted to an airport in Xiamen.
Only 400 flights were scheduled to arrive or depart from Hong Kong on Wednesday – a 65 per cent reduction in daily flights – as Typhoon Hato hit the city and the Observatory issued the No 10 storm signal – the highest category. The signal was up from 9.10am to 2.10pm, a total of five hours.
Hato, which is named after the Japanese word for pigeon, caps some of the worst weather to affect the airport since it opened almost two decades ago.
According to Observatory data analysed by Hong Kong pilot Jeremy Tam Man-ho, flight KL887 was facing headwinds when the pilots were trying to land, but those winds were not unfavourable for landing.
"It would have been difficult to land if the flight was facing crosswinds. The real problem was after landing the plane – you needed people to get the air bridge ready and open the door. If the wind is too strong it is possible you can't even open the door," said Tam, who is also a Civic Party member of Hong Kong's legislature.
Wind speed over the airport's airspace was 80km/h to 113km/h, which Tam said was strong. But he said what really determined whether a pilot could land a plane was the direction of the wind. He added that visibility had been 1.7km, which was "acceptable". Visibility on the runways was between 500 metres and 800 metres, Tam added.
"There was no reason not to try and land. It was not a rash decision," he said.
KLM said in a statement that the pilots had had "no problems landing the plane", and the aircraft had been loaded with extra fuel in case a diversion to another airport was needed.
"Safety is our highest priority, we never compromise on that," the airline said. "The KLM flight landed before the wind reached its peak."
The disruption at the airport was made worse by the peak summer season, with many passengers struggling to find available seats on alternative flights.
Of the thousands of travellers affected by the weather, many cancelled their overseas trips to make way for the arrival of the strongest typhoon in five years.
Hong Thai Travel, one of the biggest travel agencies in the city, had 13 tours cancelled and nine more postponed on Wednesday, according to its director Jason Wong Chun-tat. About 550 people are affected. Sunflower Travel also postponed or cancelled more than 10 tours to Japan, Thailand, Taiwan and mainland China, affecting about 360 travellers.
Weather conditions at Hong Kong's airport are generally considered challenging because of low-level windshear, meaning a pronounced change in wind direction or speed affects a landing or takes off.
Similarly, turbulence on approach can be tricky for pilots.
HK Express and Singapore Airlines both managed to get a flight airborne from Hong Kong airport before 8am.
As of 11am, around 450 flights to and from Hong Kong were cancelled, an Airport Authority spokesman said, adding that HKIA's emergency centre was activated to move into recovery mode to start rescheduling hundreds of cancelled and delayed flights all over the world.
The first wave of flights en route to Hong Kong will start arriving from 3pm onwards.
Two major mainland Chinese airports also faced disruption.
By 11.55am, around two hours after Shenzhen issued the red typhoon alert, 82 flights had been cancelled and more than 170 delayed at Bao'an International Airport.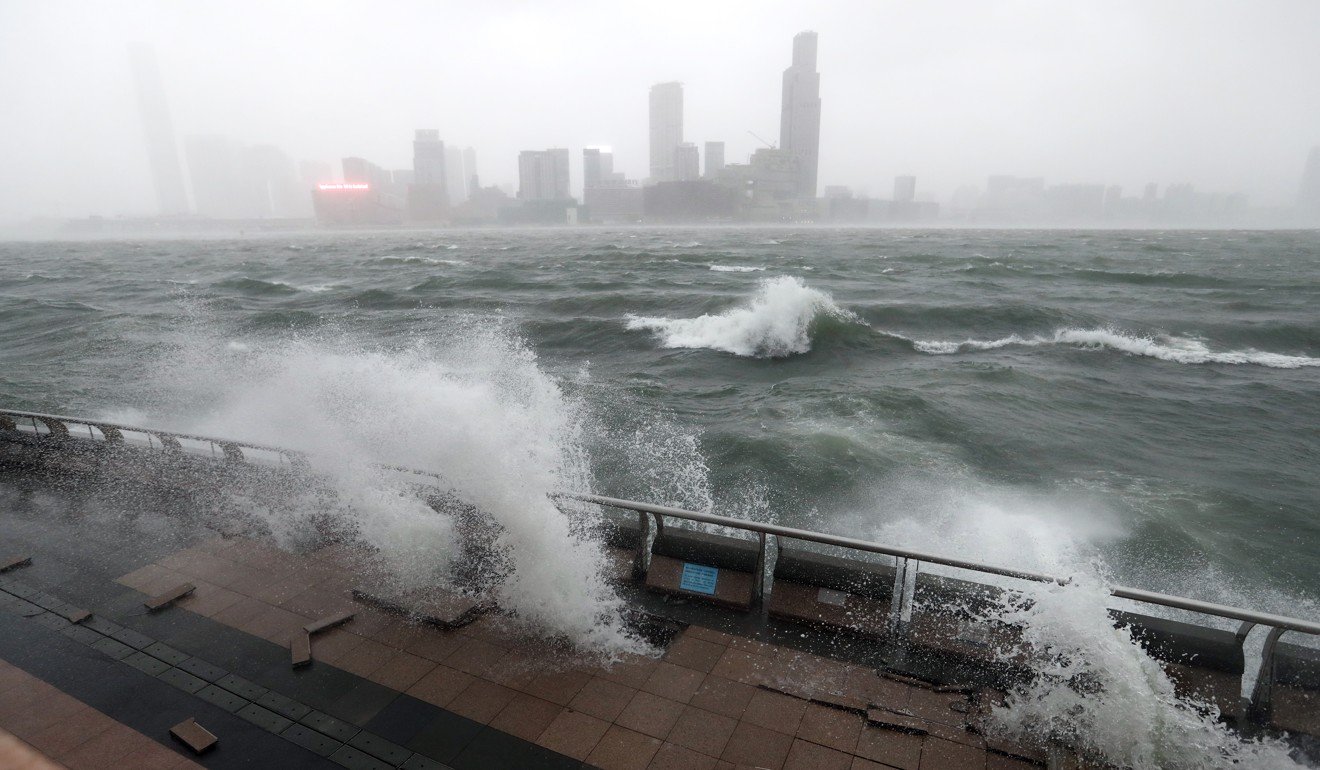 By 10.15am, 25 arriving and one departing flight at Guangzhou Baiyun International Airport had been cancelled while two flights to Beijing had been delayed for more than two hours.
At Zhuhai airport, which Hato is expected to hit directly, more than 130 flights have been cancelled. In neighbouring Macau, about 40 flights were cancelled, delayed or rescheduled.
Additional reporting by Nikki Sun