Apple
Get more with myNEWS
A personalised news feed of stories that matter to you
Learn more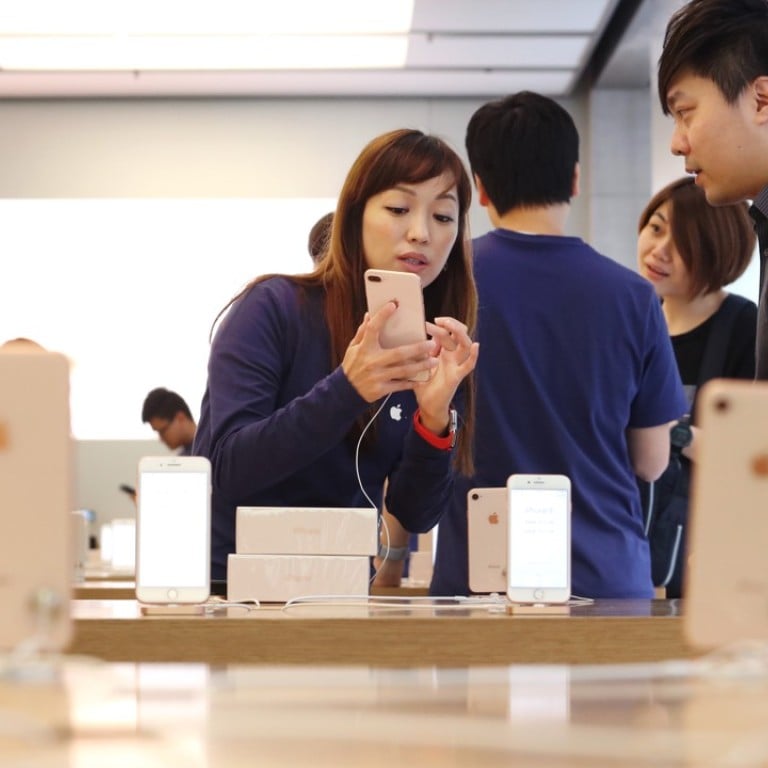 No iPhone 8 bonanza for Hong Kong traders as resale prices stay low on launch day
Stores open early as new products go on sale, but queues are short compared to those in previous years
The launch of a new iPhone usually heralds big profits for resellers as they take advantage of surging demand for the luxury handsets. But it was a different story on Friday when the iPhone 8 and 8 Plus went on sale across the globe, with products being resold at or even below official retail prices due to low demand.
On Friday morning, about 20 customers stood in line to collect their pre-ordered products at the IFC outlet, a stark contrast with the long queues in previous years. Thousands of consumers lined up at Apple stores across Hong Kong when the iPhone 7 and iPhone 7 Plus were launched last year.
The stores in Central and Causeway Bay opened their doors early at 8am and set up crowd control barriers at the entrance.
But the queues outside the Central outlet stretched only one-fifth the length of the barriers.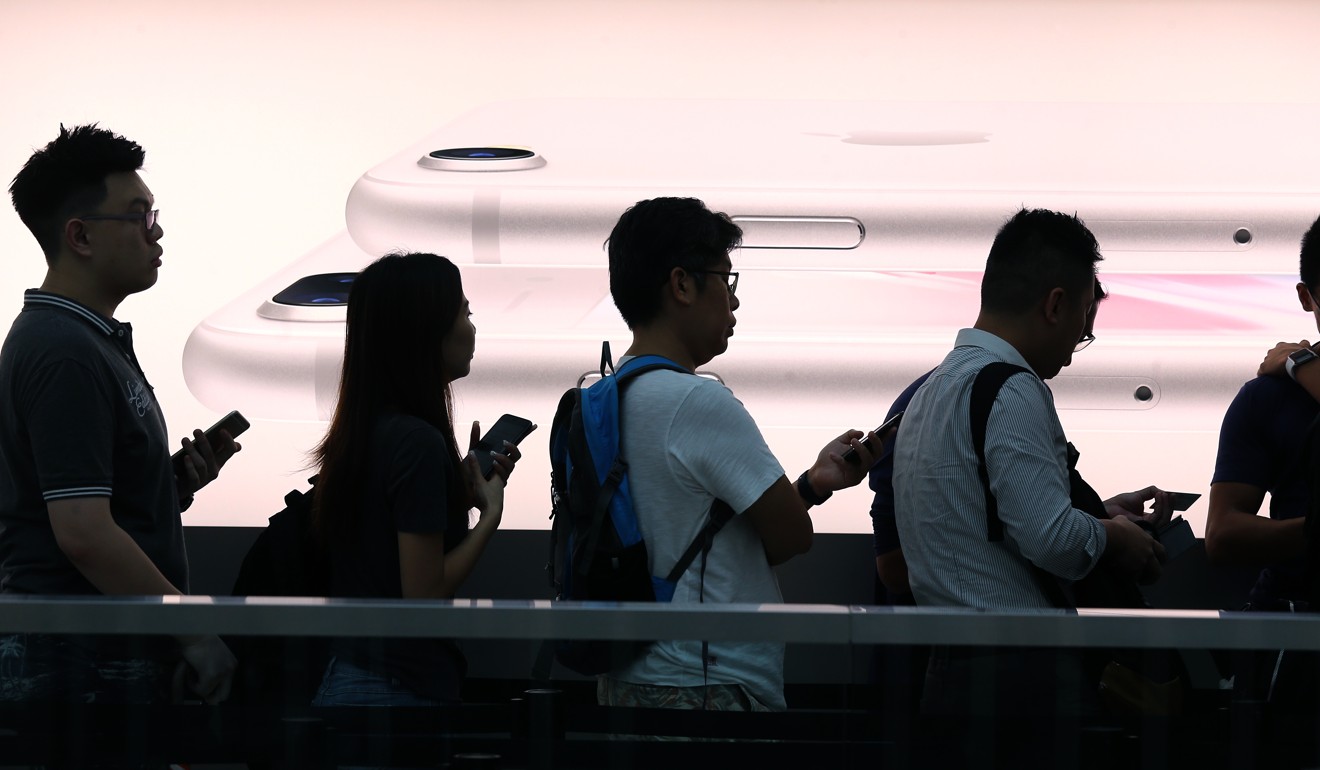 After collecting his purchases, Jason, 24, one of the early birds, immediately sold his two iPhone 8 Plus models, both with a capacity of 256 gigabytes, to a Russian trader.
"I'm quite disappointed with the resale price," Jason said, "I only made a small profit of about HK$800 from the two phones. I used to make HK$800 from reselling one iPhone 6."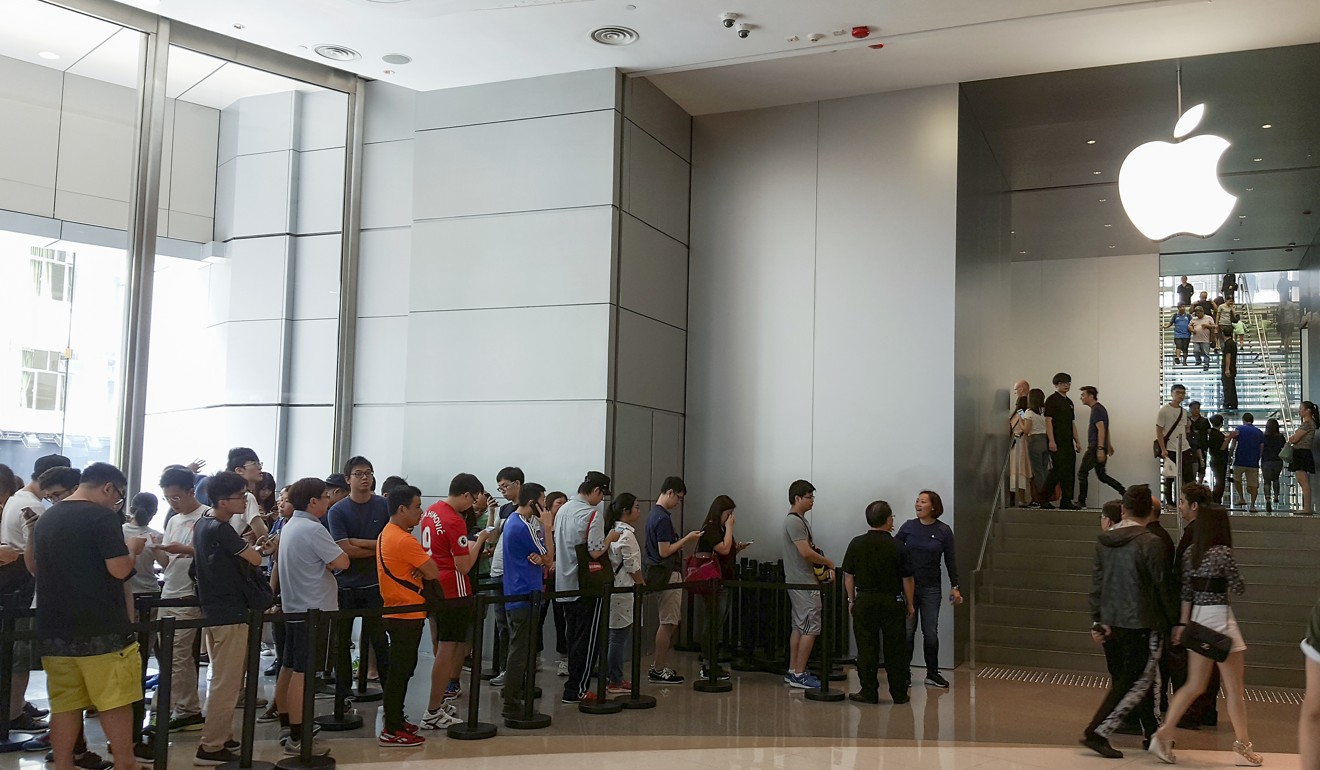 He added that most traders were holding out for the iPhone X, which will go on sale on November 3. The new 8 series handsets have been overshadowed by their big brother, which boasts an
arsenal of features
such as the Face ID facial recognition system, which is not available on the iPhone 8 and 8 Plus.
Much of the trading took place in the coffee shop adjacent to the Apple Store as IFC's security guards drove away scalpers congregating in the hallway. Traders then took refuge in Starbucks, paying stacks of cash to scalpers.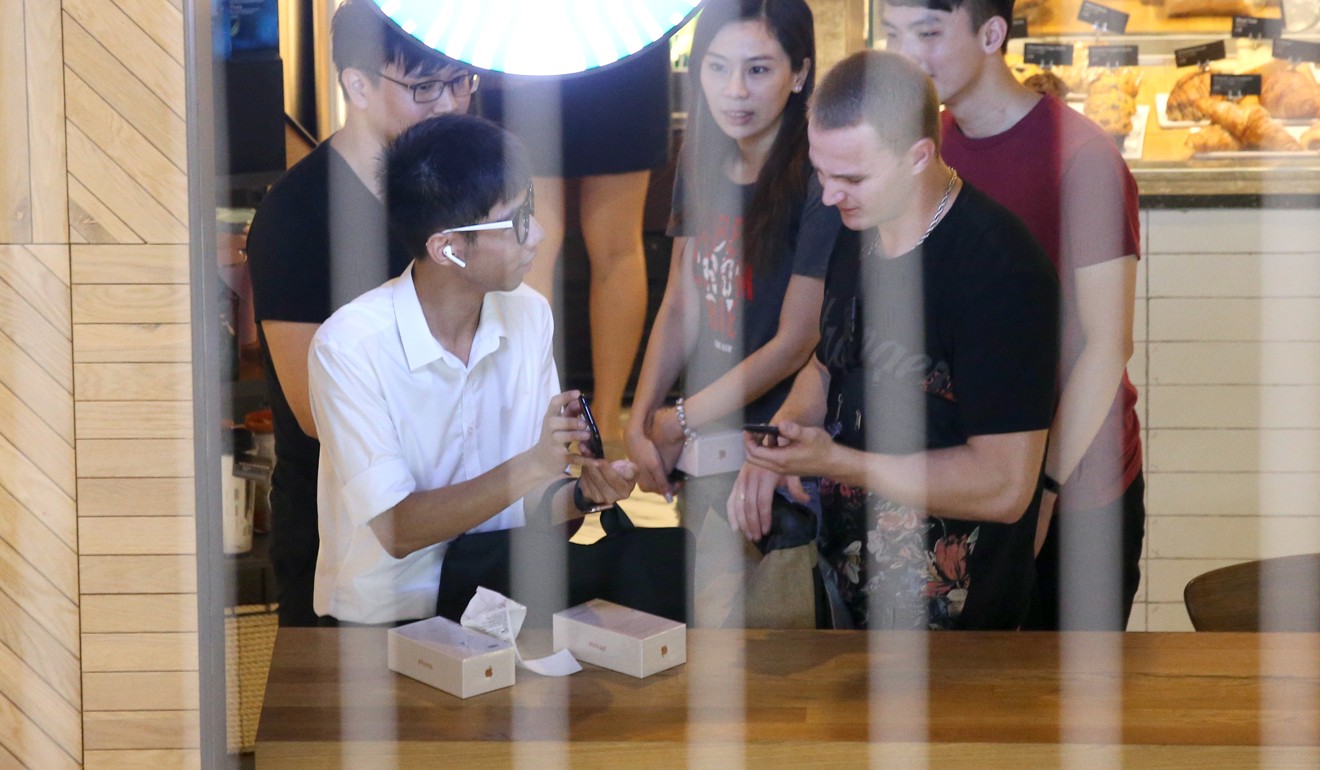 Another Russian trader said his group of four had bought about 40 phones, all the Plus model, for "family and friends" and would pay a maximum of HK$8,500 each. The iPhone 8 Plus has a fixed retail price of HK$8,188.
He added that he was not buying any models of a smaller size or capacity because they were not "popular".
A Chinese trader agreed, saying that there was a small market, and only for the iPhone 8 Plus. He said he would be willing to purchase iPhone 8s only for below the retail price of HK$5,988 for the 64GB model and HK$7,288 for the 256GB one.
"It's easier to buy this phone than the previous ones. I made the reservation online without hassle," said a Mr Hui, who pre-ordered two iPhone 8 Plus devices for personal use.
He added that the new model did not have substantially different functions from the iPhone 7, making it less appealing. But he still bought the iPhone 8 Plus because it was a major upgrade from the iPhone 6 he was using.
At 11am, a scalper sold two gold iPhone 8 devices at HK$7,030 each, below the retail price of HK$7,288, at a street booth outside Sin Tat Plaza, where most smartphone reselling in the city takes place.
Watch: How the release of each new iPhone affected Apple's shares
The owner of the booth, who gave his name as Mr Poon, said resale prices for new phones, including the Plus model, had fallen below retail prices because the market demand was not strong enough.
In Sin Tat Plaza, the resale prices of all iPhone 8 and 8 Plus models barely met official retail prices.
"There is almost no scalping on the iPhone 8 and 8 Plus," said Ball Ng, owner of an electronics store in the Mong Kok shopping centre. "Its appearance is the same as the old one. I'm not optimistic about its value at all."
But Ng expects traders to be able to make a profit of HK$5,000 to HK$10,000 reselling each iPhone X due to its relatively low supply and fervent market anticipation. The iPhone X retail price is HK$9,888 for the 256GB model.
This article appeared in the South China Morning Post print edition as: Latest iPhones go on sale with barely a whimper