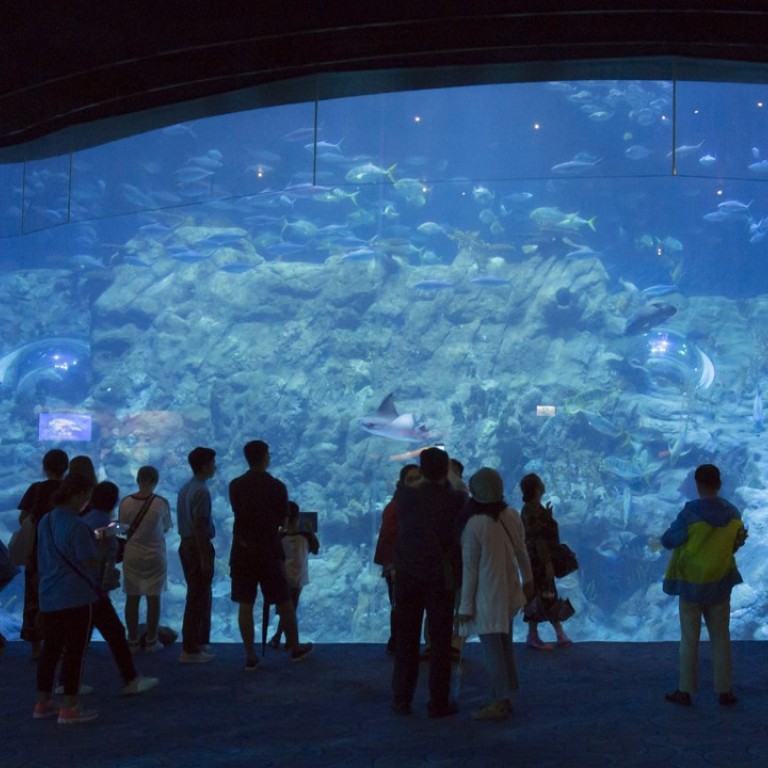 Hong Kong's Ocean Park announces HK$234.4 million deficit along with 9 per cent fee increase
Chairman Leo Kung blames loss and fall in attendance on retail and tourism downturn; increase in admission charge will take effect on New Year's Day
For the second year in a row, Hong Kong's Ocean Park recorded a loss coupled with a drop in attendance, which the theme park blamed on the city's recent retail and tourism downturn.
The Southern District attraction also announced a 9 per cent admission fee increase on Wednesday, taking effect on New Year's Day, to "maintain competitiveness".
The HK$234.4 million deficit in the financial year ending on June 30 was slightly lower than the loss of HK$241.1 million the year before, but attendance figures dropped 4.03 per cent to 5.8 million. Revenue remained unchanged at HK$1.61 billion.
From January 1, entrance fees will be raised to HK$480 for adults and HK$240 for children.
This was a smaller increase than on January 1 this year, when ticket prices jumped 13.8 per cent.
"The loss is mainly due to the market environment, as well as peripheral factors, which the park has been striving to combat alongside industry peers and the retail sector," Ocean Park chairman Leo Kung Lin-cheng said.
Peripheral factors included weak global economic growth, intensified competition from neighbouring countries for tourists and a strong US dollar.
Kung said that he was encouraged by tourism figures going forward, highlighting increased growth in the number of frequent individual visitors from mainland China and regional markets such as Japan, Indonesia, the Philippines and South Korea.
In a bid to boost local attendance, Ocean Park is rolling out a basket of offers including birthday discounts for locals and free nighttime admission during the Christmas and New Year holidays.
Tourism sector legislator Yiu Si-wing said the financial and attendance figures from Ocean Park did not reflect the recent upswing in inbound tourism. He said that he expected the theme park to "have better numbers next year" as more tours from the mainland come to Hong Kong.
Since January, monthly tourism figures in the city have been positive compared with the same period last year. In September and October, visitor arrivals were up 4.8 and 6.6 per cent respectively.
In the first 10 months of this year, Hong Kong's tourist arrivals grew 2.7 per cent to 47.9 million, according to the latest Tourism Board statistics. The figures declined in 2015 and 2016.
But Yiu stressed that Ocean Park should not forget about its local customers.
"I hope the park provides more and longer concessionary arrangements for local people. [Hongkongers] are a solid base for headcount," Yiu said.
He also said the ticket price increase was not a major concern as the fees were still competitive compared with Disneyland.
Ocean Park also has several new attractions under construction to lure more visitors. These include two luxury hotels and an all-weather water theme park.
The first hotel is expected to be completed in mid-2018, while the second will be finished in 2021.
The water park is targeted for completion in 2019.
This article appeared in the South China Morning Post print edition as: Ocean Park posts another loss and raises entry fee