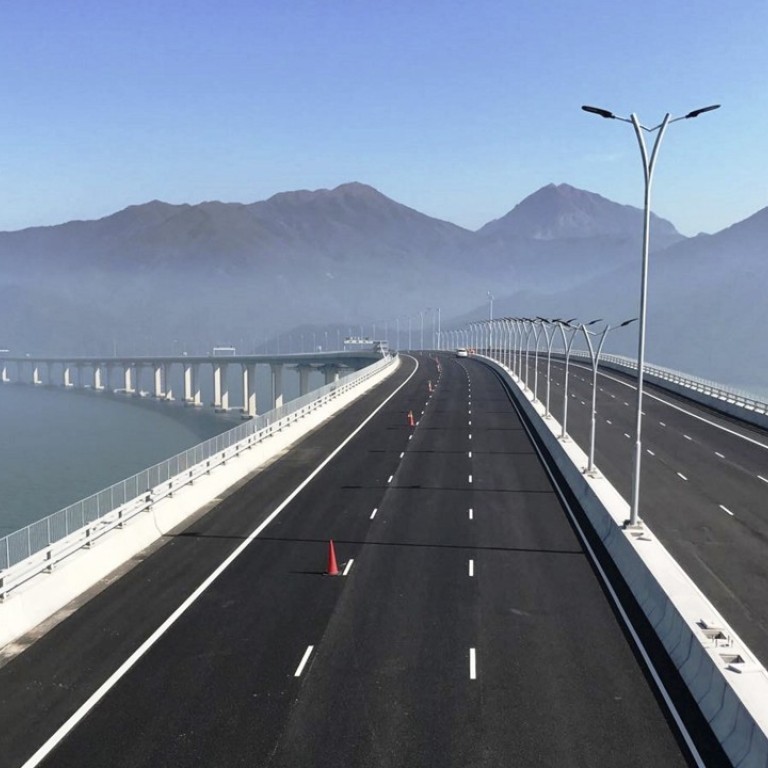 Road surfacing works done for mega Hong Kong-Zhuhai-Macau bridge
More than five years since construction began in troubled project, the 12km link also passed safety examinations
Road surfacing works for the Hong Kong section of the mega bridge connecting the city to Zhuhai and Macau have been completed, marking a significant step towards the project's operation.
More than five years since construction began, the 12km Hong Kong Link Road – featuring a tunnel, viaduct and reclaimed roads – has now taken shape as seen from photos supplied by the Transport Department on Saturday.
Hailed as a landmark project to better connect the city to the western part of the Pearl River Delta economic zone, the
Hong Kong-Zhuhai-Macau bridge
would drastically cut down travelling time between Lantau Island and Zhuhai in Guangdong province from four hours to 45 minutes.
But it has been plagued by
budget overruns
and
construction delays
. While infrastructure works are largely finished, governments representing the three sides have yet to finalise operational details, and, more importantly, a commissioning date.
Good news finally emerged on Saturday with the Transport Department's announcement that Hong Kong Link Road was now ready for vehicular traffic.
"The remaining works in progress mainly include the final installation and testing of the traffic control and surveillance system, as well as the final work of some ancillary facilities," a statement read.
Running along the northern coast of Lantau Island, Hong Kong Link Road connects the border-crossing facilities, located on an artificial island, to the 30km main bridge at the city's sea boundary.
The department explained some of the project's architectural challenges, including the height restriction imposed on the work site owing to its proximity to the airport.
The underground section was just as difficult, the department claimed, as it had to dig deeper than usual to avoid the existing Airport Express train services.
Official photos also confirmed the roads would be right-hand drive. One image showed a sign bearing the instruction: "Keep right unless overtaking".
This will mark the first time motorists in Hong Kong are asked to drive on the right. Officials earlier indicated this was to avoid confusion when drivers cross into the mainland.
Loading tests were also successful for the 9.4km viaduct, eliminating fears about its structural safety following a scandal involving the concrete test results.
It was revealed last May that fake reports were submitted by a government contractor responsible for verifying the strength of concrete used in the project.
On Saturday, all 230 spans of the viaduct passed their intended loading capacities, using a convoy of heavy trucks weighing 380 tonnes.
This article appeared in the South China Morning Post print edition as: bridge link road ready to take traffic