Trade
Get more with myNEWS
A personalised news feed of stories that matter to you
Learn more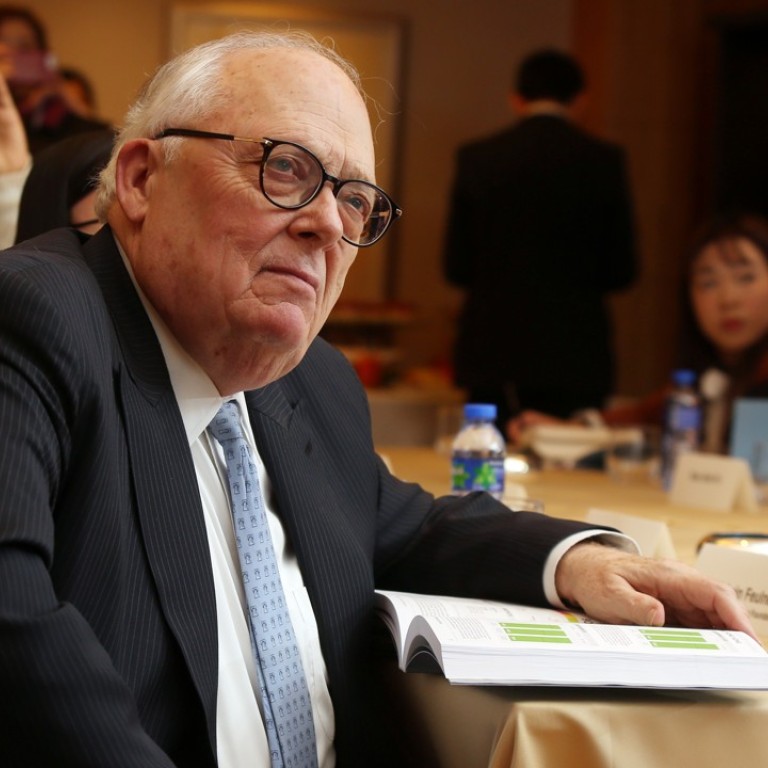 Hong Kong trumps Singapore again to be world's freest economy for 24th year straight, US think tank says
Releasing the Heritage Foundation's annual ranking, founder Edwin Feulner says no need to worry about a Sino-US trade war
Hong Kong was ranked the world's freest economy for the 24th straight year by a prominent US conservative think tank on Friday, which also downplayed the risk of a Sino-US trade war.
The city scored 90.2 out of 100 points, compared to rival financial hub Singapore's 88.8 points, in the annual index of economic freedom compiled by the Heritage Foundation, a right-wing policy research institute based in Washington.
Hong Kong scored high in the four areas taken into account by the index: rule of law, government size, regulatory efficiency, and open markets. A lower incidence of corruption and decrease in business registration fees lifted its overall score by 0.4 this year compared with last year.
China was 110th, edging up one place from last year, while North Korea was once again at the bottom of the list of 180 economies.
The US dropped one place to 18th, even though its score improved by 0.6 points on the back of better financial freedom, such as lower government regulation in financial services.
At a press briefing in Hong Kong on Friday, Edwin Feulner, Heritage Foundation president, also addressed recent concerns about US President Donald Trump's "America first" approach and said there was no need to worry about a trade war.
Last month, the US announced it would impose a 30 per cent tariff on solar panels and washing machines, mostly imports from China. Separately, it indicated that it would further curb Chinese investment in the US and was investigating alleged Chinese theft of intellectual property.
Analysts said China had its own basket of retaliatory measures if a trade war erupted.
Feulner said Trump would "get tougher" on China to abide by existing rules for members of the World Trade Organisation, such as respecting intellectual property rights.
"President Trump has talked about what's in America's interests even as President Xi has talked about what's in China's interests, and that's what a national leader should do," Feulner said.
Feulner
played a key role
in setting up a phone call between Trump and Taiwan's President Tsai Ing-wen in 2016 that broke with decades of US foreign policy. Beijing's response was to tell America to honour its commitment to the one-China policy.
Feulner added: "We look forward to promoting [free and expanded trade] as much as possible within [the Trump] administration … But at the same time, there are international rules and standards set up that we expect everybody to abide by."
Terry Miller, a former ambassador who leads research into free markets and international trade at the foundation, said the likelihood of a trade war was small, as any action taken by Trump would only affect a "tiny portion" of US trade with China and other countries.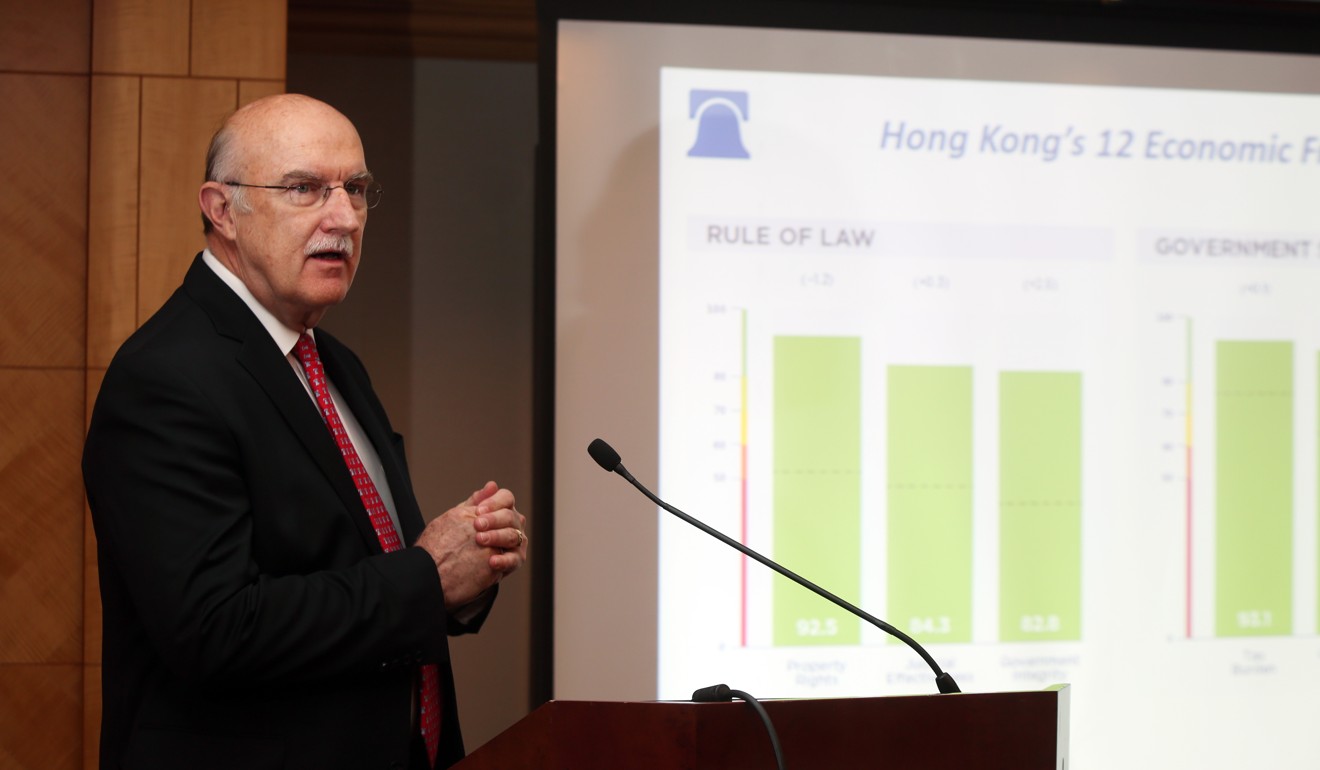 David Cook, an economics professor at the Hong Kong University of Science and Technology agreed. There might be a few "high-profile actions" but US trade policy would only change marginally given the administration's tendency to "default to established business positions", according to Cook.
He said while Hong Kong was an appealing place to the right-wing think tank given its emphasis on low taxes, there were "still many sectors that are not so easy to enter" in the city. He cited in particular the lack of a supportive environment for sharing economy firms.
Sheng Liugang, an economics professor at Chinese University, said Hong Kong's high ranking "did not mean much" when it came to solving real problems faced by its residents, such as poverty and cramped living conditions.
But he said the city would not need to worry if there was a trade war, as regional trade would increase and Hong Kong could still benefit.
Paul Chan Mo-po, Hong Kong's financial secretary, welcomed the ranking. The government would forge "closer economic and trade ties with other economies" to enhance the city's position as "an international financial, transportation and trade centre," Chan said.