Taiwan
Get more with myNEWS
A personalised news feed of stories that matter to you
Learn more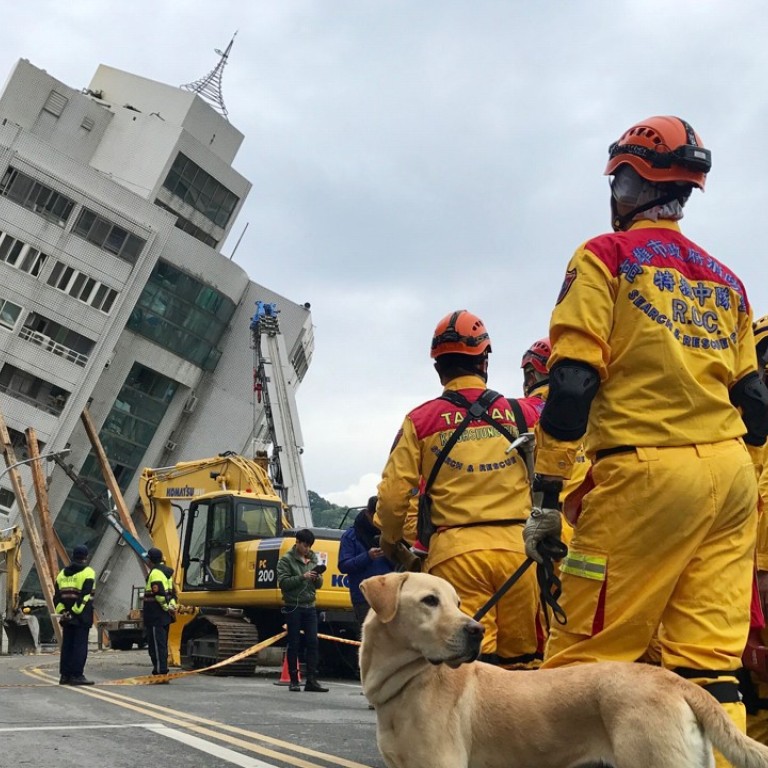 Hong Kong tourists seek help after deadly quake hits Taiwan city Hualien
All tourists safe and being provided help, Immigration Department says after earthquake leaves at least four dead
More than a dozen Hong Kong tourists sought help from immigration authorities following a deadly 6.4-magnitude earthquake in the Taiwanese city of Hualien, which prompted several flights between the two cities to be delayed.
All 15 Hongkongers were safe and being provided with help, though one suffered a leg injury during the quake, the Hong Kong Immigration Department said on Wednesday. Most had been in touch about lost documents and local traffic conditions and flight arrangements.
The Hongkonger who suffered a leg injury was a woman in her 70s. She has since been discharged from hospital and is in the company of family members. She is expected to return home as scheduled.
"The department had immediately contacted the Hong Kong Economic, Trade and Cultural Office (Taiwan) for information and follow-up," a spokesman for the department said, adding the department would keep close contact with the office and the families to monitor the situation and provide help.
As of 10pm on Wednesday, seven people had been killed and 260 injured after the quake shook Hualien, a city on the island's east coast with a population of more than 100,000, shortly before midnight on Tuesday, trapping dozens in collapsed buildings and damaging roads and bridges, Taiwan's official Central News Agency reported. Some 67 people were still unaccounted for.
Three direct flights from Hong Kong to Hualien between Wednesday and Friday were delayed, according to a statement from budget airline Hong Kong Express. 
Three other HK Express Hong Kong-bound flights from the quake-stricken city were not affected. 
Taiwan is a popular destination for Hong Kong travellers. Visitor numbers from the city grew 4.76 per cent to 1.54 million last year from 2016, according to the Taiwanese Tourism Bureau's latest statistics. 
Hongkongers were also one of the largest groups of tourists to the island, accounting for about 14 per cent of its 10.73 million visitors last year.
At least four people were killed when the quake shook Hualien, a city on the island's east coast with a population of more than 100,000, shortly before midnight on Tuesday, trapping dozens in collapsed buildings and damaging roads and bridges.
In a tweet on Wednesday morning, Taiwanese President Tsai Ing-wen said 145 people remained unaccounted for. "We will not rest until all are found," she said.
Earlier, Premier William Lai said two of those killed were employees of the Marshal Hotel, which had collapsed. He said more than 200 people were injured, some seriously.
Rescuers believed three people were still trapped in the hotel, the bottom floor of which was crushed.
There are currently no Hong Kong tourists on package holidays in Hualien, according to Travel Industry Council executive director Alice Chan.
Chan said that there was one tour with 23 people that was supposed to head to Hualien on Wednesday, but decided to stay in Taipei city due to the earthquake.
A Hongkonger, who runs a restaurant in downtown Hualien, said the earthquake was one of more serious ones he has experienced.
"We're used to earthquakes in Hualien, but we felt quite unsettled because it seemed to be more serious. I was watching TV last night when it happened and everything just started falling down, the TV set, our speakers, it'll take a while to clean everything up," the man told the Post by phone.
"We've been feeling tremors every other hour here and there all morning, it's calmed down a bit since," said the man, who only gave his surname as Chan.
Jundar Lim, a Malaysian tourist who had just arrived in Hualien on Tuesday afternoon, said the earthquake was a "scary experience".
"It felt exactly like you were in a train ride, [constantly swerving left and right]. Tables, chairs and all smaller items were sliding everywhere in the house," Lim told the Post via a text message.
Lim and his friends ended up running out from their Airbnb with some warm clothes and their passports to an open car park in the middle of the night. They slept in a rented car for the night at the railway station and starting queuing for tickets at 4am on Wednesday morning to head out to Taipei.
Hualien is one of Taiwan's most popular tourist spots as it sits on the picturesque east coast rail line and is near the popular Taroko Gorge.
The earthquake was the second to strike off the coast of Hualien in days. Taiwan lies within the "Pacific Ring of Fire", an area known for seismic and volcanic activity. 
According to the US Geological Society, the quake struck 21km (13 miles) northeast of Hualien at a depth of about 9.5km (6 miles).
Additional reporting by Agence France-Presse and Reuters