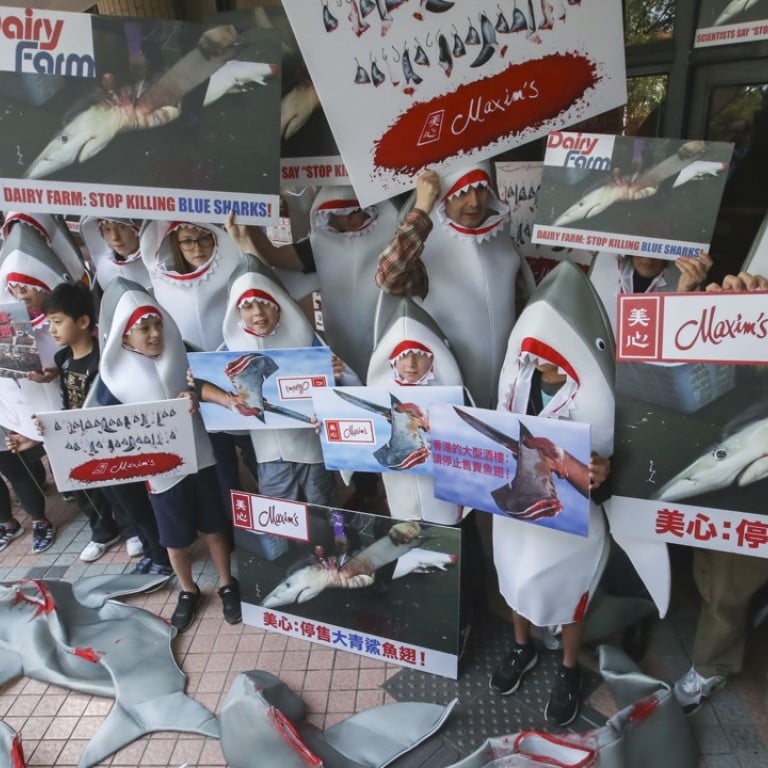 Shark fin protest draws 50 activists outside HKU branch of popular restaurant chain
Action comes ahead of annual Lunar New Year festival, when soup featuring the endangered species is often served
Around 50 members of an environmental advocacy group gathered at a well-known restaurant brand at the University of Hong Kong on Saturday, urging the chain to take all shark fin dishes off its menus.
The protesters for WildAid distributed fliers outside Maxim's establishment, saying: "Scientists say: stop killing blue sharks!" and "Maxim's: stop killing blue sharks!" More than a dozen also donned shark costumes, and some held a graphic picture of a shark being butchered.
The action was planned ahead of the Lunar New Year festival. Shark fin soup is a popular food item during the holiday.
Conservationists have escalated their pressure as some shark species face extinction. Hong Kong is a favourite target for wildlife campaigners, with some claiming the city accounts for about half of the global trade. Much of the product enters the city through container ports.
WildAid Hong Kong's Alex Hofford said Maxim claimed it engaged in sustainable sourcing but that scientists had "independently confirmed that there is simply no such thing as sustainable blue shark fisheries".
"Maxim's have told the media that they will closely monitor new environmental factors and review their strategies responsibly," Hofford added.
The environmental group also handed Maxim's staff a letter signed by scientists and 250 local and international marine conservation and animal welfare groups urging the chain to take heed of scientific arguments.
The protest came just days after
a survey found
85 per cent of banquet menus in Hong Kong restaurants would offer shark fin dishes for the annual Chinese festival this month.
Conducted by the Hong Kong Shark Foundation, the survey reviewed 291 festive menus from 50 outlets of 20 restaurant chains and made telephone inquiries about the shark species involved and sales methods.
The group called for officials to formulate policies to reduce consumption and curb the trade amid growing global concern.
Another protest is planned for April 21 outside the chain's Chiuchow Garden restaurant in Central.
This article appeared in the South China Morning Post print edition as: Save the shark protesters target Maxim's restaurant