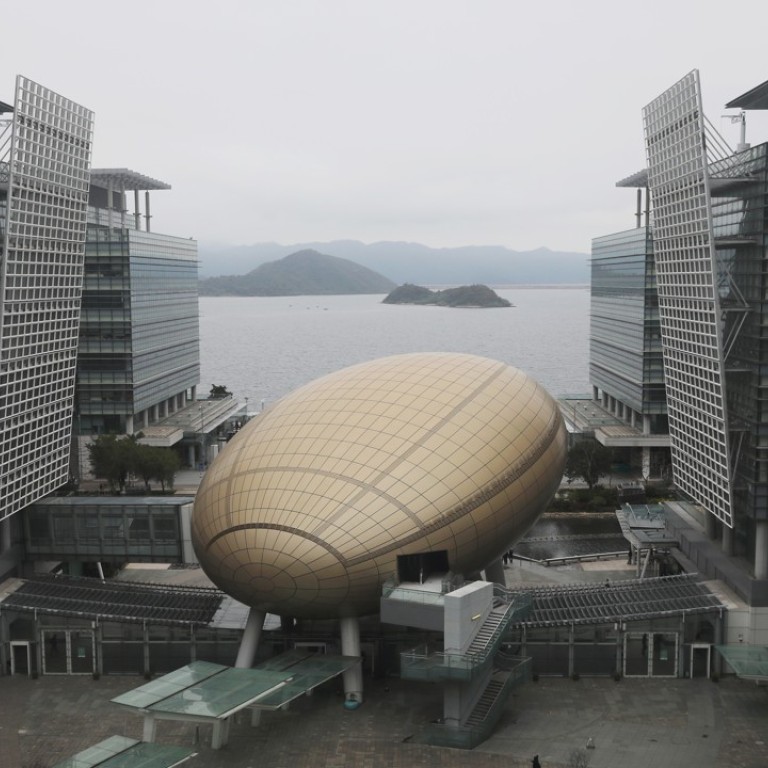 Hong Kong's Science Park to take the lead on driving innovation and technology as it receives major cash injection
Financial Secretary Paul Chan Mo-po will set aside an additional HK$50 billion for support innovation and technology this financial year, with HK$20 billion earmarked for the first phase of the Hong Kong-Shenzhen Innovation and Technology Park in the Lok Ma Chau Loop
Hong Kong's Science Park is set to play a leading role in the government's drive to turn the city into an innovation and technology (I&T) hub as it was granted a major slice of the HK$50 billion funding package dedicated to hi-tech industries.
In his budget speech on Wednesday, Financial Secretary Paul Chan Mo-po said he would set aside an additional HK$50 billion to support I&T development this financial year, especially in the areas of biotechnology, artificial intelligence (AI), smart cities and financial technologies (fintech), in addition to the HK$10 billion commitment for supporting the industries last year.
"To shine in the fierce I&T race amid keen competition, Hong Kong must optimise its resources by focusing on developing its areas of strength … our targeted efforts must be underpinned by adequate resources," he said.
Of thisHK$50 billion, HK$20 billion will be earmarked for the first phase of the Hong Kong-Shenzhen Innovation and Technology Park in the
Lok Ma Chau Loop
for infrastructure and its initial operation and start-up costs.
It is wholly owned by Hong Kong Science and Technology Parks Corporation, which is responsible for developing its structures, its operation and management.
by helping mainland enterprises explore global markets while aiding overseas firms in Hong Kong venture into the mainland.
However, Chan admitted that whole project would eventually cost "far more than" the amount allocated, given its large scale development. "When the relevant planning studies are finished, we will … provide additional resources in a timely manner so that the park can come into operation as early as possible," he said.
Another HK$10 billion was earmarked for funding world-renowned research institutes or tech enterprises to conduct biotechnology, AI and robotics research and development (R&D) projects in Hong Kong through partnerships with local institutions.
A government source said the subsidies would be used to fund top overseas institutes in their set-up and operation in Science Park in Sha Tin.
"Science Park will be responsible for drawing up the funding criteria and relevant details of this scheme. The government will set up a committee comprising members of the innovation sector to vet the applicants," the source said.
In addition, Chan said in order to reinforce the role of the park as Hong Kong's flagship piece of technology infrastructure, another HK$10 billion would be allocated to the Hong Kong Science and Technology Parks Corporation, of which HK$7 billion would be used to give allowances and other support for its tenants. About HK$3 billion will be used to build research-related infrastructure and facilities, such as for animal testing and robotics R&D. Science Park has a working population of 12,500 people with about 652 park companies.
Science Park's chairwoman Fanny Law Fan Chiu-fun welcomed the HK$50 billion funding for I&T development and a host of relevant initiatives. "We'll enhance our support for startups and increase resources for a series of high value-added service…We are confident that Hong Kong can become an international innovation and technology hub," she said.
Ayesha Lau, Hong Kong managing partner at KPMG China, said the I&T investment was a significant opportunity for Hong Kong's business community.
"Of all the I&T investments, our view is the most significant in the long run will be the establishment of the two research clusters on health care and on artificial intelligence and robotics. This investment provides tangible support to attract some of the world's leading research organisations to Hong Kong," she said.
The American Chamber of Commerce welcomed the HK$50 billion to promote innovation and technology, saying the measures such as the postdoctoral hub programme and funds to facilitate collaboration in R&D with overseas institutions were appreciated.
Meanwhile, the Innovation and Technology Fund will be injected with HK$10 billion to support the city's I&T development, of which HK$500 million will be used for nurturing tech talent, including a postdoctoral hub programme under which a company could enjoy a subsidy of HK$32,000 per month for two years for hiring one postdoctoral tech graduate. A government source said each company had a quota of two graduates and they expected the scheme could attract about 200 applications per year.
This article appeared in the South China Morning Post print edition as: Science park to lead city into future