Aviation
Get more with myNEWS
A personalised news feed of stories that matter to you
Learn more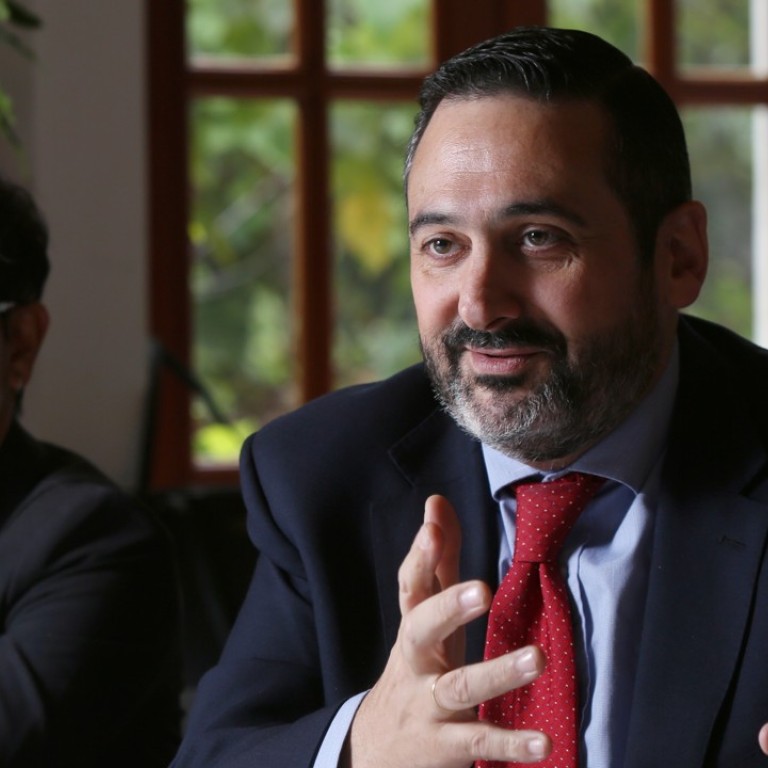 British Airways seeks increased presence in China via mainland airline deals
CEO Alex Cruz on China, Brexit, Cathay Pacific, the Airbus A380 and 'basic economy' air tickets
China will no longer be the Achilles' heel for British Airways, the airline's head said on Thursday, as it has forged partnerships with all major Chinese airlines in a bid for increased access to the country and will benefit from the huge expansion by mainland carriers into Europe.
"We cannot be a major player on the international stage and connect Britain to the world, and not have a bigger presence [in China]. So far we are doing it via partners," BA's chairman and CEO Alex Cruz said in an interview at a Hong Kong trade summit.
New deals signed in the past three years with China Southern and China Eastern Airlines gave BA more access to fly passengers around China while carrying their passengers on its British routes.
Britain's national airline has by far the smallest presence of the three big European carriers in China, expected to be world's biggest air travel market by 2022. The company has only 37 one-way flights a week to three cities – Beijing, Shanghai and Hong Kong – compared to Air-France KLM with 67 flights to eight cities and Lufthansa Group with 90 a week to seven destinations.
Sharing a story to illustrate his desire to keep pace with his European rivals, Cruz said he was in Scotland two weeks ago when someone asked him when BA would be flying to Beijing from Edinburgh and Glasgow.
"I have to fly to more places in China [from London] first, and then maybe later we will fly from Edinburgh and Glasgow," the airline chief responded.
The advantage of its arrangements with the Chinese airlines, Cruz said, was that since BA was helping fly Chinese passengers on mainland carriers in Britain, rather than being squeezed by Chinese competition like some airlines, it was "benefiting" from the glut of new flights being added between China and Europe each year, particularly to second- and third-tier cities.
In December last year, Britain and China signed a bilateral aviation deal to increase return flights between the two countries by 50 per cent to 150 weekly services. Flights from Beijing to Edinburgh, and from Xi'an, Changsha and Wuhan to London are set to take-off this year.
"While we will see some of these [Chinese] carriers flying into Manchester, Edinburgh and others, we are also providing feed via Heathrow into many of these places, which provides more choice to customers," Cruz said. "In general, British Airways and IAG is where it is, because we appreciate competition, and we learn a great deal from competitors. Competition makes us better."
BA is part of International Airlines Group (IAG), which includes Spanish airline Iberia and budget carrier Vueling, and Ireland's Aer Lingus.
Cruz said the airline was committed to growing in China. 
"Will BA have a stronger presence in China in the future? The answer is categorically 'yes'. Are we able to provide details on timing, aeroplanes, frequency, and destinations? No. Is that traffic likely to originate in London? Yes," Cruz said.
The airline signed China Eastern in 2016 and China Southern last year as new "code-share" partners to sell tickets beyond BA's destinations of Beijing, Shanghai and Hong Kong to other parts of the mainland flown by partnered Chinese airlines.
BA added 17 Chinese destinations, and through its deal-making, became one of the few airlines to partner with all the major Chinese carriers: Air China, Hainan Airlines, Cathay Pacific, Cathay Dragon, China Southern and China Eastern.
Earlier expansion efforts into China proved challenging – BA closed its Chengdu route in 2016 after just three years.
"Chengdu was a really good learning experience for us. We made the decision not to strengthen our relationship via local partners in Chengdu and elsewhere," Cruz said, adding that the airline had gained insights about the aircraft it was flying to China and the demand for business and leisure travel it attracted.
The company will add 72 new aircraft over the next five years – 38 of them for long-haul services – as part of a £4.5 billion (US$6.4 billion) investment in new planes, lounges, destinations and improvements to on-board catering and a new business class.
Changes include refurbishing older planes, including their Boeing 777s, and switching to 10-abreast seating in economy class. The refits add dozens more seats in economy and premium economy at the expense of business class seats, which the airline said would prove more suited to new Chinese destinations.
"We will be able to rejig our fleet in a way to give us more options," Cruz said.
The airline has also been outspoken in calling on the British government to ease visa restrictions and roll out 10-year visas for Chinese tourists, similar to what the US has done.
Chinese netizens thrust an awkward spotlight on British Airways last week after a technical issue saw Hong Kong and Taiwan listed as separate countries, echoing a
similar incident involving the Marriott hotel group
, which was earlier punished by Beijing as a result. The airline has since apologised and updated its website.
What British Airways CEO Alex Cruz says about: 
Brexit
• We believe wholeheartedly that this vote will not bring short-term or long-term material impact on our business [with the way aviation agreements are structured].
• You are not going to find us, like some Irish airline, put in their tickets "subject to Brexit".
Airbus and the A380
• We like the aeroplane … I wouldn't rule out more A380s in BA's fleet in the future. We're ready [to add more]. It's an aircraft we have no reasons to reject.
• What is the right number in [BA's] fleet? We are not trending to zero. We are fully committed for 12 [aircraft]. We definitely have an interest … but we haven't found the formula yet. Everybody knows we are in the market.
Hand-baggage-only "basic economy" air tickets
• We want to test it this summer. I don't think we are ready to discuss how we will roll out those fares across our network [to Asia].
• We like [basic economy fares], and we are encouraged by early results. We look at summer bookings across the fares, [and] there has been a significant take-up. 
Relations with Cathay Pacific and Qatar Airways
• We know each other well (referring to Cathay Pacific), we've been going out for a long time. I don't know if we will go to the next level of the relationship. That is a joint business agreement – that is almost like getting married.
• Qatar does not have any board representatives in IAG (20 per cent stake), [nor] board representatives with Cathay Pacific (9.8 per cent) or LatAm (10 per cent), so at the moment the best manifestation in the investment is financial. It's a financial investment.