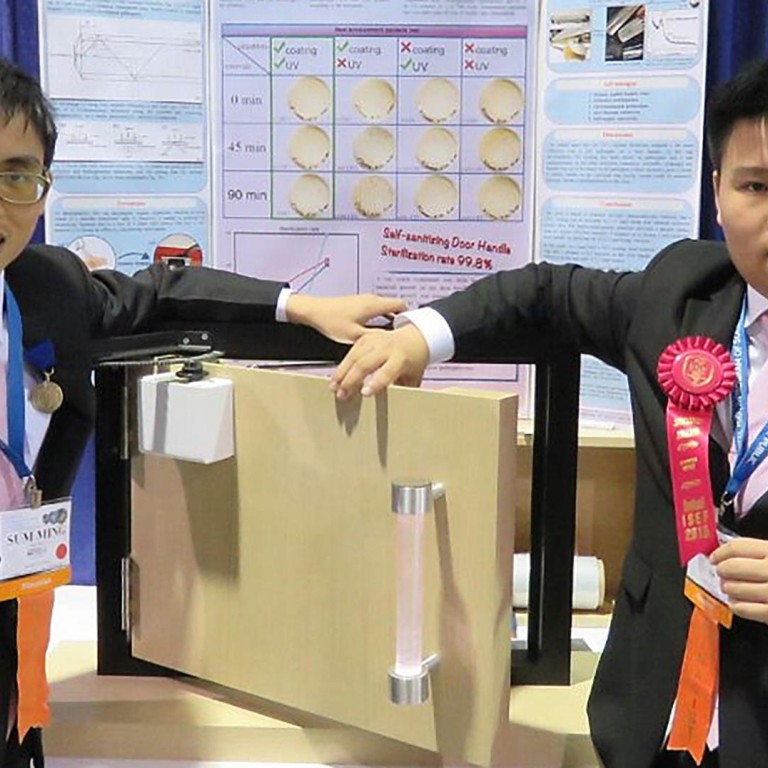 Getting a handle on health: Hong Kong teenagers invent self-disinfecting door handle
With Middle East respiratory syndrome in the news and the US Centres for Disease Control recommending frequently touched surfaces be disinfected regularly, two Hong Kong teenagers believe their self-cleaning door handle could be just the product the world's increasingly crowded cities need.
The two inventors, Simon Wong Sum-ming, 17, and Michael Li Kin-pong, 18, won a US$1,500 award at the Intel International Science and Engineering Fair in Pittsburgh last month.
Since then, they've patented the idea in mainland China, and now a friend has agreed to invest in their product. They plan to start a business in order to take the product to consumers, though the details of that plan are far from final. The door handle costs around US$15 to make, the teens say, but they haven't decided on how much to sell it for.
The pair say they got the idea from local germaphobes.
"I was out with Simon at a mall. We were in a toilet and noticed that some people would wrap the door handle while opening the door," Li said. "We realised that although someone would disinfect the door handle once in a while, it's not done frequently enough because bacteria grow very quickly."
After the encounter last year, the pair started working on their design: a transparent, cylindrical door handle coated with titanium dioxide. When the door opens, the motion powers two LEDs in the handle that emit ultraviolet light. The light reacts with the coating, which kills bacteria. The same principle works in self-cleaning windows.
Before Wong and Li took their invention to the Intel science fair, they tested it this April at a male toilet at their school, CCC Tam Lee Lai Fun Memorial Secondary School in Tuen Mun. Every 45 minutes, they'd swab the surface of their door handle, as well as a regular door handle, to see how effective their product was.
When the pair tested their material in a laboratory, it killed 99.8 per cent of the germs with which it came in contact.
This article appeared in the South China Morning Post print edition as: Teens get a handle on new invention